Discount Eligible $105.00
The rounded riverbed stones, or galets roulés, of Vieux Télégraphe are an image indelibly etched into the mind of every member of the KLWM team. It is such a striking landscape, and Gail Skoff has snapped many iconic images of the famed terroir over the years. I couldn't believe our good fortune when she unearthed from her extensive archives the roll of film gracing the cover of our February 2022 brochure: Kermit, Henri Brunier, and Henri's son Frédéric, circa 1986, proudly and merrily posing among the vines on the plateau of La Crau in Châteauneuf-du-Pape that produces one of the most quintessential wines we import.
This special plot of land has delivered us many unforgettable "VTs" over the years, and the 2019 vintage is showing itself to be not only a distinguished and confident ambassador of its storied lineage, but also a tour de force with the panache to stand among the all-time greats. The domaine's old vines in the terroir of La Crau produce some of the most exciting Grenache in the world, and the select blending of their other native grapes, along with a long, patient aging process in large, oval foudre casks, produces the magic of Vieux Télégraphe. The Brunier family created one of the most memorable VTs of my career in the 1989 vintage, and thirty years later the 2019 seems poised to follow a similar arc of development. -Dixon Brooke

KERMIT'S NOTES ON THE 1989 VINTAGE OF VIEUX TÉLÉGRAPHE
(From July 1991)

BURSTING AT THE SEAMS. That is the phrase that kept coming to mind as I tasted the 1989 Vieux Télégraphe. This is one of the larger wines produced by Vieux Télégraphe. It is built to last and built to please with a solid framework of tannin and alcohol. Yet as impressive as that foundation is, there is something that grabs your attention even more, a huge perfume that you can really feel trying to break free. Even that mighty 1989 structure can barely contain it, and with the passage of time that stoney, ripe perfume is going to intensify and swell until it does burst out to our grateful applause.
Discount Eligible $105.00
---
| | |
| --- | --- |
| Wine Type: | red |
| Vintage: | 2019 |
| Bottle Size: | 750mL |
| Blend: | 65% Grenache, 15% Mourvèdre, 15% Syrah, 5% (Cinsault, Clairette, et al) |
| Appellation: | Châteauneuf-du-Pape |
| Country: | France |
| Region: | Southern Rhône |
| Producer: | Domaine du Vieux Télégraphe |
| Winemaker: | Frédéric & Daniel Brunier |
| Vineyard: | 20 to 60 years |
| Soil: | Alluvial deposits, Limestone, Silica, and Molasse (red clay) with galets roulés |
| Aging: | Wine rests in cuves for 10 months, and then ages for another 12 months in foudres, wine is bottled unfiltered, after 22 months of aging |
| Farming: | Organic (practicing) |
| Alcohol: | 14.5% |
---
More from this Producer or Region
About The Producer
Domaine du Vieux Télégraphe
One cannot think of Châteauneuf-du-Pape without thinking of Domaine du Vieux Télégraphe. The Brunier family is legendary in its own right, having been rooted to the plateau known as La Crau for over a century. The wines of Vieux Télégraphe evoke terroir in its purest form, reflecting the dramatic climate, the rough terrain, the sun exposure at a high altitude, the typicity of the varietals, and of course, the influence of their caretakers, the Brunier family. For many, La Crau is Châteauneuf-du-Pape's grandest cru. The wines of V.T. are classic, displaying strength, rusticity, and tremendous longevity. Their goal is to find a harmony between aromatic complexity, tannic structure, and richness, which they achieve year after year.
Kermit once said...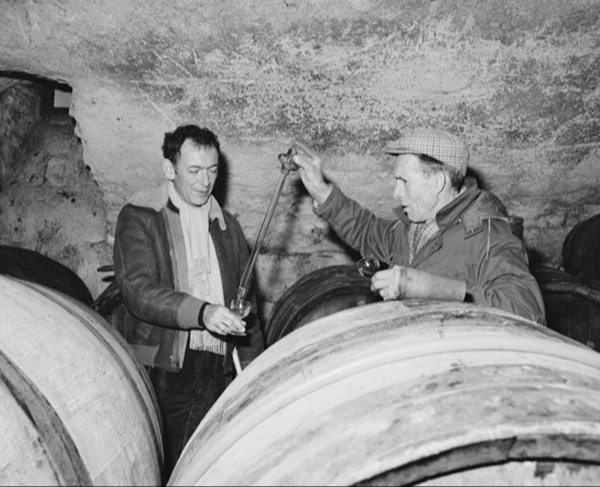 Kermit once said...
When buying red Burgundy, I think we should remember:

1. Big wines do not age better than light wine.
2. A so-called great vintage at the outset does not guarantee a great vintage for the duration.
3. A so-called off vintage at the outset does not mean the wines do not have a brilliant future ahead of them.
4. Red Burgundy should not taste like Guigal Côte-Rôtie, even if most wine writers wish it would.
5. Don't follow leaders; watch yer parking meters.
Inspiring Thirst, page 174
Discount Eligible $105.00