Soaring Grenache from Domaine Gramenon
Soaring Grenache from Domaine Gramenon
by Tom Wolf by Tom Wolf
2021 Côtes-du-Rhône "Poignée de Raisins"
2021 Côtes-du-Rhône "Poignée de Raisins"
Few grape varieties are more earthbound than Grenache. Wines made from this star of southern France often taste stony, full of garrigue, and, well, earthy. So it is something of a miracle that Domaine Gramenon has crafted a cuvée that proudly retains that essence of Grenache yet is still so ethereal. Largely due to this kind of paradoxical magic, Michèle Aubéry-Laurent and her son Maxime are among the most respected vignerons not only of the southern Rhône, where they produce roughly twenty distinct bottlings, but in all of France.
They grow Grenache and Syrah, among several other regional varieties, but instead of making rich, robust wines—which is easy to do in these parts—their reds tend to sit at the more lively, exuberant end of the spectrum. Chalk this up to their devotion to biodynamic and organic farming as well as their more "natural" winemaking practices in the cellar. This Poignée de Raisins—"handful of grapes"—accomplishes the elusive feat of boasting both soul and a soaring joie de vivre. It doesn't get much more perfect than that.
---
| | |
| --- | --- |
| Wine Type: | red |
| Vintage: | 2021 |
| Bottle Size: | 750mL |
| Blend: | Grenache |
| Appellation: | Côtes-du-Rhône |
| Country: | France |
| Region: | Southern Rhône |
| Producer: | Domaine Gramenon |
| Winemaker: | Michèle Aubèry-Laurent & Maxime François Laurent |
| Vineyard: | 4-30 Years |
| Soil: | Clay, Limestone varied with gravel, galets roulés, and/or sand |
| Farming: | Biodynamic (certified) |
| Alcohol: | 14% |
More from this Producer or Region
About The Producer
Domaine Gramenon
The seemingly reserved façade of Michèle Aubèry-Laurent melts quickly when she speaks about her wines. She and her husband, Philippe, bottled their first vintage in 1990, in the town of Montbrison-sur-Lez. In 1999, in an unexpected twist of fate, Philippe was killed in a tragic accident and Michèle was suddenly left with three children, vineyards, and the winery. Over the years, Michèle discovered her own creative voice in her new vocation. Today, she works twenty-six hectares with her son, Maxime François. They employ organic and biodynamic practices, with a non-interventionist stance in the cellars, bottling old-vine fruit with little sulfur, without fining or filtration, highlighting the purity of their small, rare production.
Kermit once said...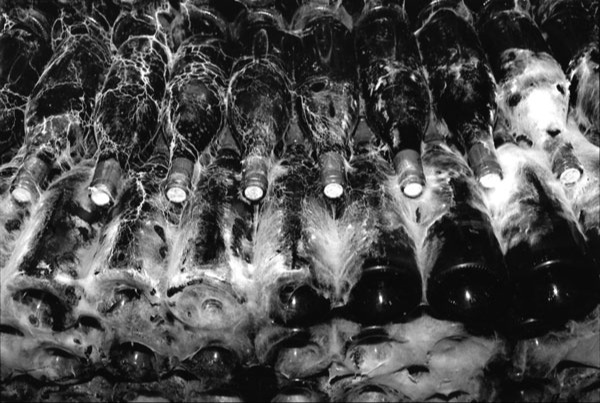 Kermit once said...
Let the brett nerds retire into protective bubbles, and whenever they thirst for wine it can be passed in to them through a sterile filter. Those of us on the outside can continue to enjoy complex, natural, living wines.
Inspiring Thirst, page 236