Daniel Brunier, the seasoned vigneron at the head of Les Pallières and Vieux Télégraphe, values authenticity like nobody else. It is a virtue that can be tasted across all his cuvées, and knowing Daniel, a prerequisite for any wine bearing his name on its label. It is only logical for a fourth-generation vigneron running a family domaine in a place as special, and as celebrated, as Châteauneuf's La Crau.
So several years ago, when Daniel told us he had made a rosé from the young vines at Les Pallières in Gigondas, we knew he was not messing around. He would never make a pop wine, nor follow the trend of mass-marketed rosés rooted in modern enology rather than terroir.
He chose to craft it using similar methods to how he produces his Châteauneuf blanc, pressing the grapes directly after harvest and fermenting with native yeasts in used demi-muids, with malolactic fermentation occurring naturally before an unfiltered bottling. The result has density, texture, and weight on the palate, lifted by a saline freshness. Much like a fine white Burgundy, it should not be served too cold. There is a clear sense of place, along with a clear image of the man behind it, and his values. In Daniel's words:

When we decided to create a rosé at Pallières, we had never done it before. One thing was certain: we did not want to make something that resembled all the other rosés—too technical, lacking soul and personality. The idea was to simply create a rosé we liked. We had to go against the current without knowing where that would lead us… "Au petit bonheur la chance," as we say in France [meaning, "We'll see where luck takes us"]. That's the name we gave our 'experiment,' and for those who don't understand the significance, it's a beautiful idea nonetheless!
—Anthony Lynch
More from this Producer or Region
About The Producer
Les Pallières
Domaine Les Pallières is undeniably one of the greatest, longest-running properties of the Southern Rhône, having been within the same family since the 15th century. By 1998, with no successors, the Roux family decided to sell. A discussion over lunch between Daniel Brunier, of Vieux Télégraphe, and Kermit Lynch spontaneously turned into a plan to revive the jewel—Les Pallières. The Roux family decided to sell to the Bruniers and Kermit and the Pallières' renaissance had begun. A focus on terroir and its potential led to a clear, new direction. Domaine Les Pallières has become a partnership among friends, a real meeting of the minds—a creative collaboration of three leading, passionate experts on the wines of the Rhône.
Kermit once said...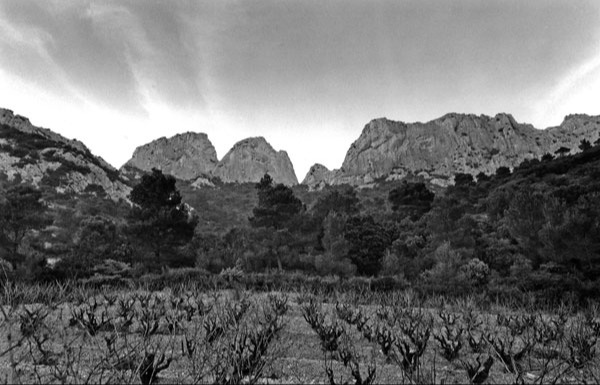 Kermit once said...
Great winemakers, great terroirs, there is never any hurry. And I no longer buy into this idea of "peak" maturity. Great winemakers, great terroirs, their wines offer different pleasures at different ages.
Inspiring Thirst, page 312