Receive our Monthly Newsletter and Special Promotions. Stay up to date on new arrivals, sales, and events at our Berkeley shop.
Celebrating 50 Years
Receive our Monthly Newsletter and Special Promotions. Stay up to date on new arrivals, sales, and events at our Berkeley shop.
by Dixon Brooke
Daniel Alibrand and his wife, Valérie, are making some of the most exciting wine in Bordeaux today. The fact that all of their wine is white makes their family domaine even more unique and special in this renowned region...
by Kermit Lynch
Last spring I had the good fortune to accompany Burton Anderson through the Piemonte. Author of Vino, Anderson was touring the cellars to research an article on that picturesque, mountainous region which gives us Barolo, Barbaresco, Dolcetto, and the finest Barbera of Italy......
by Anthony Lynch
It was a swampy summer afternoon in Beaune (yes, it does get hot in Burgundy from time to time) when I first tasted Giulia Negri's wines. Not the ideal conditions to best appreciate young Barolo, you might think, and you're entirely right—a kir or an ice-cold pilsner would have been a more refreshing choice that day. But being professionals, my colleagues and I did our due diligence, and through beads of sweat, we sampled the creations of a young woman from La Morra, a commune reputed for the elegance and ethereal perfume of its Nebbiolo. Several months later, I found myself standing in Giulia's cellar, swirling a wine grown from the highest vineyards of the entire Barolo appellation. Surpassing five hundred meters in elevation, the cru Serradenari represents the future of Barolo......
by Kermit Lynch
If I did not like my other Beaujolais producers so much, I would tell you that Nicole Chanrion makes the best of them all, because when you have your nose in a glass of hers, you cannot imagine any other Beaujolais possibly surpassing it. And it is such glorious WINE, you know, so essentially, definitively wine-like. The aroma of her 1995 is super, a mixture of red fruits like raspberry and cherry, but above all crushed fresh strawberries, you know, the way it would smell if you picked up a bunch of fresh strawberries in your hands and mashed them up right under your nose. Forget any prejudice about wimpy Beaujolais. This aroma is macho. And it rises regally out of a solid, intense structure. This is typical Chanrion. One of a kind. And so swallowable. (Swallow two glassfuls and say swallowable five times as fast as you can.)...
by Anthony Lynch
Grottafumata is, in a sense, the antithesis of many of the changes Etna has seen in recent times. As multinational wine brands have settled looking to cash in on the Etna name, bulldozing vast swaths of land in preparation for planting and erecting super-wineries overnight, Mauro and Mariangela have gone back to the roots. They painstakingly sought out great vineyard sites planted to old vines, making deals with old contadino farmers no longer interested in working the steep land. They grow the fruit organically and vinify it naturally in rented cellar space, and the results—tiny volumes of wines infused with Etna's exotic, smoky aura—speak for themselves. Grottafumata's 2019 rosso showcases Nerello Mascalese up to one hundred years old, fermented and aged in tank, bottled unfiltered with barely any sulfur. We've heard of Etna reds being called "Burgundian," and comparisons......
by Kermit Lynch
If the word typicity does not exist, it should. Imagine, you want a baguette with dinner so you buy one, carry it home, and when you tear into it you find it full of cinnamon and dried apricots. Tasty or not, you are stuck with a baguette that lacks typicity. When I want a Châteauneuf-du-Pape, that means something; when I uncork it, I want it to taste like Châteauneuf-du-Pape, to express Châteauneuf-du-Papeness. Or Châteauneuf-du-Papicity?...
by Anthony Lynch
Never did I expect my father would liken a humble Provençal white to what is probably his favorite white wine of all time, Raveneau's Chablis. But this is no ordinary Provençal white, Villars-sur-Var is no ordinary terroir, and Roch Sassi has proven, in the few years since we began working with him, his capacities as a truly extraordinary vigneron......
by Kermit Lynch
A client pointed at the two or three stacks of red Burgundy in the shop and asked, "You used to specialize in Burgundy, didn't you?" I've spent more time tasting in Burgundy than in all other wine regions put together. Burgundy remains the king of wines in my vinous aristocracy. If you ask me, I specialize in Burgundy. However, I'm choosier than I used to be. Certainly this is a logical consequence of the formidable prices in Burgundy. The wine in the bottle must be worth its price no matter what it says on the label....
by Anthony Lynch
Among our most inspiring recent discoveries is undoubtedly Clos Larrouyat, a small domaine my dad and I came across on a recent trip to the Southwest. Their wines have featured prominently on our dinner table since, and we have begun adding them to the family cellar alongside more famous names who at one point were also relative unknowns. You could say this young vigneron couple just gets it, which is all the more impressive considering they are still early in their career....
by Anthony Lynch
We have reached a pivotal time in the wine world, and nowhere more so than in the southern Rhône. With their very livelihood at stake, vignerons such as the Férigoules of Domaine le Sang des Cailloux are the first to recognize the need to react and adapt . . ....
Kermit once said...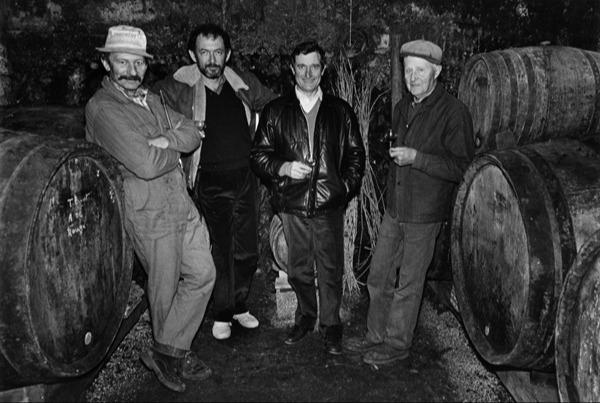 Kermit once said...
I want you to realize once and for all: Even the winemaker does not know what aging is going to do to a new vintage; Robert Parker does not know; I do not know. We all make educated (hopefully) guesses about what the future will bring, but guesses they are. And one of the pleasures of a wine cellar is the opportunity it provides for you to witness the evolution of your various selections. Living wines have ups and downs just as people do, periods of glory and dog days, too. If wine did not remind me of real life, I would not care about it so much.
Inspiring Thirst, page 171