"I recall many years ago when Marcel Lapierre pulled me aside and asked if I thought Kermit and our clients would like his new 'petit vin.' When I asked him what it was, he told me, 'It's a wine... that you drink like a beer... when you don't really want to drink a beer.' What's not to like about that? To this day, I continue to follow his advice, buy it by the case, and drink it cold, out of a simple glass cup. Like a beer, sure, but much better." —Chris Santini
---
The late Marcel Lapierre famously championed organic farming, hand-harvesting ripe fruit, and a winemaking philosophy of "nothing added, nothing taken away" that has spread like wildfire to all corners of the wine world. Irresistibly delicious yet deeply complex and age-worthy, his Morgons silenced many a critic and quenched many a parched palate. Today, his children Mathieu and Camille proudly carry on the Lapierre tradition.
A perfect initiation to the domaine's wines, this bottling is designed specifically for the purpose of drinking—not tasting, not spitting, but jolly, carefree quaffing. Although it consists of Gamay grown within the Morgon cru, the high yields from these young vines exceed the limit required to qualify for the Morgon appellation. As a result, this juicy red—loaded with bright, playful fruit—is low in alcohol and delightfully refreshing. It begs for a slight chill and to be served alongside charcuterie, cheeses, picnic fare, burritos, or just about anything.
—Anthony Lynch
More from this Producer or Region
About The Producer
M. & C. Lapierre
Little would we know that when Marcel Lapierre took over the family domaine from his father in 1973, he was on the road to becoming a legend. Following the example of traditionalist Jules Chauvet, Marcel and three other local vignerons Jean Foillard, Jean-Paul Thévenet, and Guy Breton, soon hoisted the flag of Chauvet's back-to-nature movement. Kermit dubbed this clan the Gang of Four, and the name has stuck ever since. The Gang called for a return to the old practices of viticulture and vinification. Sadly, the 2010 vintage was Marcel's last. His children, Mathieu and Camille continue the great work that their father pioneered, introducing biodynamic vineyard practices and ensuring that Marcel's legacy lives on.
About The Region
Beaujolais
After years of the region's reputation being co-opted by mass-produced Beaujolais Nouveau and the prevalence of industrial farming, the fortunes of vignerons from the Beaujolais have been on the rise in the past couple of decades. Much of this change is due to Jules Chauvet, a prominent Beaujolais producer who Kermit worked with in the 1980s and arguably the father of the natural wine movement, who advocated not using herbicides or pesticides in vineyards, not chaptalizing, fermenting with ambient yeasts, and vinifying without SO2. Chief among Chauvet's followers was Marcel Lapierre and his three friends, Jean Foillard, Guy Breton, and Jean-Paul Thévenet—a group of Morgon producers who Kermit dubbed "the Gang of Four." The espousal of Chauvet's methods led to a dramatic change in quality of wines from Beaujolais and with that an increased interest and appreciation for the AOC crus, Villages, and regular Beaujolais bottlings.

The crus of Beaujolais are interpreted through the Gamay grape and each illuminate the variety of great terroirs available in the region. Distinguishing itself from the clay and limestone of Burgundy, Beaujolais soils are predominantly decomposed granite, with pockets of blue volcanic rock. The primary vinification method is carbonic maceration, where grapes are not crushed, but instead whole clusters are placed in a tank, thus allowing fermentation to take place inside each grape berry.

Much like the easy-going and friendly nature of many Beaujolais vignerons, the wines too have a lively and easy-drinking spirit. They are versatile at table but make particularly good matches with the local pork sausages and charcuterie. Though often considered a wine that must be drunk young, many of the top crus offer great aging potential.
More from Beaujolais or France
Kermit once said...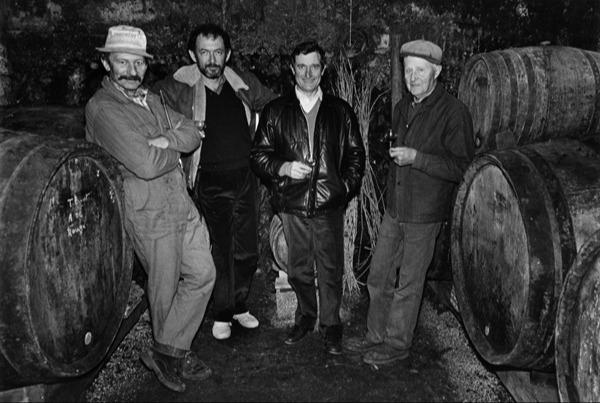 Kermit once said...
I want you to realize once and for all: Even the winemaker does not know what aging is going to do to a new vintage; Robert Parker does not know; I do not know. We all make educated (hopefully) guesses about what the future will bring, but guesses they are. And one of the pleasures of a wine cellar is the opportunity it provides for you to witness the evolution of your various selections. Living wines have ups and downs just as people do, periods of glory and dog days, too. If wine did not remind me of real life, I would not care about it so much.
Inspiring Thirst, page 171