You might do a double take after your first sip of this mouthwatering blanc from Domaine de Reuilly and wonder, "Is this Chablis?" It is not Chardonnay from Chablis, but Sauvignon Blanc from the eastern slice of the Loire region! Like the best Burgundian Chardonnay, however, this Sauvignon Blanc serves to transmit its Reuilly-ness more than its Sauvignon Blanc-ness. Instead of tropical, heavily grassy notes, you get a lean, chiseled frame with hints of crushed rock and citrus. The limestone parcel where it originates is called "Les Pierres Plates"—the flat stones—which is filled with fossilized shells from the Kimmeridgian period, when France was covered by ocean. Where you find this soil in Chablis and parts of Champagne, you also find bone-dry, flinty, almost saline wines that are the soulmates of shellfish. Denis Jamain of Domaine de Reuilly farms organically and biodynamically, which allows this single-vineyard Sauvignon's minéralité to sing its purest song.
—Tom Wolf
More from this Producer or Region
/
About The Producer
Domaine de Reuilly
When tasting the wines of Denis Jamain, it is clear that the appellation of Reuilly is experiencing a renaissance, moving far beyond its former status as the "poor man's Sancerre." Phylloxera ravaged the majority of the vineyards in the late 19th century, but Camille Rousseau (Denis' maternal grandfather) had faith in the future of Reuilly. In 1935, he planted his first vines here, in addition to farming a large oak forest on the outskirts of town. Denis shares his grandfather's passion. Though he studied in the US and speaks excellent English, he wanted nothing more than to return home to take over the family domaine. In 1990, Denis began adding to the family holdings. Today, he farms 17 hectares in the heart of the appellation.
About The Region
Loire
The defining feature of the Loire Valley, not surprisingly, is the Loire River. As the longest river in France, spanning more than 600 miles, this river connects seemingly disparate wine regions. Why else would Sancerre, with its Kimmeridgian limestone terroir be connected to Muscadet, an appellation that is 250 miles away?

Secondary in relevance to the historical, climatic, environmental, and cultural importance of the river are the wines and châteaux of the Jardin de la France. The kings and nobility of France built many hundreds of châteaux in the Loire but wine preceded the arrival of the noblesse and has since out-lived them as well.

Diversity abounds in the Loire. The aforementioned Kimmderidgian limestone of Sancerre is also found in Chablis. Chinon, Bourgueil, and Saumur boast the presence of tuffeau, a type of limestone unique to the Loire that has a yellowish tinge and a chalky texture. Savennières has schist, while Muscadet has volcanic, granite, and serpentinite based soils. In addition to geologic diversity, many, grape varieties are grown there too: Cabernet Franc, Chenin Blanc, Sauvignon Blanc, and Melon de Bourgogne are most prevalent, but (to name a few) Pinot Gris, Grolleau, Pinot Noir, Pineau d'Aunis, and Folle Blanche are also planted. These myriad of viticultural influences leads to the high quality production of every type of wine: red, white, rosé, sparkling, and dessert.

Like the Rhône and Provence, some of Kermit's first imports came from the Loire, most notably the wines of Charles Joguet and Château d'Epiré—two producers who are featured in Kermit's book Adventures on the Wine Route and with whom we still work today.
More from Loire or France
Vintage Chart Mentality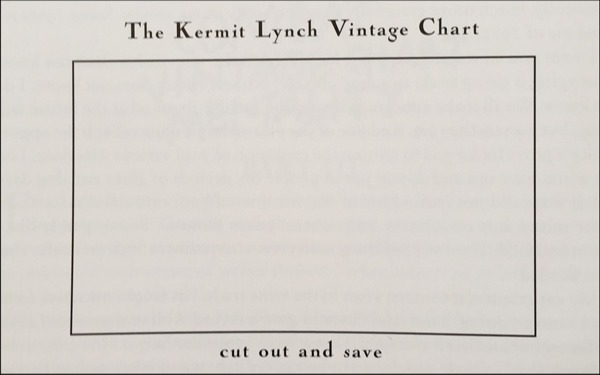 Vintage Chart Mentality
Trust the great winemakers, trust the great vineyards. Your wine merchant might even be trustworthy. In the long run, that vintage strip may be the least important guide to quality on your bottle of wine.—Kermit Lynch