It's hard to think of Sicily without thinking of food, and any occasion featuring Sicilian food on the table calls for a cool bottle of Frappato. Alessandro Portelli fashions a remarkably fragrant, agile rendition of the grape in the sun-kissed countryside around Vittoria, deep in Sicily's dusty southern reaches. Baked eggplant dishes, flame-seared tuna steaks, and red-sauce pastas loaded with olives and capers are just a few ideas you might consider for a Sicily-inspired feast. The ambrosial perfume of lavender, wild strawberry, and sour cherry in this lifted red will make the flavors on your plate sing.
—Anthony Lynch
---
| | |
| --- | --- |
| Wine Type: | red |
| Vintage: | 2019 |
| Bottle Size: | 750mL |
| Blend: | Frappato |
| Appellation: | Vittoria Frappato |
| Country: | Italy |
| Region: | Sicily |
| Producer: | Portelli |
| Winemaker: | Salvatore and Alessandro Portelli |
| Vineyard: | Planted in 1982, 4 ha |
| Soil: | Clay |
| Farming: | Organic (certified) |
| Alcohol: | 12.5% |
---
More from this Producer or Region
/
About The Producer
Portelli
In the southeastern corner of Sicily, west of Modica and Ragusa, the town of Vittoria is the home of Sicily's sole DOCG (Italy's strictest form of wine certification), known as Cersuolo di Vittoria. Cerasuolo is an enlightened blend of Frappato and Nero d'Avola, and the two grapes when blended melt into each other in a harmonious symphony of flavor and texture. I fell in love with the wine and its medium-bodied, sensual, seductive personality. Then I discovered the Portelli family, Salvatore and his son Alessandro, and have been duly impressed with their mastery of these fine examples of southern Sicilian charm. Their wines are fresh, and joyful to drink, all while being faithful representatives of their native land. Welcome to a new KLWM standard.
About The Region
Sicily
Italy's southernmost region and the largest island in the Mediterranean, Sicily has no shortage of sunshine to grow high-quality grapes on a yearly basis. It also does not lack a history of winemaking: since the Greeks settled here almost three millennia ago, the vine has played a major role in the island's agricultural makeup. Production of cheap bulk wine for blending dominated much of its recent history until now, as we are witnessing a quality revolution that puts forth its great diversity and quality of terroirs, indigenous grape varieties, and local production methods.

While Sicily's historical reputation is for sweet wines—Marsala and the Muscats of Pantelleria stand out—a number of dry whites and reds are enjoying the spotlight today. The cooler, high-altitude slopes of Etna, with its ashy volcanic soils, have seen an explosion of activity from producers both local and foreign; both whites (primarily from Carricante) and reds (Nerello Mascalese) here are capable of uncommon freshness and finesse. Other noteworthy wine regions are Eloro, where Nero d'Avola gives its best; Noto, an oasis of dry and sweet Moscatos; Vittoria, with its supple, perfumed Frappatos; and Salina, where Malvasia makes thirst-quenching dry whites and deliciously succulent passiti.

Countless foreign invasions over the centuries have given Sicilian architecture and cuisine a unique exotic twist, making it a fascinating destination for gourmands as well as wine importers. With a wealth of dedicated artisans proud to show off the riches of their land, you can bet there are many exciting things still to come from this incredible island.
More from Sicily or Italy
Vintage Chart Mentality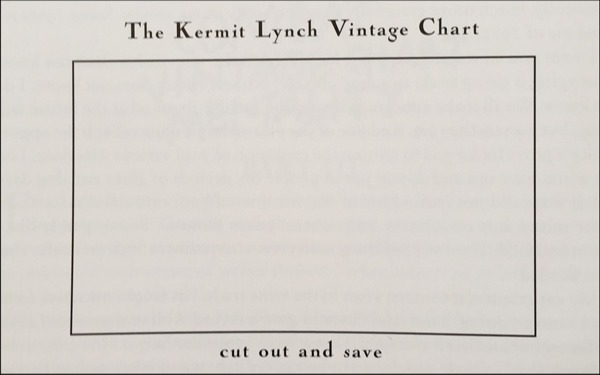 Vintage Chart Mentality
Trust the great winemakers, trust the great vineyards. Your wine merchant might even be trustworthy. In the long run, that vintage strip may be the least important guide to quality on your bottle of wine.—Kermit Lynch