If you're searching for young, drinkable Bordeaux, the tiny appellation of Pomerol on the southern right bank of the Gironde River deserves a closer look. Raised in amphorae and air-tight, stainless-steel vats that capture the natural freshness and vigor of Gombaude's signature organic and biodynamic grapes, this unfiltered blend of concentrated old-vine Merlot, Malbec, and peppery Cabernet Franc will generously stain your teeth, your glass, and your linens—save your grandmother's pressed white tablecloth for a different occasion. A youthful perspective marks this dress-code-not-required Bordeaux, whose velvety tannins and supple structure fit more like soft flannel and worn jeans than a stiff suit jacket and tie. But don't be fooled. This Pomerol will ceremoniously drum on for several days once opened and just as easily accompany a thick rib-eye with spring potatoes as it will a roast chicken with mustardy greens. Plan to get at least two rockin' good meals out of it, or, if you're a gourmand, grab a second bottle.
More from this Producer or Region
About The Producer
Château Gombaude-Guillot
In the heart of the Pomerol plateau, on the Right Bank of Bordeaux, the vineyards of Château Gombaude-Guillot have been a family property for so long that the current generation doesn't even know when they were first acquired. The Bélevier family was already well established as vignerons in Pomerol and Néac when this property was passed down to Marie Bélevier as a dowry in 1868. Today, Claire Laval, Marie's great-granddaughter, runs the estate with her son Olivier Techer. Though the estate is already certified organic, Claire is now pursuing the more stringent requirements of biodynamics. The wines of Gombaude-Guillot are classic reflections of Pomerol: rich and supple, with a deep gravel mineral structure.
About The Region
Bordeaux
Often considered the wine capital of the world, Bordeaux and its wines have captured the minds, hearts, and wallets of wine drinkers for centuries. For many, the wines provide an inalienable benchmark against which all other wines are measured.

Bordeaux is divided into three winegrowing regions with the city that gives the region its name in the near geographical center. The "right bank," or the area located east of the Dordogne River, produces wines that are predominantly Merlot with small amounts of Cabernet Franc and Cabernet Sauvignon. The "left bank" is located to the west of the Garonne River and produces wines dominated by Cabernet Sauvignon, with Cabernet Franc, Merlot, Malbec and Petit Verdot.

The third region, Entre-Deux-Mers, lies between both rivers and produces white wines from Sauvignon Blanc, Sémillon, and Muscadelle. Though technically in the left bank, it is worth noting the appellation of Sauternes, which produces arguably the world's most famous sweet wines from Sauvignon Blanc, Sémillon, and Muscadelle as well.

Though many top Bordeaux wines are sold en primeur (in advance of their bottling) and often through a middleman known as a negoçiant, Kermit has always preferred to purchase directly from the winemaker. For more than three decades he has sought out small producers, who make classic Bordeaux wines and are willing to play outside the negoçiant system. This ethic has led to longstanding relationships, excellent prices, and perhaps most important—wines of great value and longevity.
More from Bordeaux or France
Where the newsletter started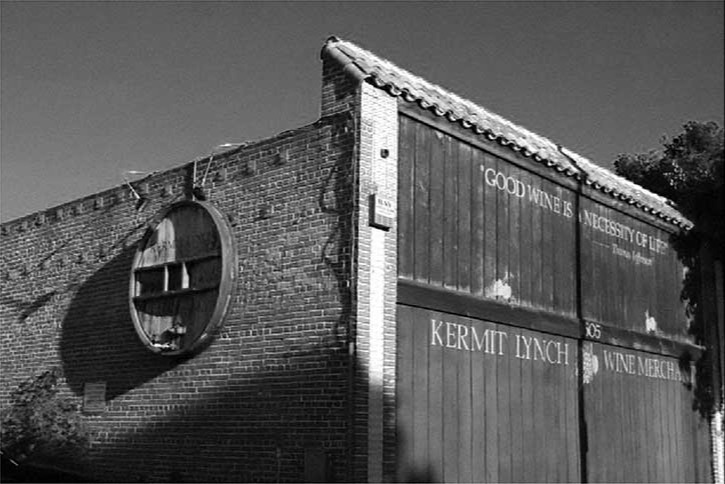 Where the newsletter started
Every three or four months I would send my clients a cheaply made list of my inventory, but it began to dawn on me that business did not pick up afterwards. It occurred to me that my clientele might not know what Château Grillet is, either. One month in 1974 I had an especially esoteric collection of wines arriving, so I decided to put a short explanation about each wine into my price list, to try and let my clients know what to expect when they uncorked a bottle. The day after I mailed that brochure, people showed up at the shop, and that is how these little propaganda pieces for fine wine were born.—Kermit Lynch