---
The most serious and age-worthy of their dry wines, it has a depth and richness of flavor that allow it to shine alongside refined cuisine.
---
In addition to being extremely talented vignerons, the Champalous (Catherine, Didier, and their daughter, Céline) are quite skilled in the culinary arts. Ever the warm and generous hosts, they take pleasure in toiling away in the kitchen to create brilliant and often unexpected pairings for their wines. With Vouvrays of all styles available in their cellar—still and sparkling; dry, off-dry, and fully sweet; oak-aged and tank-aged; vintages young and old of every cuvée—the options are truly endless.
Upon placing a dish on the table, Didier likes to play a game. He'll pour a glass of a mystery bottle brought up from the family cellar and then let the guests determine its vintage and bottling. On a recent visit, he served one of the more luxurious creations imaginable: oysters topped with foie gras, baked for several minutes until the whole reached a rich, tender, decadent apex. What wine could possibly accompany this sublime combination of briny and unctuous? One with a fresh spine of acidity and a texture voluptuous enough to stand up to foie gras—their 2009 Vouvray sec. Next, Catherine emerged from the kitchen carrying a Moroccan-style chicken tagine with olives, currants, and preserved lemons—not exactly local Loire Valley fare, but delicious nonetheless, and perfect with a refreshing, ever-so-slightly sweet 2008 Vouvray Les Fondraux, hinting at honey and candied citrus. Finally, to accompany a simple slab of aged comté, Didier poured a radiant liquid reminiscent of melted stone and black truffle. It prickled the palate with a gentle effervescence—surely this must be an aged pétillant? Didier flashed a devious smile as he brandished the crusty old bottle and announced triumphantly, "1986!"
The Champalous' Vouvray Le Portail is a Chenin Blanc from a very chalky terroir, fermented and aged in 500-liter demi-muids. The most serious and age-worthy of their dry wines, it has a depth and richness of flavor that allow it to shine alongside refined cuisine. Lobster or Loire goat cheeses are an easy match, but don't hesitate to check out the Champalou website for additional gourmet ideas.
—Anthony Lynch
---
| | |
| --- | --- |
| Wine Type: | white |
| Vintage: | 2019 |
| Bottle Size: | 750mL |
| Blend: | Chenin Blanc |
| Appellation: | Vouvray |
| Country: | France |
| Region: | Loire |
| Producer: | Champalou |
| Winemaker: | Catherine & Didier Champalou |
| Vineyard: | 20 years average, 3.5 ha |
| Soil: | Clay |
| Farming: | Sustainable |
| Alcohol: | 13.5% |
---
More from this Producer or Region
About The Producer
Champalou
Catherine and Didier Champalou both came from vigneron families, yet their mutual sense of independence prompted the couple to brave it on their own. Since starting the domaine in 1983, their label has become one of the most highly-acclaimed in the appellation. Vouvray is home to the noble Chenin Blanc, more commonly known as Pineau de la Loire in their part of the world. The Champalou family farms 21 hectares of vineyards, embracing sustainable farming while integrating the use of the lunar calendar. Their soils are rich, deep, and aerated though regular plowing. The Champalou house style produces wines of great elegance and tenderness, highly aromatic with impeccable balance. No one comes close to copying their distinct style.
About The Region
Loire
The defining feature of the Loire Valley, not surprisingly, is the Loire River. As the longest river in France, spanning more than 600 miles, this river connects seemingly disparate wine regions. Why else would Sancerre, with its Kimmeridgian limestone terroir be connected to Muscadet, an appellation that is 250 miles away?

Secondary in relevance to the historical, climatic, environmental, and cultural importance of the river are the wines and châteaux of the Jardin de la France. The kings and nobility of France built many hundreds of châteaux in the Loire but wine preceded the arrival of the noblesse and has since out-lived them as well.

Diversity abounds in the Loire. The aforementioned Kimmderidgian limestone of Sancerre is also found in Chablis. Chinon, Bourgueil, and Saumur boast the presence of tuffeau, a type of limestone unique to the Loire that has a yellowish tinge and a chalky texture. Savennières has schist, while Muscadet has volcanic, granite, and serpentinite based soils. In addition to geologic diversity, many, grape varieties are grown there too: Cabernet Franc, Chenin Blanc, Sauvignon Blanc, and Melon de Bourgogne are most prevalent, but (to name a few) Pinot Gris, Grolleau, Pinot Noir, Pineau d'Aunis, and Folle Blanche are also planted. These myriad of viticultural influences leads to the high quality production of every type of wine: red, white, rosé, sparkling, and dessert.

Like the Rhône and Provence, some of Kermit's first imports came from the Loire, most notably the wines of Charles Joguet and Château d'Epiré—two producers who are featured in Kermit's book Adventures on the Wine Route and with whom we still work today.
More from Loire or France
Kermit once said...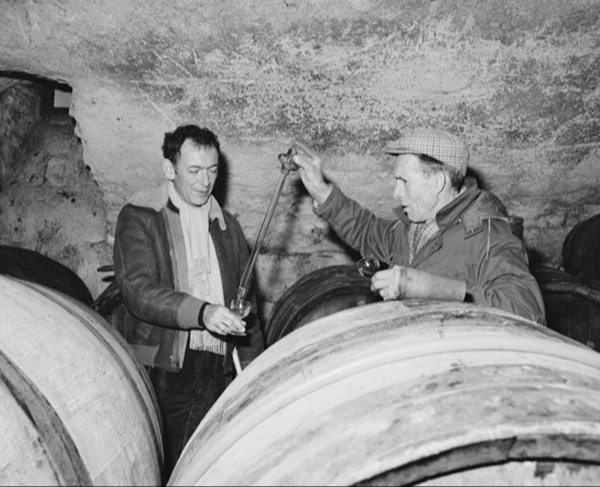 Kermit once said...
When buying red Burgundy, I think we should remember:

1. Big wines do not age better than light wine.
2. A so-called great vintage at the outset does not guarantee a great vintage for the duration.
3. A so-called off vintage at the outset does not mean the wines do not have a brilliant future ahead of them.
4. Red Burgundy should not taste like Guigal Côte-Rôtie, even if most wine writers wish it would.
5. Don't follow leaders; watch yer parking meters.
Inspiring Thirst, page 174