Deliciously earthy nose, like fresh-turned garden soil, that extends through the finish. Harel's Charmes has tannic grip, but those tannins melt away when paired with a meal. The wine's plainspoken, humble, rustic quality is immensely appealing and refreshing.
—Dustin Soiseth
More from this Producer or Region
About The Producer
Quentin Harel
Raised in a vigneron household, Quentin Harel sought further experience away from home early on, taking jobs with growers elsewhere in the Beaujolais as well as in Burgundy. He received the bulk of his formative training in the Diois in addition to studying soil microbiology. The 2012 harvest marked his first solo vinification at the helm of Domaine de Buis-Rond, an estate owned by Quentin's family since 1768. The majority of Quentin's holdings lie around Buis-Rond, and are classified as Beaujolais AOC. Eager for a new challenge, Quentin purchased one hectare of Morgon in 2011. This parcel of 80 year-old vines lies in the lieu-dit Charmes, a higher-altitude site prone to giving lively, elegant, and mineral wines.
About The Region
Beaujolais
After years of the region's reputation being co-opted by mass-produced Beaujolais Nouveau and the prevalence of industrial farming, the fortunes of vignerons from the Beaujolais have been on the rise in the past couple of decades. Much of this change is due to Jules Chauvet, a prominent Beaujolais producer who Kermit worked with in the 1980s and arguably the father of the natural wine movement, who advocated not using herbicides or pesticides in vineyards, not chaptalizing, fermenting with ambient yeasts, and vinifying without SO2. Chief among Chauvet's followers was Marcel Lapierre and his three friends, Jean Foillard, Guy Breton, and Jean-Paul Thévenet—a group of Morgon producers who Kermit dubbed "the Gang of Four." The espousal of Chauvet's methods led to a dramatic change in quality of wines from Beaujolais and with that an increased interest and appreciation for the AOC crus, Villages, and regular Beaujolais bottlings.

The crus of Beaujolais are interpreted through the Gamay grape and each illuminate the variety of great terroirs available in the region. Distinguishing itself from the clay and limestone of Burgundy, Beaujolais soils are predominantly decomposed granite, with pockets of blue volcanic rock. The primary vinification method is carbonic maceration, where grapes are not crushed, but instead whole clusters are placed in a tank, thus allowing fermentation to take place inside each grape berry.

Much like the easy-going and friendly nature of many Beaujolais vignerons, the wines too have a lively and easy-drinking spirit. They are versatile at table but make particularly good matches with the local pork sausages and charcuterie. Though often considered a wine that must be drunk young, many of the top crus offer great aging potential.
More from Beaujolais or France
Where the newsletter started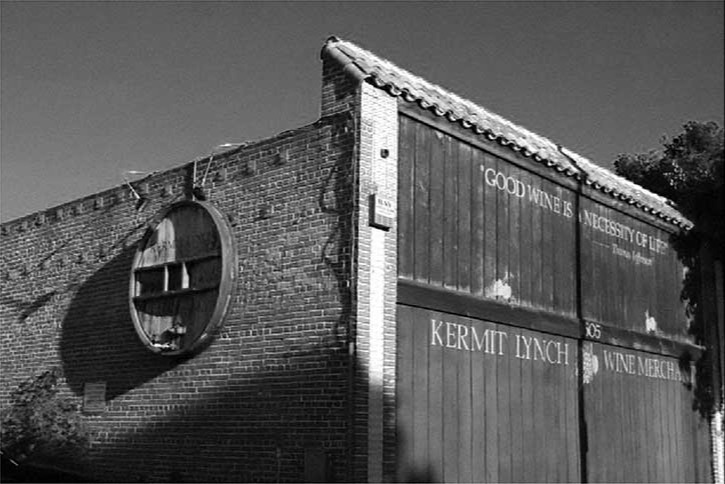 Where the newsletter started
Every three or four months I would send my clients a cheaply made list of my inventory, but it began to dawn on me that business did not pick up afterwards. It occurred to me that my clientele might not know what Château Grillet is, either. One month in 1974 I had an especially esoteric collection of wines arriving, so I decided to put a short explanation about each wine into my price list, to try and let my clients know what to expect when they uncorked a bottle. The day after I mailed that brochure, people showed up at the shop, and that is how these little propaganda pieces for fine wine were born.—Kermit Lynch