I thank Aubert de Villaine for leading me to young Gachot's door. If you already know something about Aubert's consummate taste, you'll have an idea of what's in store for you.
After a thirty-five-year career, I have a headful of tasting memories, but my favorite are of the few occasions when Aubert and I met up at Richard Olney's house in Provence. The wine talk during those occasions was sans bullshit.
Aubert would bring a bottle or two. Richard was the cook. Since Richard did not drive, I did the grocery shopping.
Richard would bring up some special bottles from his cellar, and invariably Aubert would look sort of shocked and tell him, "No no Richard, that's too much." It was never too much. Well, maybe it was, because I cannot remember one single brilliant line any of us spoke about any particular wine, but I'm left with the impression that our conversation was consistently profound.
Now, back to the wine at hand. First, it is impeccable. Second, it does not exceed its appellation; it is not a substitute Romanée Conti; it is a perfect Côte de Nuits-Villages. The pretty nose smells fabulously of Pinot Noir. The palate has good, juicy flesh to it, and the tannin/acid balance... well, even in Burgundy you rarely find such an elegant balance.
As red Burgundy or Pinot Noir, I think you will agree that this is an incredible value.

** This passage comes from our August 2006 newsletter, but it continues to capture the essence of Gachot-Monot's outstanding Côte de Nuits-Villages today! **

—Kermit Lynch
---
| | |
| --- | --- |
| Wine Type: | red |
| Vintage: | 2021 |
| Bottle Size: | 750mL |
| Blend: | Pinot Noir |
| Appellation: | Côte de Nuits-Villages |
| Country: | France |
| Region: | Burgundy |
| Producer: | Domaine Gachot-Monot |
| Winemaker: | Damien & Lise Gachot |
| Vineyard: | 40 - 45 years, 7 ha |
| Soil: | Clay, Limestone |
| Aging: | Grapes are vinified traditionally in cuve for anywhere between 10-15 days, depending on cuvée and vintage, wines age in fûts (20-30% of which are new) for up to 18 months before bottling |
| Farming: | Lutte Raisonnée |
| Alcohol: | 13% |
---
More from this Producer or Region
About The Producer
Domaine Gachot-Monot
The wines of Gachot-Monot represent some of the best values in the KLWM portfolio – not because they are the least expensive, but because they offer an outstanding price-to-quality ratio. Damien Gachot may work the vineyards of the lesser known Côtes de Nuits Villages appellation, but he works his vines as if they were premier cru fruit from Nuits-Saint-Georges. Damien first came to Kermit's attention via a trusted source—the master of La Tâche himself, Aubert de Villaine. Ever-smiling and tireless in his work, Damien was first saluted by the Hospices de Beaune as a young talent to be watched. We have been proud to import his wine since the 2000 vintage.
About The Region
Burgundy
In eastern central France, Burgundy is nestled between the wine regions of Champagne to the north, the Jura to the east, the Loire to the west, and the Rhône to the south. This is the terroir par excellence for producing world-class Pinot Noir and Chardonnay.

The southeast-facing hillside between Dijon in the north and Maranges in the south is known as the Côte d'Or or "golden slope." The Côte d'Or comprises two main sections, both composed of limestone and clay soils: the Côte de Nuits in the northern sector, and the Côte de Beaune in the south. Both areas produce magnificent whites and reds, although the Côte de Beaune produces more white wine and the Côte de Nuits more red.

Chablis is Burgundy's northern outpost, known for its flinty and age-worthy Chardonnays planted in Kimmeridgian limestone on an ancient seabed. Vézelay is a smaller area south of Chablis with similar qualities, although the limestone there is not Kimmeridgian.

To the south of the Côte de Beaune, the Côte Chalonnaise extends from Chagny on its northern end, down past Chalon-sur-Saône and encompasses the appellations of Bouzeron in the north, followed by Rully, Mercurey, Givry, and Montagny.

Directly south of the Chalonnaise begins the Côte Mâconnais, which extends south past Mâcon to the hamlets of Fuissé, Vinzelles, Chaintré, and Saint-Véran. The Mâconnais is prime Chardonnay country and contains an incredible diversity of soils.
More from Burgundy or France
Kermit once said...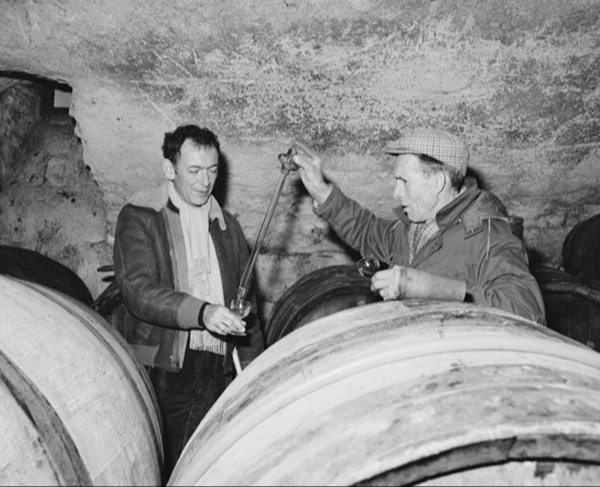 Kermit once said...
When buying red Burgundy, I think we should remember:

1. Big wines do not age better than light wine.
2. A so-called great vintage at the outset does not guarantee a great vintage for the duration.
3. A so-called off vintage at the outset does not mean the wines do not have a brilliant future ahead of them.
4. Red Burgundy should not taste like Guigal Côte-Rôtie, even if most wine writers wish it would.
5. Don't follow leaders; watch yer parking meters.
Inspiring Thirst, page 174