Discount Eligible $250.00
La Genelotte is one of the great underrated sites of the Côte de Beaune. Perched over the communes of Meursault and Puligny beneath thick woodland, it is a monopole farmed exclusively by Domaine de Chérisey. Old Chardonnay vines give a deeply concentrated, yet finely chiseled Meursault with toasty notes of gunflint and hazelnuts, culminating in a tonic finish characterized by biting mineral extract. This is truly electric Chardonnay whose track record of aging makes it a great cellar candidate, but it can be savored today, too, especially if given some time in a decanter.
—Anthony Lynch
Discount Eligible $250.00
---
| | |
| --- | --- |
| Wine Type: | white |
| Vintage: | 2020 |
| Bottle Size: | 750mL |
| Blend: | Chardonnay |
| Appellation: | Meursault-Blagny |
| Country: | France |
| Region: | Burgundy |
| Producer: | Comtesse de Chérisey |
| Winemaker: | Hélène Martelet-de-Chérisey, Laurent Martelet |
| Vineyard: | Planted between 1946-1955, 3.5 ha |
| Soil: | Clay, Limestone |
| Aging: | Settling of the juice for 12 hours then racked directly into 228-L oak barrels |
| Farming: | Organic (practicing) |
| Alcohol: | 13% |
---
More from this Producer or Region
About The Producer
Comtesse de Chérisey
The lost hamlet of Blagny, up in the hills between Puligny-Montrachet and Meursault in the Côte d'Or in Burgundy, is home to Comtesse de Chérisey. This almost magical, lost-in-time corner of the world boasts a unique microclimate, with a slightly different average temperature, exposition and soil than the rest of Burgundy. In our humble opinion, our friend and vigneron, Laurent Martelet, creates the most haunting masterpieces that emerge from this terroir. All of the de Chérisey vines are premier cru, are at least 60 years old, and they encircle their ancient cellar in the Hameau de Blagny.
About The Region
Burgundy
In eastern central France, Burgundy is nestled between the wine regions of Champagne to the north, the Jura to the east, the Loire to the west, and the Rhône to the south. This is the terroir par excellence for producing world-class Pinot Noir and Chardonnay.

The southeast-facing hillside between Dijon in the north and Maranges in the south is known as the Côte d'Or or "golden slope." The Côte d'Or comprises two main sections, both composed of limestone and clay soils: the Côte de Nuits in the northern sector, and the Côte de Beaune in the south. Both areas produce magnificent whites and reds, although the Côte de Beaune produces more white wine and the Côte de Nuits more red.

Chablis is Burgundy's northern outpost, known for its flinty and age-worthy Chardonnays planted in Kimmeridgian limestone on an ancient seabed. Vézelay is a smaller area south of Chablis with similar qualities, although the limestone there is not Kimmeridgian.

To the south of the Côte de Beaune, the Côte Chalonnaise extends from Chagny on its northern end, down past Chalon-sur-Saône and encompasses the appellations of Bouzeron in the north, followed by Rully, Mercurey, Givry, and Montagny.

Directly south of the Chalonnaise begins the Côte Mâconnais, which extends south past Mâcon to the hamlets of Fuissé, Vinzelles, Chaintré, and Saint-Véran. The Mâconnais is prime Chardonnay country and contains an incredible diversity of soils.
More from Burgundy or France
Kermit once said...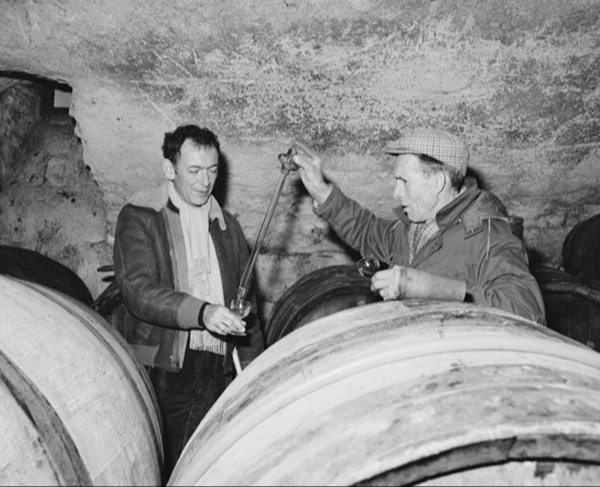 Kermit once said...
When buying red Burgundy, I think we should remember:

1. Big wines do not age better than light wine.
2. A so-called great vintage at the outset does not guarantee a great vintage for the duration.
3. A so-called off vintage at the outset does not mean the wines do not have a brilliant future ahead of them.
4. Red Burgundy should not taste like Guigal Côte-Rôtie, even if most wine writers wish it would.
5. Don't follow leaders; watch yer parking meters.
Inspiring Thirst, page 174
Discount Eligible $250.00