Hailing from Italy's northernmost region, called Alto Adige or Südtirol—depending on whether Italian or German is your first language—this Schiava is a dreamy discovery for lovers of ethereal reds with a little spice. If you're looking for a rosso to drink at apéro hour, look no further.
—Tom Wolf
---
| | |
| --- | --- |
| Wine Type: | red |
| Vintage: | 2021 |
| Bottle Size: | 750mL |
| Blend: | Schiava |
| Appellation: | Vigneti delle Dolomiti |
| Country: | Italy |
| Region: | Alto Adige |
| Producer: | Ferruccio Carlotto |
| Winemaker: | Ferruccio Carlotto |
| Vineyard: | Planted in 2013; .15 ha |
| Soil: | Porphyry, Limestone, Clay, Alluvial stones |
| Aging: | Aged in stainless steel tank |
| Farming: | Sustainable |
| Alcohol: | 13% |
---
More from this Producer or Region
About The Producer
Ferruccio Carlotto
Feruccio Carlotto and his daughter Michela farm a tiny estate of several hectares in the Alto-Adige town of Ora, south of Bolzano. The special of this village is Lagrein, a red grape that is native to the region. They chose to produce only one Lagrein Riserva that is aged in large oak casks. They also make a small amount of Pinot Nero that is made in a very fine, elegant style, with a feathery touch. We were pleasantly surprised when we were able to talk the Carlottos into selling us a pallet for the United States. Unfortunately there are not much of these finely crafted beauties to go around but if you can get your hands on a few cases, you will be experiencing some of the best of what Alto Adige has to offer the wine world.
About The Region
Alto Adige
In the heart of the Dolomites, Alto Adige is Italy's northernmost wine region. Having changed hands multiples times in its history between Italy and the Austro-Hungarian Empire (it shares a border with Austria), it boasts strong Germanic influence on its culture, language, cuisine, as well as its wines.

The mountainous geography is the principal determinant of local winemaking styles, with the high-altitude vineyards and cool Alpine climate favoring primarily crisp, racy, aromatic whites from varieties like Kerner, Sauvignon, Müller Thurgau, and Grüner Veltliner. A Mediterranean influence on climate is channeled north up the valley until Bolzano, permitting the cultivation of certain reds as well, among which Schiava, Lagrein, Pinot Nero, and Merlot fare best.

Small growers who once sold fruit to the area's multiple co-ops are now increasingly bottling their own wines. The arrival of many quality-oriented artisans on the scene caught our eye years ago, and we now count three estates from Südtirol, as it is also known, in our portfolio. These high-acid mountain wines make for a beautifully invigorating aperitivo with thinly sliced speck, a local specialty.
More from Alto Adige or Italy
Where the newsletter started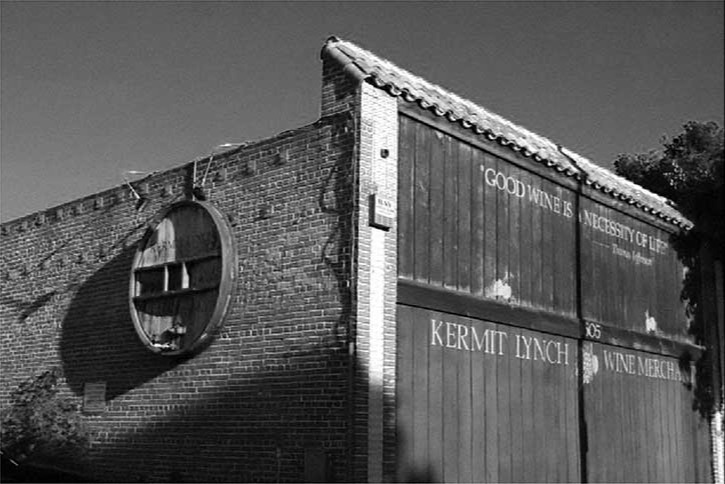 Where the newsletter started
Every three or four months I would send my clients a cheaply made list of my inventory, but it began to dawn on me that business did not pick up afterwards. It occurred to me that my clientele might not know what Château Grillet is, either. One month in 1974 I had an especially esoteric collection of wines arriving, so I decided to put a short explanation about each wine into my price list, to try and let my clients know what to expect when they uncorked a bottle. The day after I mailed that brochure, people showed up at the shop, and that is how these little propaganda pieces for fine wine were born.—Kermit Lynch