"Tannat from the Pyrenees can be as deep and structured as a Bordeaux. The natural smokiness of the wine complements the toasty, grassy flavors in the sheep's milk cheese." —Cassie Majidi
---
While modest in scale, Irouléguy's vineyards are deeply tied in history. Production took off in the eleventh century, when monks engaged in large-scale planting to provide for thirsty pilgrims on the Way of St. James, which runs directly through this part of Basque country. The region has thus benefitted from a great deal of cultural exchange, as travelers passing through have left behind bits and pieces from civilizations near and far.
Perhaps this is how the Cabernet grape made its way to Irouléguy. In local red wines, Cabernets Sauvignon and Franc have come to supplement the native Tannat, giving a unique expression of the steep, mineral-rich slopes. While these are among the southernmost of France's vineyards, the climate is relatively cool and humid, giving Irouléguy reds a certain delicacy.
In this bottling from Maison Arretxea, a passionate husband-wife team that grows grapes organically and biodynamically, you'll find low alcohol and bright acidity balancing the earthy tannins and deep, dark color. The aroma evokes fresh little berries, spice, and forest floor. Imagine a red straddling the Loire, Médoc, and Madiran with Basque flair and a Pyrenean freshness. You'll see that Irouléguy is in a world apart.
—Anthony Lynch
---
| | |
| --- | --- |
| Wine Type: | red |
| Vintage: | 2021 |
| Bottle Size: | 750mL |
| Blend: | 66% Tannat, 17 % Cabernet Franc, 17% Cabernet Sauvignon |
| Appellation: | Irouléguy |
| Country: | France |
| Region: | Southwest |
| Producer: | Maison Arretxea |
| Winemaker: | Thérese & Michel Riouspeyrous |
| Vineyard: | 7 to 15 years, 5 ha |
| Soil: | Sandstone |
| Aging: | Irouléguy is aged for 10 months on the lees in cement |
| Farming: | Biodynamic (certified) |
| Alcohol: | 12% |
---
More from this Producer or Region
About The Producer
Maison Arretxea
Just after losing his father, Michel Riouspeyrous was raised by his grandfather, with whom he worked the family vineyards. He gravitated towards studies in Agronomy before the mandatory service sent him to Africa. While in Africa, Michel met Thérèse, an Alsatian who was on vacation. They married and returned to Michel's home in the Southwest. In 1989, they started their own domaine by renting 2 ha. The decision to farm organically came instantaneously to Michel. Once certified as organic, they pushed on towards biodynamics. For the couple, it just translates into a more authentic expression. A mere glimpse of their vineyards, amid beautiful wildflowers, set against the Pyrénées, makes it easy to see what inspired such a decision.
About The Region
Southwest
Tucked away beneath Bordeaux and buffeted by the Pyrenees to the south, this expansive region of France, commonly known as the Southwest, is home to a diverse number of viticulture and gastronomic traditions as well as cultures. Though Cahors might be the most well known (and easiest to pronounce) appellation from the Southwest, the importance and influence of French Basque culture cannot be underestimated. Irouléguy, the primary appellation of the Basque region of France produces full-bodied, hearty red wines, produced from Tannat grape (known for its tannic qualities). Dry whites from Irouléguy are also produced from Petit and Gros Manseng. Northeast of Irouléguy is the sweet wine-producing appellation of Jurançon. These moelleux wines made from Petit and Gros Manseng have a storied history in France, from being the first wine region to have a vineyard classification, which dates back to the 154th century, to being preferred wine of royalty dating back to the 16th century as well as the French poet Colette.
More from Southwest or France
Kermit once said...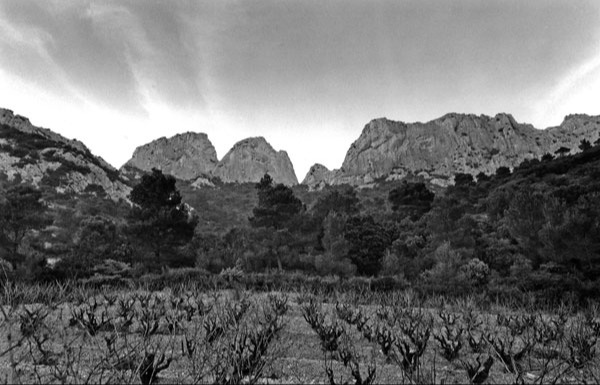 Kermit once said...
Great winemakers, great terroirs, there is never any hurry. And I no longer buy into this idea of "peak" maturity. Great winemakers, great terroirs, their wines offer different pleasures at different ages.
Inspiring Thirst, page 312