In his hometown of Gambellara, a sleepy village about halfway between Verona and Vicenza, Davide Vignato is making waves with his stony, acid-driven white wines. The forgotten neighbor to nearby Soave, with which it shares the Garganega grape, Gambellara is shining thanks to young growers such as Davide, who have traded stratospheric yields of underripe grapes for a focus on quality through organic farming and low-intervention winemaking. After all, Gambellara's peculiar terroir—ancient volcanic hillsides littered with chunks of basalt—is well worth a closer look.
Davide's latest creation, a sparkling wine of Garganega refermented in bottle without disgorgement, is an altogether different take on these rocky slopes. His approach to the sui lieviti style is a unique one: the base wine ferments to dryness with native yeast in stainless steel, and completes its malolactic fermentation to ensure it is stable without needing sulfur. Several months later, he mixes in a calculated dose of pressed juice from Garganega grapes that had been drying since harvest—a sweet nectar intended to set off a secondary fermentation. The blended, semi-sweet wine is then crown-capped and left to referment in bottle.
Primo Incontro (First Encounter)—named for the wine's suitability to casual meet-ups among friends, but also a nod to the total novelty of the style—is akin to a yeasty brew of ground-up minerals bisected by a bolt of laser-sharp, mouth-watering acidity. No filtration, no disgorgement, no sulfur—this is unadulterated, bone-dry, incredibly stimulating, low-alcohol Garganega frizzante from the unheralded volcanic hills of Gambellara. It's an encounter well worth repeating.
—Anthony Lynch
More from this Producer or Region
/
About The Producer
Davide Vignato
One of our most "off-the-beaten-track" discoveries of the past few years is the azienda of young Davide Vignato. The family history behind Davide's wines began when his grandfather, Rinaldo, purchased a small plot of land in the hills of Gambellara and planted vines. Davide's father, Gian Domenico, was the first in the family to make wine from those grapes, and as of 1997, Davide introduced organic and biodynamic farming to the vineyards with the goal of producing deeply mineral wines that would reflect Gambellara's unique soils. The grapes are harvested by hand, fermentation is spontaneous, and the wines are aged on fine lees. These wines represent not only authentic and compelling terroir expression, but also great values.
About The Region
Veneto
Italy's most prolific wine region by volume, the Veneto is the source of some of the country's most notorious plonk: you'll find oceans of insipid Pinot Grigo, thin Bardolino, and, of course, the ubiquitous Prosecco. And yet, the Veneto produces the highest proportion of DOC wine of any Italian region: home to prestigious appellations like Valpolicella, Amarone, and Soave, it is capable of excelling in all three colors, with equally great potential in the bubbly and dessert departments.

With almost 200,000 acres planted, the Veneto has a wealth of terroirs split between the Po Valley and the foothills of the Alps. While the rich soils of the flatlands are conducive to mechanization, high yields, and mass production of bulk wine, the areas to the north offer a fresher climate and a diversity of poor soil types, ideal for food-friendly wines that show a sense of place. Whether it's a charming Prosecco Superiore from the Glera grape, a stony Soave or Gambellara from Garganega, or a Corvina-based red in any style, the Veneto's indigenous grape varieties show real character when worked via traditional production methods.

Since his first visit in 1979, Kermit has regularly returned to the Veneto to enjoy its richness of fine wines and local cuisine. Our collaboration with Corte Gardoni, our longest-running Italian import, is a testament to this. The proximity of beautiful cities like Verona and Venice, with their deep culinary heritage, certainly doesn't hurt, either.
More from Veneto or Italy
Kermit once said...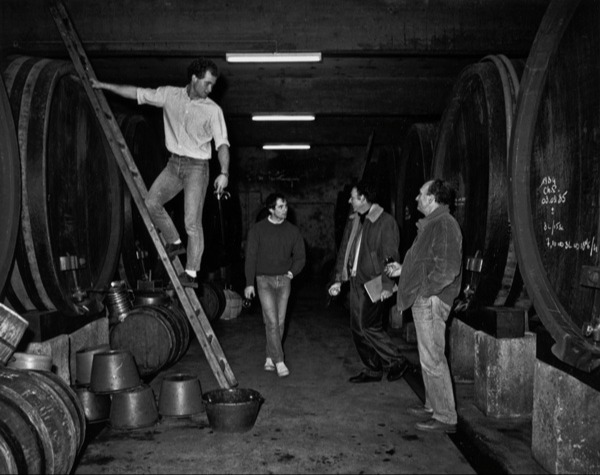 Kermit once said...
For the wines that I buy I insist that the winemaker leave them whole, intact. I go into the cellars now and select specific barrels or cuvées, and I request that they be bottled without stripping them with filters or other devices. This means that many of our wines will arrive with a smudge of sediment and will throw a more important deposit as time goes by, It also means the wine will taste better.