Northwestern Burgundy, near Chablis and Vézelay, is far better known for its white wines than its reds. There are no grands crus for Pinot Noir in these parts, but Valentin Montanet is proving, through reds like his Garance, that these terroirs are capable of producing exceptional Bourgogne rouge. You might think that Vézelay's climate—cooler than the Côte d'Or's—would turn out lean, restrained Pinots, but Valentin's red Burgundies are anything but: high-toned and juicy red fruit abound in this bottle. What you taste is undeniably Pinot Noir (and a sneakily serious one at that), but it also evokes the joie de vivre more commonly associated with Beaujolais, Burgundy's neighbor to the south. How did Valentin manage to craft such a generous, medium-bodied, and fun red this far north? To start, the vines that contribute to this bottling mostly face south, meaning they receive maximum sunlight. Second, Valentin vinified two batches of red wine, which he blended to make this cuvée. For one batch, he fermented his grapes without their stems. For the other, he did not, following the whole-cluster fermentation technique that today is more associated with Beaujolais than with Burgundy. Hence the soupçon of festive gulpability, as if to say to its peers, "Brooding Burgundies, beware: Fun will be had here!"
—Tom Wolf
---
| | |
| --- | --- |
| Wine Type: | red |
| Vintage: | 2020 |
| Bottle Size: | 750mL |
| Blend: | Pinot Noir |
| Appellation: | Bourgogne |
| Country: | France |
| Region: | Burgundy |
| Producer: | Domaine Montanet-Thoden |
| Winemaker: | Catherine & Valentin Montanet |
| Vineyard: | Planted mid-90s, early 2000s, 2 ha. |
| Soil: | Clay, Limestone |
| Aging: | Elevage 80% in barrique, 20% in feuillette; no new wood |
| Farming: | Organic (certified) |
| Alcohol: | 13.5% |
---
More from this Producer or Region
About The Producer
Domaine Montanet-Thoden
Domaine Montanet-Thoden was founded in 2000 by Catherine Montanet of Domaine de La Cadette in collaboration with associate Tom Thoden. Though Catherine was still very much involved with La Cadette, she created the new domaine from her family's vineyards, which express a character of their own due to slight differences in the underlying terroir. Additional planting in the early 2000s brought the total vineyard area up to eight hectares, which are now managed by Catherine's son, Valentin. Confident in the natural, traditional approach that Catherine had established from the start, Valentin maintained the methods and standards used by both of his parents to fashion fresh, succulent wines.
About The Region
Burgundy
In eastern central France, Burgundy is nestled between the wine regions of Champagne to the north, the Jura to the east, the Loire to the west, and the Rhône to the south. This is the terroir par excellence for producing world-class Pinot Noir and Chardonnay.

The southeast-facing hillside between Dijon in the north and Maranges in the south is known as the Côte d'Or or "golden slope." The Côte d'Or comprises two main sections, both composed of limestone and clay soils: the Côte de Nuits in the northern sector, and the Côte de Beaune in the south. Both areas produce magnificent whites and reds, although the Côte de Beaune produces more white wine and the Côte de Nuits more red.

Chablis is Burgundy's northern outpost, known for its flinty and age-worthy Chardonnays planted in Kimmeridgian limestone on an ancient seabed. Vézelay is a smaller area south of Chablis with similar qualities, although the limestone there is not Kimmeridgian.

To the south of the Côte de Beaune, the Côte Chalonnaise extends from Chagny on its northern end, down past Chalon-sur-Saône and encompasses the appellations of Bouzeron in the north, followed by Rully, Mercurey, Givry, and Montagny.

Directly south of the Chalonnaise begins the Côte Mâconnais, which extends south past Mâcon to the hamlets of Fuissé, Vinzelles, Chaintré, and Saint-Véran. The Mâconnais is prime Chardonnay country and contains an incredible diversity of soils.
More from Burgundy or France
Kermit once said...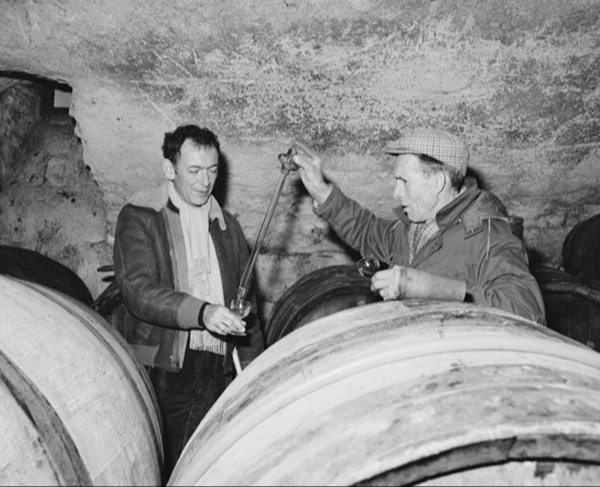 Kermit once said...
When buying red Burgundy, I think we should remember:

1. Big wines do not age better than light wine.
2. A so-called great vintage at the outset does not guarantee a great vintage for the duration.
3. A so-called off vintage at the outset does not mean the wines do not have a brilliant future ahead of them.
4. Red Burgundy should not taste like Guigal Côte-Rôtie, even if most wine writers wish it would.
5. Don't follow leaders; watch yer parking meters.
Inspiring Thirst, page 174