Chardonnay from the Land of Muscadet
Chardonnay from the Land of Muscadet
by Anthony Lynch by Anthony Lynch
2020 Chardonnay
2020 Chardonnay
Éric Chevalier France | Loire | Vin de Pays du Val de Loire
The Pays Nantais, land of Muscadet, may not be known for Chardonnay, but Éric Chevalier has earned a reputation for the fresh, clean rendition of the grape he crafts at his family estate. Since taking the reins from his father a decade ago, Éric has ambitiously implemented new ideas in order to improve the domaine's wines: gradually eliminating the use of herbicide, plowing the soils, and enacting other sustainable practices for an eventual conversion to organic viticulture. Consequently, his wines express greater complexity and finesse each vintage, all while maintaining their budget-friendly appeal. This Chardonnay is fermented with native yeasts in stainless steel and ages in tank before being bottled unfiltered. The nose is floral with suggestions of crisp apple and pear, while the palate shows the same saline, mineral quality we expect from Muscadet—a clear marker of its Atlantic terroir. We recommend keeping a bottle in the fridge at all times in the event of an impromptu apéritif.

---
More from this Producer or Region
/
About The Producer
Éric Chevalier
Éric Chevalier is a rising star in the Nantais of the Loire Valley. For ten years, he sourced fruit for a large négociant in the Touraine. In 2005, he returned to his hometown of Saint-Philbert de Grandlieu and ended up taking over the family domaine, Domaine de l'Aujardière. His father, a talented vigneron well-known as a high-quality source of bulk wine, had stopped working the vineyards and the vines were going to have to be pulled up and replanted or sold. Éric was anything but enthusiastic. Little by little his passion grew, and today he is proud to be the 4th generation to farm the domaine. Éric sustainably farms 25 hectares of vines, producing wines of great character and finesse. He found his future in his family's past.
About The Region
Loire
The defining feature of the Loire Valley, not surprisingly, is the Loire River. As the longest river in France, spanning more than 600 miles, this river connects seemingly disparate wine regions. Why else would Sancerre, with its Kimmeridgian limestone terroir be connected to Muscadet, an appellation that is 250 miles away?

Secondary in relevance to the historical, climatic, environmental, and cultural importance of the river are the wines and châteaux of the Jardin de la France. The kings and nobility of France built many hundreds of châteaux in the Loire but wine preceded the arrival of the noblesse and has since out-lived them as well.

Diversity abounds in the Loire. The aforementioned Kimmderidgian limestone of Sancerre is also found in Chablis. Chinon, Bourgueil, and Saumur boast the presence of tuffeau, a type of limestone unique to the Loire that has a yellowish tinge and a chalky texture. Savennières has schist, while Muscadet has volcanic, granite, and serpentinite based soils. In addition to geologic diversity, many, grape varieties are grown there too: Cabernet Franc, Chenin Blanc, Sauvignon Blanc, and Melon de Bourgogne are most prevalent, but (to name a few) Pinot Gris, Grolleau, Pinot Noir, Pineau d'Aunis, and Folle Blanche are also planted. These myriad of viticultural influences leads to the high quality production of every type of wine: red, white, rosé, sparkling, and dessert.

Like the Rhône and Provence, some of Kermit's first imports came from the Loire, most notably the wines of Charles Joguet and Château d'Epiré—two producers who are featured in Kermit's book Adventures on the Wine Route and with whom we still work today.
More from Loire or France
Kermit once said...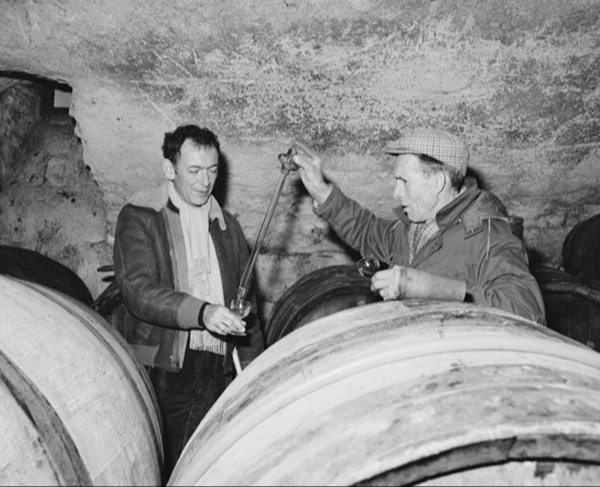 Kermit once said...
When buying red Burgundy, I think we should remember:

1. Big wines do not age better than light wine.
2. A so-called great vintage at the outset does not guarantee a great vintage for the duration.
3. A so-called off vintage at the outset does not mean the wines do not have a brilliant future ahead of them.
4. Red Burgundy should not taste like Guigal Côte-Rôtie, even if most wine writers wish it would.
5. Don't follow leaders; watch yer parking meters.
Inspiring Thirst, page 174