It says something about a domaine when, year in and year out, it produces a wine that stands apart from its core cuvées. Domaine Chevillon, for instance, is one of the most respected Pinot Noir producers in all of Burgundy, tending premier cru vineyards whose names, when uttered, make lovers of Nuits Saint Georges salivate. Of the fourteen cuvées Chevillon produces, ten bear the name Nuits-Saint-Georges. That appellation is their bread and butter.
And yet, when you enter the Chevillons' cool, old cellar, you'll notice not all the barrels have "NSG" written on them. A few are marked instead with "PTG," containing a nectar that is not fully, or even mostly, Pinot Noir. Inside these barrels of Passetoutgrain (pronounced roughly "pass-two-gran"), you'll find a rare blend of Gamay and Pinot Noir.
Gamay? In Burgundy?
That is no typo. Gamay has an extensive, but overlooked history in this region where Pinot Noir reigns. The latter, after all, has tended to yield wines that can be aloof or austere in their youth. Enter Gamay, a grape whose wine charms from an early age. Burgundians of old no doubt vinified Gamay on its own, but over time, Passetoutgrain emerged, combining the structure and depth of Pinot Noir with the cheerful spirit and elegance of Gamay. Today, awareness of Passetoutgrain has largely faded, but if you look closely in cellars throughout Burgundy, you'll notice many of the greatest domaines continue to uphold this tradition despite the fact that they could make more money by ripping out their Gamay and planting Pinot Noir in its place.
While we wait for Chevillon's Nuits-Saint-Georges to evolve and show their majesty, we are thrilled to enjoy and share this Passetoutgrain, a very pretty cuvée full of deliciousness and Chevillon's class.
—Tom Wolf
---
| | |
| --- | --- |
| Wine Type: | red |
| Vintage: | 2019 |
| Bottle Size: | 750mL |
| Blend: | 1/3 Pinot Noir, 2/3 Gamay |
| Appellation: | Bourgogne |
| Country: | France |
| Region: | Burgundy |
| Producer: | Domaine Robert Chevillon |
| Winemaker: | Bertrand and Denis Chevillon |
| Vineyard: | 45 years, .65 ha |
| Soil: | Clay, Limestone |
| Aging: | Bottled after approximately 16 months of aging |
| Farming: | Lutte Raisonnée |
| Alcohol: | 13.5% |
---
More from this Producer or Region
About The Producer
Domaine Robert Chevillon
Brothers Bertrand and Denis Chevillon are the fifth generation managers of this property in Nuits-Saint-Georges, which means they work the vines and make the wines. Both brothers bring passion, experience, a tireless work ethic, and intensity to their work at the domaine. Tasting through their palate of Nuits-Saint-Georges premier crus is a venerable tour of the appellation. Their Passetoutgrain, a blend of Pinot and Gamay, is a worthy introduction and their rare (two barrels made) Nuits-Saint-Georges Blanc is an exotic treasure that ages just as long as the domaine's fabled reds. And their Bourgogne Aligoté, Bourgogne Chardonnay and Bourgogne Rouge are grown and vinified with the same care as their premier crus. It shows.
About The Region
Burgundy
In eastern central France, Burgundy is nestled between the wine regions of Champagne to the north, the Jura to the east, the Loire to the west, and the Rhône to the south. This is the terroir par excellence for producing world-class Pinot Noir and Chardonnay.

The southeast-facing hillside between Dijon in the north and Maranges in the south is known as the Côte d'Or or "golden slope." The Côte d'Or comprises two main sections, both composed of limestone and clay soils: the Côte de Nuits in the northern sector, and the Côte de Beaune in the south. Both areas produce magnificent whites and reds, although the Côte de Beaune produces more white wine and the Côte de Nuits more red.

Chablis is Burgundy's northern outpost, known for its flinty and age-worthy Chardonnays planted in Kimmeridgian limestone on an ancient seabed. Vézelay is a smaller area south of Chablis with similar qualities, although the limestone there is not Kimmeridgian.

To the south of the Côte de Beaune, the Côte Chalonnaise extends from Chagny on its northern end, down past Chalon-sur-Saône and encompasses the appellations of Bouzeron in the north, followed by Rully, Mercurey, Givry, and Montagny.

Directly south of the Chalonnaise begins the Côte Mâconnais, which extends south past Mâcon to the hamlets of Fuissé, Vinzelles, Chaintré, and Saint-Véran. The Mâconnais is prime Chardonnay country and contains an incredible diversity of soils.
More from Burgundy or France
Kermit once said...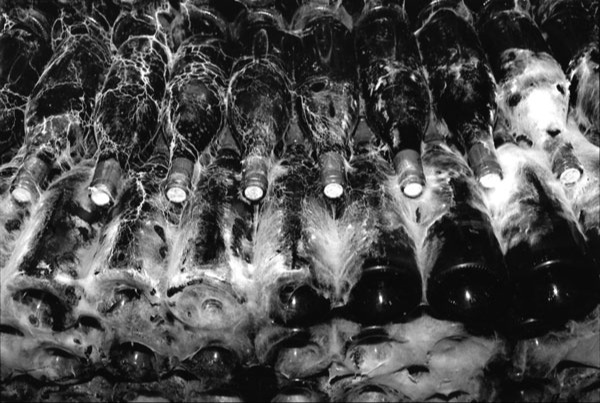 Kermit once said...
Let the brett nerds retire into protective bubbles, and whenever they thirst for wine it can be passed in to them through a sterile filter. Those of us on the outside can continue to enjoy complex, natural, living wines.
Inspiring Thirst, page 236