While Punta Crena offers many tastes of the Ligurian coast, Tenuta Anfosso delivers the ultimate expression of more inland Liguria, with its vineyards planted along hillsides so steep they confirm the Alps are close by. Today, Alessandro Anfosso serves as a beacon of traditional, everything-done-by-hand agriculture in this slice of the region, farming Rossese vines up to 135 years old. With its elegant notes of rose petals, red fruit, and spice, his Superiore bottling is the perfect introduction to the family's lineup and the Dolceacqua sliver of Liguria.
—Tom Wolf
---
| | |
| --- | --- |
| Wine Type: | red |
| Vintage: | 2018 |
| Bottle Size: | 750mL |
| Blend: | Rossese |
| Appellation: | Rossese di Dolceacqua |
| Country: | Italy |
| Region: | Liguria |
| Producer: | Tenuta Anfosso |
| Winemaker: | Alessandro Anfosso |
| Vineyard: | 2.8 ha, 30 years old |
| Soil: | Flysch (a sedimentary rock consisting of alternating strata of marl and sandstone; proportions of clay and sand vary between each vineyard, and within each vineyard) |
| Aging: | Aged for 12-13 months in stainless steel tanks before bottling, then 3-4 months in bottle before release |
| Farming: | Organic (practicing) |
| Alcohol: | 13% |
---
More from this Producer or Region
About The Producer
Tenuta Anfosso
In the hills of western Liguria you'll find Tenuta Anfosso, located in the town of Soldano, and the growing area (or DOC) known as Rossese di Dolceacqua. The grape grown here is the same Rossese as is planted throughout Liguria, but the terroir of Dolceacqua takes the grape to soaring new heights. The wines are reminiscent of Côte-Rôtie, with their combination of floral and roasted/bacon fat aromas and silky mid-palate with stoniness on the finish. There is a level of concentration, structure, spice, and minerality that the more fruit-driven Rossese from further east in Liguria does not possess.
About The Region
Liguria
A long, crescent-shaped sliver of mountainous coastline ranging from the French border in the west to that of Tuscany in the east, Liguria is a region of unrivaled Mediterranean charm. This applies not only to its colorful seaside villages and carefree, welcoming people, but also to the wines it produces—crisp whites and light reds designed to be quaffed with locally caught seafood.

Viticulture has thrived along these coastal hillsides since Etruscan times. Ancient stone terraces line the steep slopes all along the Riviera, many abandoned while others still host olive trees, lemon trees, and of course, the vine. What Liguria lacks in acreage, it makes up for in diversity and originality: home to numerous indigenous grape varieties, it produces wines of infectious local character.

The hallmarks of Ligurian wines are fragrant aromatics and lively freshness. Whites from grapes like Vermentino and Pigato capture the pervasive flavors of wild herbs and citrus with a sea-breeze salinity, while the rare reds from Rossese, among others, have a brightness of flavor that allows them to complement dishes from the sea or land—served with a slight chill, of course.

While Kermit's history in the region is relatively recent, Liguria has rapidly become one of his favorite places to visit. It's hard to blame him—enjoying a crisp, perfumed white with a platter of fried sea critters on the Mediterranean is definitely not the worst part of the job.
More from Liguria or Italy
Kermit once said...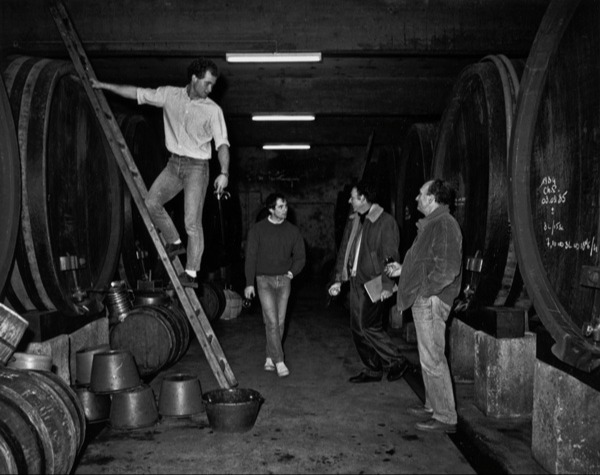 Kermit once said...
For the wines that I buy I insist that the winemaker leave them whole, intact. I go into the cellars now and select specific barrels or cuvées, and I request that they be bottled without stripping them with filters or other devices. This means that many of our wines will arrive with a smudge of sediment and will throw a more important deposit as time goes by, It also means the wine will taste better.