Discount Eligible $123.00
I don't know if it's the 2016 vintage—considered one of Bordeaux's greatest of the last decade—or if this wine is in a particularly prime place, but it's the best bottle of Gombaude-Guillot I've ever tasted. This stunning red is so fine I can make out a variety of spices on the nose, like milled white pepper, nutmeg, and clove. The blend is largely Merlot with just a hint of Cabernet Franc, but the latter seems to dominate; I smell stone slabs and ripe bell pepper. En bouche, this wine tastes like a bouquet of violets, a suggestion I only presume to know because I've tried those chalky Choward's candies. But now I imagine that violets taste like Pomerol, which is a much more appealing prospect.
—Jane Augustine
Discount Eligible $123.00
---
| | |
| --- | --- |
| Wine Type: | red |
| Vintage: | 2016 |
| Bottle Size: | 750mL |
| Blend: | 85% Merlot, 15% Cabernet Franc |
| Appellation: | Pomerol |
| Country: | France |
| Region: | Bordeaux |
| Producer: | Château Gombaude-Guillot |
| Winemaker: | Claire Laval |
| Vineyard: | 40 years, 7 ha |
| Soil: | Flint, Clay |
| Aging: | Wine is aged in Allier oak barrels, 50% of which are new, although the proportion of new oak varies according to the vintage |
| Farming: | Organic (certified) |
| Alcohol: | 14.2% |
---
More from this Producer or Region
About The Producer
Château Gombaude-Guillot
In the heart of the Pomerol plateau, on the Right Bank of Bordeaux, the vineyards of Château Gombaude-Guillot have been a family property for so long that the current generation doesn't even know when they were first acquired. The Bélevier family was already well established as vignerons in Pomerol and Néac when this property was passed down to Marie Bélevier as a dowry in 1868. Today, Claire Laval, Marie's great-granddaughter, runs the estate with her son Olivier Techer. Though the estate is already certified organic, Claire is now pursuing the more stringent requirements of biodynamics. The wines of Gombaude-Guillot are classic reflections of Pomerol: rich and supple, with a deep gravel mineral structure.
About The Region
Bordeaux
Often considered the wine capital of the world, Bordeaux and its wines have captured the minds, hearts, and wallets of wine drinkers for centuries. For many, the wines provide an inalienable benchmark against which all other wines are measured.

Bordeaux is divided into three winegrowing regions with the city that gives the region its name in the near geographical center. The "right bank," or the area located east of the Dordogne River, produces wines that are predominantly Merlot with small amounts of Cabernet Franc and Cabernet Sauvignon. The "left bank" is located to the west of the Garonne River and produces wines dominated by Cabernet Sauvignon, with Cabernet Franc, Merlot, Malbec and Petit Verdot.

The third region, Entre-Deux-Mers, lies between both rivers and produces white wines from Sauvignon Blanc, Sémillon, and Muscadelle. Though technically in the left bank, it is worth noting the appellation of Sauternes, which produces arguably the world's most famous sweet wines from Sauvignon Blanc, Sémillon, and Muscadelle as well.

Though many top Bordeaux wines are sold en primeur (in advance of their bottling) and often through a middleman known as a negoçiant, Kermit has always preferred to purchase directly from the winemaker. For more than three decades he has sought out small producers, who make classic Bordeaux wines and are willing to play outside the negoçiant system. This ethic has led to longstanding relationships, excellent prices, and perhaps most important—wines of great value and longevity.
More from Bordeaux or France
Kermit once said...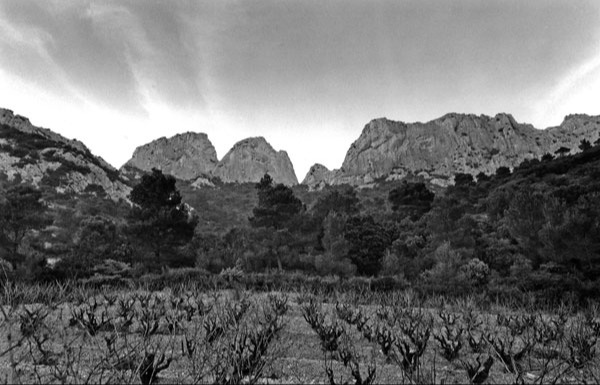 Kermit once said...
Great winemakers, great terroirs, there is never any hurry. And I no longer buy into this idea of "peak" maturity. Great winemakers, great terroirs, their wines offer different pleasures at different ages.
Inspiring Thirst, page 312
Discount Eligible $123.00