The dessert wines from Domaine de l'Alliance are nothing short of spectacular. When you uncork a bottle from Daniel and Valérie Alibrand, you know you are about to experience the fruits of the labor of dedicated farmers who are willing to put everything on the line to create something sensational from what their land and the vintage have to offer.
In 2009, a small plot dedicated to Sauternes production experienced a remarkable onset of Botrytis, the "noble rot" responsible the most exquisite dessert wines. By the time of harvest, the grapes were so concentrated and the yields so low that only 430 bottles were produced of this nectar. Honeyed, richly fruity, and boasting a fascinating smoky complexity, this decadent dessert wine is truly stunning.
—Anthony Lynch
---
| | |
| --- | --- |
| Wine Type: | dessert |
| Vintage: | 2009 |
| Bottle Size: | 500mL |
| Blend: | Sémillon |
| Appellation: | Vin de France |
| Country: | France |
| Region: | Bordeaux |
| Producer: | Domaine de l'Alliance |
| Winemaker: | Valérie & Daniel Alibrand |
| Vineyard: | Average of 50 years |
| Soil: | Gravel, Clay, Sand |
| Aging: | The wine slowly fermented for a year in barrel and ended up with 8% alcohol and 600g/L residual sugar. This amount of RS is too much for AOC Sauternes, so it had to be declassified to a Vin de France |
| Farming: | Organic (practicing) |
| Alcohol: | 8% |
---
More from this Producer or Region
About The Region
Bordeaux
Often considered the wine capital of the world, Bordeaux and its wines have captured the minds, hearts, and wallets of wine drinkers for centuries. For many, the wines provide an inalienable benchmark against which all other wines are measured.

Bordeaux is divided into three winegrowing regions with the city that gives the region its name in the near geographical center. The "right bank," or the area located east of the Dordogne River, produces wines that are predominantly Merlot with small amounts of Cabernet Franc and Cabernet Sauvignon. The "left bank" is located to the west of the Garonne River and produces wines dominated by Cabernet Sauvignon, with Cabernet Franc, Merlot, Malbec and Petit Verdot.

The third region, Entre-Deux-Mers, lies between both rivers and produces white wines from Sauvignon Blanc, Sémillon, and Muscadelle. Though technically in the left bank, it is worth noting the appellation of Sauternes, which produces arguably the world's most famous sweet wines from Sauvignon Blanc, Sémillon, and Muscadelle as well.

Though many top Bordeaux wines are sold en primeur (in advance of their bottling) and often through a middleman known as a negoçiant, Kermit has always preferred to purchase directly from the winemaker. For more than three decades he has sought out small producers, who make classic Bordeaux wines and are willing to play outside the negoçiant system. This ethic has led to longstanding relationships, excellent prices, and perhaps most important—wines of great value and longevity.
More from Bordeaux or France
Kermit once said...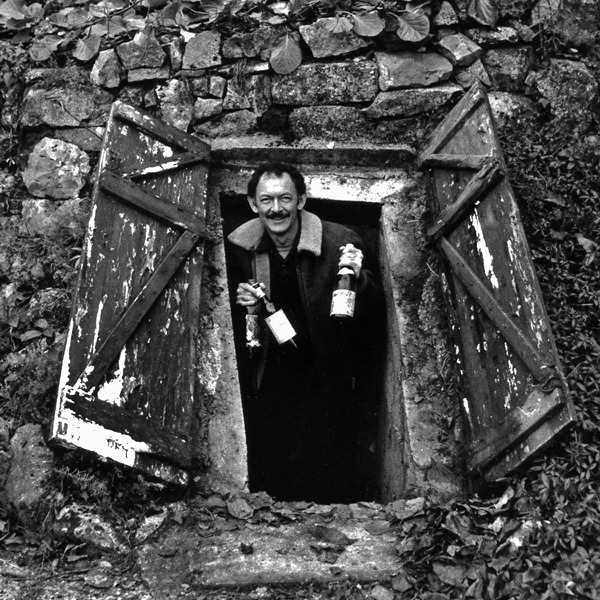 Kermit once said...
You don't have to be rich to cellar a great wine.