I first came to know wine through Bordeaux. What I know now that I wish I knew back then—there is a whole galaxy of wine to explore once you leave the region's archaic and contentious classification system behind. Take Canon-Fronsac, where Bénédicte and Grégoire Hubau tend their vines. In the eighteenth century, this appellation's wines were considered among the best in Bordeaux and were enjoyed at the Court of Versailles. What's more, the clay and limestone soils, located just a few miles west of St. Émilion, are ideally suited for Merlot.
Today Canon-Fronsac is overshadowed by its more famous neighbors in the Médoc, which is just fine with me. Values abound, and vignerons make wine for the table, not the auction block. The Hubaus' Château Moulin is a prime example—a nose brimming with pure red fruit and cassis, with whiffs of earth and mint, and a palate as soft and supple as a Debussy nocturne.
—Dustin Soiseth
More from this Producer or Region
About The Producer
Château Moulin Pey-Labrie
Bénédicte and Grégoire Hubau do not come from winemaking families, nor did they pursue studies in enology or viticulture. Both natives of northern France, Bénédicte was a computer specialist and Grégoire a chemist. Without much ado, they decided one day to leave it all behind and start a new life as vignerons. After visiting an endless line of available properties in various regions of France, they finally came across Château Moulin Pey-Labrie, an estate in Fronsac that met their requirement for a terroir de caractère. In 1990, having mastered their new craft, they purchased a second property, Château Haut-Lariveau. Château Moulin, though not a physical château, bottles wine from both Canon-Fronsac and Fronsac.
About The Region
Bordeaux
Often considered the wine capital of the world, Bordeaux and its wines have captured the minds, hearts, and wallets of wine drinkers for centuries. For many, the wines provide an inalienable benchmark against which all other wines are measured.

Bordeaux is divided into three winegrowing regions with the city that gives the region its name in the near geographical center. The "right bank," or the area located east of the Dordogne River, produces wines that are predominantly Merlot with small amounts of Cabernet Franc and Cabernet Sauvignon. The "left bank" is located to the west of the Garonne River and produces wines dominated by Cabernet Sauvignon, with Cabernet Franc, Merlot, Malbec and Petit Verdot.

The third region, Entre-Deux-Mers, lies between both rivers and produces white wines from Sauvignon Blanc, Sémillon, and Muscadelle. Though technically in the left bank, it is worth noting the appellation of Sauternes, which produces arguably the world's most famous sweet wines from Sauvignon Blanc, Sémillon, and Muscadelle as well.

Though many top Bordeaux wines are sold en primeur (in advance of their bottling) and often through a middleman known as a negoçiant, Kermit has always preferred to purchase directly from the winemaker. For more than three decades he has sought out small producers, who make classic Bordeaux wines and are willing to play outside the negoçiant system. This ethic has led to longstanding relationships, excellent prices, and perhaps most important—wines of great value and longevity.
More from Bordeaux or France
Kermit once said...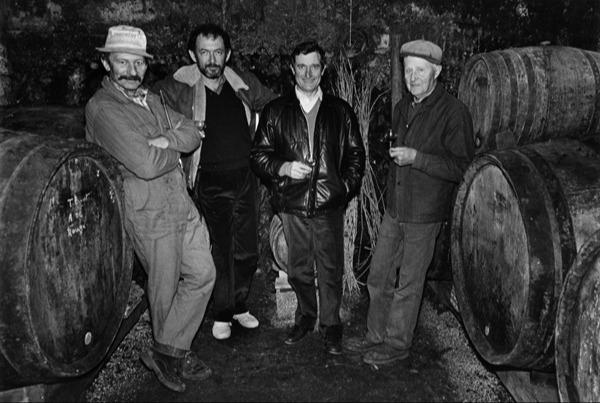 Kermit once said...
I want you to realize once and for all: Even the winemaker does not know what aging is going to do to a new vintage; Robert Parker does not know; I do not know. We all make educated (hopefully) guesses about what the future will bring, but guesses they are. And one of the pleasures of a wine cellar is the opportunity it provides for you to witness the evolution of your various selections. Living wines have ups and downs just as people do, periods of glory and dog days, too. If wine did not remind me of real life, I would not care about it so much.
Inspiring Thirst, page 171