Lalande-de-Pomerol has much in common with its more distinguished neighbor, Pomerol. With the area's mosaic of different soils and subtle changes in slope and aspect, there is more variation within either appellation than between the two. This plethora of micro-terroirs is what gives each chateau's wine a unique signature. Belles-Graves is the epitome of a "classic" Bordeaux estate—that is, the Chateau produces wines of subtlety, depth, complexity, and age-ability that consistently reflect the terroir from which they are born. At Belles-Graves, it's all about the gravel: you feel it crunching under your feet when you step out of the car, you see it in the vineyards, and you taste it in the wine. These small stones conserve the day's heat, allowing the fruit-Merlot with a touch of old-vine Cabernet Franc-to ripen fully each year. This gives Belles-Graves a plump roundness on the palate and a silky façade to the muscular spine concealed within. Soft and refined, it can be appreciated in its youth, while the powerful structure lurking beneath promises a bright future in your cellar.
—Anthony Lynch
---
Dustin's Pick

A consistently good, classically proportioned Bordeaux that's ready to drink now.
---
---
| | |
| --- | --- |
| Wine Type: | red |
| Vintage: | 2013 |
| Bottle Size: | 750mL |
| Blend: | 88% Merlot, 12% Cabernet Franc |
| Appellation: | Lalande-de-Pomerol |
| Country: | France |
| Region: | Bordeaux |
| Producer: | Château Belles-Graves |
| Winemaker: | Xavier Piton |
| Vineyard: | 40 years avg, 16.9 |
| Soil: | Clay, Gravel |
| Aging: | Wine is raised in French oak barrels, 25% of which is new, for twelve to fifteen months |
| Farming: | Lutte Raisonnée |
| Alcohol: | 13.5% |
---
More from this Producer or Region
About The Producer
Château Belles-Graves
Situated in Lalande de Pomerol, just north of Pomerol, Belles-Graves produces Merlot-dominated wines with a lush, velvety texture and very fine tannins. The vineyards average forty years of age and are planted on slopes that descend to the east, south and west of the estate. Though they sit just across a small river from some of the famous estates of Pomerol, their greatness comes from their own terroir of varied clay and gravel where flint, quartz, and mica offer distinct mineral components to each parcel. The finesse and subtlety that characterize this wine are matched by its complexity and depth. It is refreshing to find a domaine, a château, whose wine is far from banal and whose price point feels comfortable.
About The Region
Bordeaux
Often considered the wine capital of the world, Bordeaux and its wines have captured the minds, hearts, and wallets of wine drinkers for centuries. For many, the wines provide an inalienable benchmark against which all other wines are measured.

Bordeaux is divided into three winegrowing regions with the city that gives the region its name in the near geographical center. The "right bank," or the area located east of the Dordogne River, produces wines that are predominantly Merlot with small amounts of Cabernet Franc and Cabernet Sauvignon. The "left bank" is located to the west of the Garonne River and produces wines dominated by Cabernet Sauvignon, with Cabernet Franc, Merlot, Malbec and Petit Verdot.

The third region, Entre-Deux-Mers, lies between both rivers and produces white wines from Sauvignon Blanc, Sémillon, and Muscadelle. Though technically in the left bank, it is worth noting the appellation of Sauternes, which produces arguably the world's most famous sweet wines from Sauvignon Blanc, Sémillon, and Muscadelle as well.

Though many top Bordeaux wines are sold en primeur (in advance of their bottling) and often through a middleman known as a negoçiant, Kermit has always preferred to purchase directly from the winemaker. For more than three decades he has sought out small producers, who make classic Bordeaux wines and are willing to play outside the negoçiant system. This ethic has led to longstanding relationships, excellent prices, and perhaps most important—wines of great value and longevity.
More from Bordeaux or France
Kermit once said...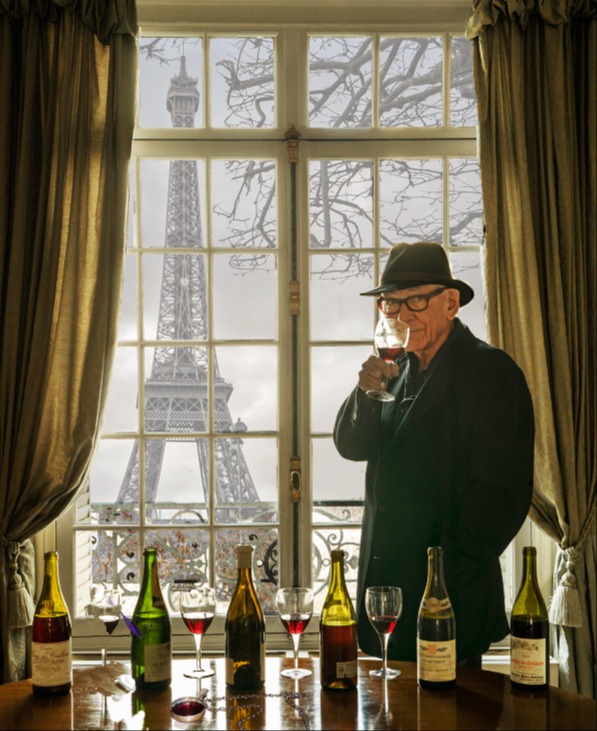 Kermit once said...
A good doctor prescribed the wine of Nuits-Saint-Georges to the Sun King, Louis XIV, when he suffered an unknown maladie. When the king's health was restored the tasty remedy enjoyed a vogue at court. Lord, send me a doctor like that!
Inspiring Thirst, page 117