Discount Eligible $149.00
This blend of 80% Chardonnay and 20% Pinot Noir sees partial barrel aging, partial malolactic fermentation, and two and a half years aging in bottle before release. The result is a sleek, elegant Champagne that has roundness along with the astonishing freshness and finesse that are characteristic of all Fourny wines.

—Anthony Lynch
Discount Eligible $149.00
---
| | |
| --- | --- |
| Wine Type: | sparkling |
| Vintage: | NV |
| Bottle Size: | 1.5L |
| Blend: | 80% Chardonnay, 20% Pinot Noir |
| Appellation: | Vertus |
| Country: | France |
| Region: | Champagne |
| Producer: | Veuve Fourny & Fils |
| Winemaker: | Charles and Emmanuel Fourny |
| Vineyard: | 30 years |
| Soil: | Chalk, Limestone, 4.5 ha |
| Aging: | Ages in bottle for 24 months before release |
| Farming: | Lutte Raisonnée |
| Alcohol: | 12% |
---
More from this Producer or Region
About The Producer
Veuve Fourny & Fils
Champagne Veuve Fourny & Fils is relatively new to the KLWM portfolio, although it has been an active family domaine since 1856. The estate is located in prestigious Côte des Blancs, in the premier cru village of Vertus, giving them the rare opportunity to grow Pinot Noir as well as Chardonnay. Brothers Charles-Henry and Emmanuel sustainably farm nearly nine hectares of vineyards, carrying on the family tradition since 1993. All of their vineyards are farmed according to the same meticulous practices and principles, with each parcel vinified individually. Veuve Fourny produces classic grower Champagne, raising pedigreed fruit, adhering to high standards, and hand-crafting wines that showcase the chalky terroir of Vertus.
About The Region
Champagne
True Champagne must not only sparkle, but also must come from grapes grown in the Champagne region of France and be made using méthode champenoise—a process that involves prolonged aging of the wine as well as a bottle fermentation used to add the sparkle to the finished product. Though wine has been made in this region since at least the 5th century, Champagne as we now know is a relatively new creation. It wasn't until the 19th century that sparkling wine production took hold on a large scale in much part due to improvements in the strength of glass for bottles and the embrace of French nobility of the sparkling wines of the region.

Only three grape varieties may be used to make Champagne: Chardonnay, Pinot Noir, and Pinot Meunier. The chalk-heavy soils not only provide complexity and texture to the finished wine, but also act as a natural humidifier thus keeping the vine's roots warm during colder months of the year. There are grand cru and premier cru designated vineyard areas but unlike Burgundy, there are few lieu-dit vineyards (though in recent years there has been a greater interest in producing vineyard specific Champagnes).

Kermit's first foray into the region came in 1981 when he began importing the wines of J. Lassalle and Paul Bara—two producers whose wines we still import. In the mid 2000s, Kermit began importing the wines of Veuve Fourny et Fils.

Of Champagne, Kermit says, "You might be surprised to learn that I don't like a goût de terroir to dominate the taste of Champagnes. If it dominates, you lose finesse. I want some, obviously—but only enough to keep things interesting."
More from Champagne or France
Kermit once said...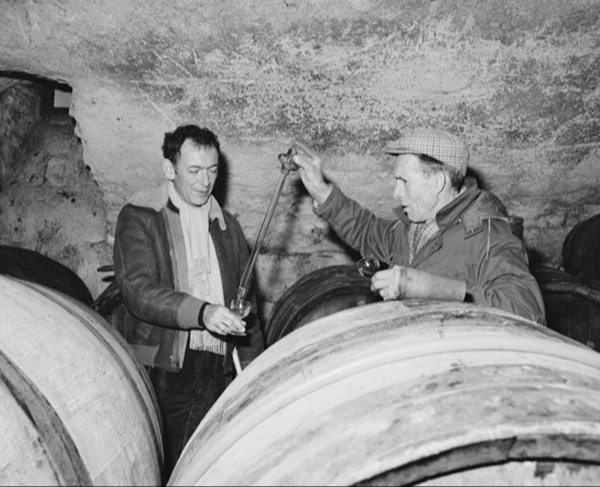 Kermit once said...
When buying red Burgundy, I think we should remember:

1. Big wines do not age better than light wine.
2. A so-called great vintage at the outset does not guarantee a great vintage for the duration.
3. A so-called off vintage at the outset does not mean the wines do not have a brilliant future ahead of them.
4. Red Burgundy should not taste like Guigal Côte-Rôtie, even if most wine writers wish it would.
5. Don't follow leaders; watch yer parking meters.
Inspiring Thirst, page 174
Discount Eligible $149.00