2021 Colline Savonesi Mataòssu "Vigneto Reiné"
Punta Crena
On the Ligurian coast, the village of Varigotti is sandwiched between the Mediterranean Sea and the terraced vineyards on steep hillsides that rise up behind it. Punta Crena's Ruffino family has farmed these vineyards for over five hundred years, working with local varieties like Mataòssu that few others grow. Punta Crena's Mataòssu vines are old—planted in 1930—and face the sea, and there's a windswept quality to the wine. It has a spicy nose, like aromatic wild herbs and flowers, tough and stunted from the constant marine breeze. Underneath lies a hint of ripe pear. In the glass, it's lean, bracing, and tangy—just what you want when digging into a plate of fried calamari.
—Dustin Soiseth
---
| | |
| --- | --- |
| Wine Type: | white |
| Vintage: | 2021 |
| Bottle Size: | 750mL |
| Blend: | Mataòssu |
| Appellation: | Colline Savonesi |
| Country: | Italy |
| Region: | Liguria |
| Producer: | Punta Crena |
| Winemaker: | Tommaso Ruffino & Family |
| Vineyard: | 81 years, 0.9 ha |
| Soil: | Silt |
| Farming: | Traditional |
| Alcohol: | 12.5% |
---
More from this Producer or Region
About The Producer
Punta Crena
The vineyards of Punta Crena (which is named for a large promontory jutting into the sea at the edge of the village) are all within 1200 meters of the water and enjoy sea breezes that help keep the grapes healthy and happy. The Ruffino family are proud to work almost exclusively with local varietals, but they don't have much company. As a result, several of Punta Crena's wines are one of a kind: the Mataòssu and Cruvin are entirely unique, and the Barbarossa is the only one produced in Italy. They believe that their only job after the harvest is simply to avoid ruining their lovely fruit as it turns to wine. These are light, fun wines with no pretension.
About The Region
Liguria
A long, crescent-shaped sliver of mountainous coastline ranging from the French border in the west to that of Tuscany in the east, Liguria is a region of unrivaled Mediterranean charm. This applies not only to its colorful seaside villages and carefree, welcoming people, but also to the wines it produces—crisp whites and light reds designed to be quaffed with locally caught seafood.

Viticulture has thrived along these coastal hillsides since Etruscan times. Ancient stone terraces line the steep slopes all along the Riviera, many abandoned while others still host olive trees, lemon trees, and of course, the vine. What Liguria lacks in acreage, it makes up for in diversity and originality: home to numerous indigenous grape varieties, it produces wines of infectious local character.

The hallmarks of Ligurian wines are fragrant aromatics and lively freshness. Whites from grapes like Vermentino and Pigato capture the pervasive flavors of wild herbs and citrus with a sea-breeze salinity, while the rare reds from Rossese, among others, have a brightness of flavor that allows them to complement dishes from the sea or land—served with a slight chill, of course.

While Kermit's history in the region is relatively recent, Liguria has rapidly become one of his favorite places to visit. It's hard to blame him—enjoying a crisp, perfumed white with a platter of fried sea critters on the Mediterranean is definitely not the worst part of the job.
More from Liguria or Italy
Kermit once said...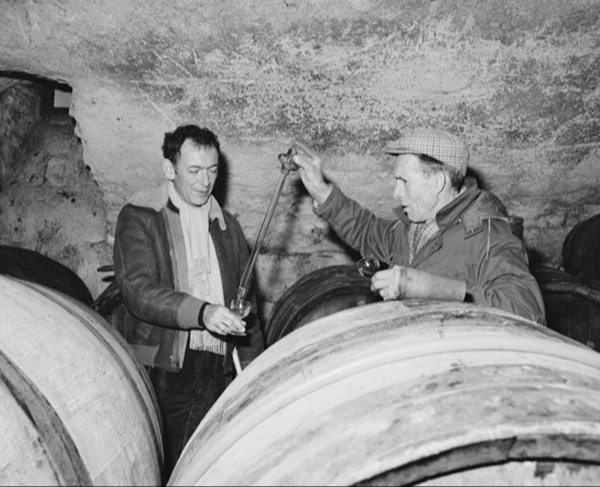 Kermit once said...
When buying red Burgundy, I think we should remember:

1. Big wines do not age better than light wine.
2. A so-called great vintage at the outset does not guarantee a great vintage for the duration.
3. A so-called off vintage at the outset does not mean the wines do not have a brilliant future ahead of them.
4. Red Burgundy should not taste like Guigal Côte-Rôtie, even if most wine writers wish it would.
5. Don't follow leaders; watch yer parking meters.
Inspiring Thirst, page 174