Beaujolais Built to Last
Beaujolais Built to Last
by Tom Wolf by Tom Wolf
2021 Moulin-à-Vent "Vieilles Vignes"
2021 Moulin-à-Vent "Vieilles Vignes"
In a wine landscape in which producers bottle increasingly wider ranges of cuvées, Domaine Diochon has become an outlier, producing one bottling year in and year out, which happens to be the same bottling we have imported for nearly forty years: the old-vine Moulin-à-Vent. In our November 1984 newsletter, Kermit wrote, "There was only one cask of old vines and Diochon was going to blend it in to add substance and character to his other casks. I had to pay a premium to obtain that one cask pure and unblended."
Today, the wine is made from vines planted in 1920, 1950, and the 1960s. Not much else has changed with respect to this rouge that hails from Moulin-à-Vent, the Beaujolais cru known for producing arguably the region's most age-worthy wines. Bernard Diochon, who succeeded his father in 1967, once said, "I like tannic wines without heaviness; with fruit and floral aromas. I don't like weighty wines with hard tannins." Although Bernard has been succeeded by Thomas Patenôtre, the wine continues to remain true to that sentiment. It contains some tannin—it wouldn't be young Moulin-à-Vent if it didn't—but it is beautifully integrated and the wine is ready to drink now if given a little time to breathe. Soulful and savory, with notes of cherries, iron, and smoke, this is cru Beaujolais built to last.
---
| | |
| --- | --- |
| Wine Type: | red |
| Vintage: | 2021 |
| Bottle Size: | 750mL |
| Blend: | Gamay |
| Appellation: | Moulin-à-Vent |
| Country: | France |
| Region: | Beaujolais |
| Producer: | Domaine Diochon |
| Winemaker: | Thomas Patenôtre |
| Vineyard: | 50 - 85 years, 5.05 ha |
| Soil: | Pink Granite, sandstone, with a manganese-rich sub-soil |
| Farming: | Lutte Raisonnée |
| Alcohol: | 13% |
More from this Producer or Region
About The Producer
Domaine Diochon
At the foot of the rolling vineyards of Moulin-à-Vent, Domaine Diochon has been making Beaujolais the old-fashioned way since 1935. Bernard Diochon succeeded his father in 1967. As a torchbearer to the ancestral methods passed down to him, Bernard explains, "I like tannic wines without heaviness; with fruit and floral aromas. Every vigneron naturally chooses to make wines in the style they prefer." In 2007, Bernard wanted to retire but had no heirs. He appointed Thomas Patenôtre as his heir apparent, which has turned out to be an easy transition. We are grateful that the Diochon tradition continues through Thomas, safeguarding the ancestral methods that have distinguished the domaine's wines for nearly a century.
About The Region
Beaujolais
After years of the region's reputation being co-opted by mass-produced Beaujolais Nouveau and the prevalence of industrial farming, the fortunes of vignerons from the Beaujolais have been on the rise in the past couple of decades. Much of this change is due to Jules Chauvet, a prominent Beaujolais producer who Kermit worked with in the 1980s and arguably the father of the natural wine movement, who advocated not using herbicides or pesticides in vineyards, not chaptalizing, fermenting with ambient yeasts, and vinifying without SO2. Chief among Chauvet's followers was Marcel Lapierre and his three friends, Jean Foillard, Guy Breton, and Jean-Paul Thévenet—a group of Morgon producers who Kermit dubbed "the Gang of Four." The espousal of Chauvet's methods led to a dramatic change in quality of wines from Beaujolais and with that an increased interest and appreciation for the AOC crus, Villages, and regular Beaujolais bottlings.

The crus of Beaujolais are interpreted through the Gamay grape and each illuminate the variety of great terroirs available in the region. Distinguishing itself from the clay and limestone of Burgundy, Beaujolais soils are predominantly decomposed granite, with pockets of blue volcanic rock. The primary vinification method is carbonic maceration, where grapes are not crushed, but instead whole clusters are placed in a tank, thus allowing fermentation to take place inside each grape berry.

Much like the easy-going and friendly nature of many Beaujolais vignerons, the wines too have a lively and easy-drinking spirit. They are versatile at table but make particularly good matches with the local pork sausages and charcuterie. Though often considered a wine that must be drunk young, many of the top crus offer great aging potential.
More from Beaujolais or France
Kermit once said...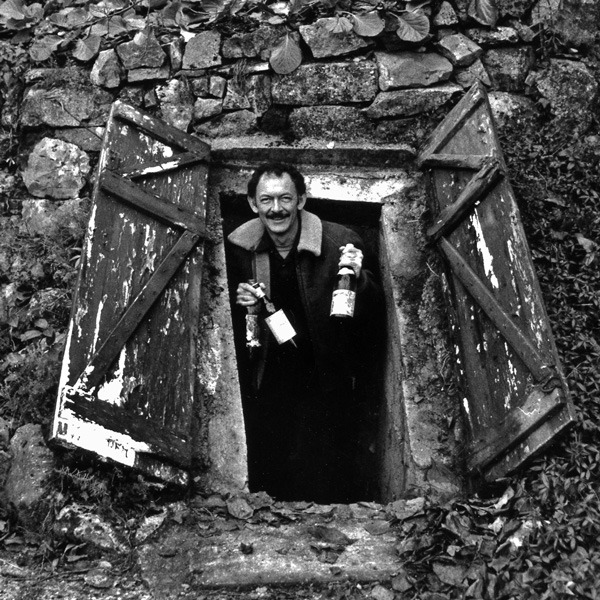 Kermit once said...
If you're looking for value, look where no one else is looking.
Inspiring Thirst, page 211