I could describe Philippe Bernède's organically grown, 100% Malbec Cahors as a quintessential house red or an eager crowd-pleaser, but I wouldn't want to oversimplify its appeal. Vintage after vintage, this Cahors delivers glassfuls of voluminous black fruit and bright aromatics with a pleasantly rugged core. The wine is beautifully made and deliciously balanced. It's no surprise customers return to it with enthusiasm, not only for its provincial charm but also because (lucky for us) it resides in the value section, where it thoroughly overachieves. Sans reproche!, as the French might say—it's simply beyond reproach.
—Jane Augustine
---
| | |
| --- | --- |
| Wine Type: | red |
| Vintage: | 2021 |
| Bottle Size: | 750mL |
| Blend: | Malbec |
| Appellation: | Cahors |
| Country: | France |
| Region: | Southwest |
| Producer: | Château La Grave |
| Winemaker: | Philippe Bernède |
| Vineyard: | Planted in 1990, 1995, 15 ha |
| Soil: | Red Clay |
| Aging: | Aged in 100hl wood tanks for one year before bottling |
| Farming: | Lutte Raisonnée |
| Alcohol: | 13.5% |
---
More from this Producer or Region
/
About The Producer
Château La Grave
Deep in southwest France, amidst dramatic cliffs, the Lot River slowly snakes its way along the valley floor, coiling covetously around the town of Cahors. A former Roman town, Cahors was also as a center of commerce during the Middle Ages. Among the many specialties that have brought pride to the region, the constant has been its wine. Cahors is also the birthplace of Cot, the grape commonly known as Malbec. Philippe Bernède is no stranger to the south-west as his family has farmed vines here for many generations. His Château La Grave stands out as it is 100% Malbec, a rarity here in Cahors. La Grave is an incredible value on multiple levels—it is a hearty, full-bodied wine to drink now and a top candidate for your cellar.
About The Region
Southwest
Tucked away beneath Bordeaux and buffeted by the Pyrenees to the south, this expansive region of France, commonly known as the Southwest, is home to a diverse number of viticulture and gastronomic traditions as well as cultures. Though Cahors might be the most well known (and easiest to pronounce) appellation from the Southwest, the importance and influence of French Basque culture cannot be underestimated. Irouléguy, the primary appellation of the Basque region of France produces full-bodied, hearty red wines, produced from Tannat grape (known for its tannic qualities). Dry whites from Irouléguy are also produced from Petit and Gros Manseng. Northeast of Irouléguy is the sweet wine-producing appellation of Jurançon. These moelleux wines made from Petit and Gros Manseng have a storied history in France, from being the first wine region to have a vineyard classification, which dates back to the 154th century, to being preferred wine of royalty dating back to the 16th century as well as the French poet Colette.
More from Southwest or France
Kermit once said...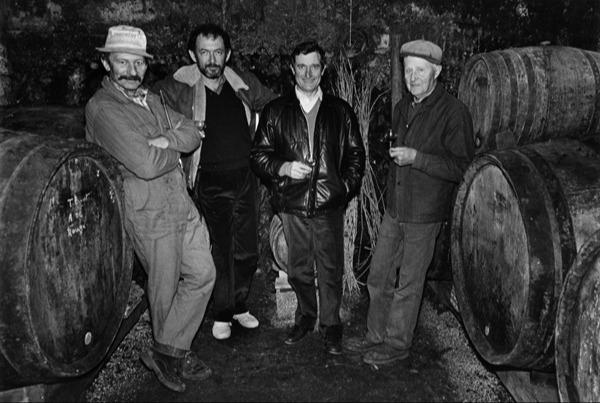 Kermit once said...
I want you to realize once and for all: Even the winemaker does not know what aging is going to do to a new vintage; Robert Parker does not know; I do not know. We all make educated (hopefully) guesses about what the future will bring, but guesses they are. And one of the pleasures of a wine cellar is the opportunity it provides for you to witness the evolution of your various selections. Living wines have ups and downs just as people do, periods of glory and dog days, too. If wine did not remind me of real life, I would not care about it so much.
Inspiring Thirst, page 171