Closer to Italy than to France, the French island of Corsica juts out of the Mediterranean like a left-handed wrist, fist, and index finger pointing at the Italian Riviera. At the western base of this finger, along the Gulf of Saint-Florent, lies Patrimonio, a true vinous Eden. Vineyards climb the steep slopes of the teeth-like mountain range called Sant Anghjulu and stretch across the rolling hills below. Abundant sea breezes bring high daytime temperatures down to cool, soothing nighttime ones and keep the vines dry, warding off mildew.
Still, there are other challenges to contend with, and farming vines organically makes facing these challenges more difficult, even if it does pay off in the end. "We have to do so many things meticulously by hand," says Sandrine Leccia. "We work much more in the vineyard than we would if we did not farm organically—we mustn't equate organic with hands-off."
You can certainly taste the painstaking work in the glass. This rouge, a blend of 90% Niellucciu and 10% Grenache, is remarkably pure and raw. Its seriousness sneaks up on you because the first taste is so succulent, with pitch-perfect acidity, that you think it's going to be a juicy quaffer. Then the finish lengthens and the smooth tannins look for some grilled fare to sink their teeth into, suggesting that the wine will also evolve beautifully over time.
—Anthony Lynch
---
| | |
| --- | --- |
| Wine Type: | red |
| Vintage: | 2020 |
| Bottle Size: | 750mL |
| Blend: | 90% Niellucciu, 10% Grenache |
| Appellation: | Patrimonio |
| Country: | France |
| Region: | Corsica |
| Producer: | Yves Leccia |
| Winemaker: | Yves Leccia |
| Vineyard: | 20 to 40 years, 7.1 ha |
| Soil: | Clay, Limestone, Schist |
| Aging: | All red grapes are de-stemmed, then placed in stainless steel cuves for 12 to 15 days with daily pump-overs, then aged for 12 months |
| Farming: | Organic (certified) |
| Alcohol: | 13.5% |
---
More from this Producer or Region
/
About The Producer
Yves Leccia
Raised in a small village in the heart of Patrimonio, Yves worked alongside his father in the vines and cellar at the earliest age he could. The Leccias have been making wine from the finest terroirs of Patrimonio for countless generations. Originally working alongside his sister, he decided to branch off on his own in 2004 and focus on the terroir he felt was best. "E Croce" sits on a thin chalk soil above a bedrock of pure schist, facing the gulf of St. Florent. Yves is a firm believer in the idea that if you want something done right you need to do it yourself, tending his vines alone and working the cellar by himself. He keeps his yields low, knows when to harvest , and knows how to let E Croce express itself in the wines.
About The Region
Corsica
I first set foot on the island in 1980. I remember looking down from the airplane window seeing alpine forest and lakes and thinking, uh oh, I got on the wrong plane. Then suddenly I was looking down into the beautiful waters of the Mediterranean. Corsica is a small, impossibly tall island, the tail of the Alp chain rising out of the blue sea.—Kermit Lynch

Kermit's first trip to the island proved fruitful, with his discovery of Clos Nicrosi's Vermentino. More than thirty years later, the love affair with Corsica has only grown as we now import wines from ten domaines that cover the north, south, east, and west of what the French affectionately refer to as l'Île de Beauté.

Corsica is currently experiencing somewhat of a renaissance—interest has never been higher in the wines and much of this is due to growers focusing on indigenous and historical grapes found on the island. Niellucciu, Sciarcarellu, and Vermentinu are widely planted but it is now common to find bottlings of Biancu Gentile and Carcaghjolu Neru as well as blends with native varieties like Rossola Bianca, Minustellu, or Montaneccia.

As Kermit described above, Corsica has a strikingly mountainous landscape. The granite peaks top out above 9,000 feet. The terroir is predominantly granite with the exception of the Patrimonio appellation in the north, which has limestone, clay, and schist soils.The wines, much like their southern French counterparts make for great pairings with the local charcuterie, often made from Nustrale, the native wild boar, as well as Brocciu, the Corsican goats milk cheese that is best served within 48 hours of it being made.
More from Corsica or France
Where the newsletter started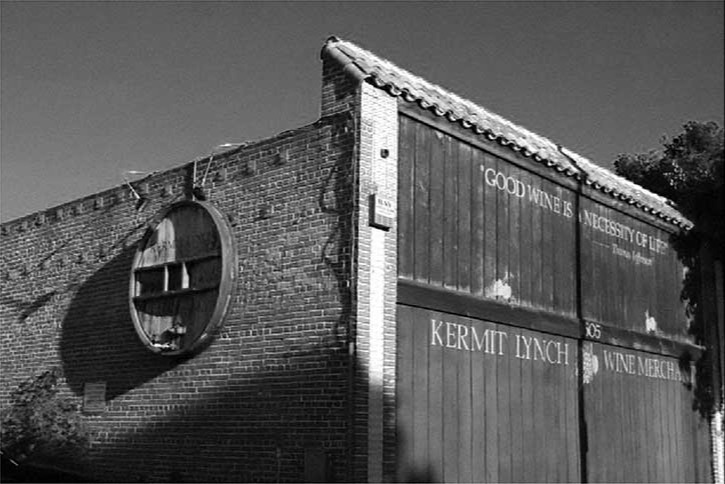 Where the newsletter started
Every three or four months I would send my clients a cheaply made list of my inventory, but it began to dawn on me that business did not pick up afterwards. It occurred to me that my clientele might not know what Château Grillet is, either. One month in 1974 I had an especially esoteric collection of wines arriving, so I decided to put a short explanation about each wine into my price list, to try and let my clients know what to expect when they uncorked a bottle. The day after I mailed that brochure, people showed up at the shop, and that is how these little propaganda pieces for fine wine were born.—Kermit Lynch