If you ever make it to Corsica, don't miss Bonifacio. The small town is perched up on a limestone cliff, which dangles over the sea. It looks like it could just chip off and splash in at any moment. When you visit, you may notice things feel a little different here than in the rest of Corsica. The architecture is unique, and the local dialect, bonifacien, is spoken only here, and only by a hundred or so people, given that for centuries the town was cloistered behind tall walls and cut off from the rest of the island. The ground here is different, too. Corsica is often called "the granite rock," yet in Bonifacio we are on pure limestone. This biancu—chiseled, precise, floral, and salty—is the work of twenty-plus years of patience and planning by Canarelli to replant native grapes where the town's vineyards had lain fallow for more than a century. Truly the land of Canarelli's dreams, his Tarra di Sognu, as they say in Bonifacio.
—Chris Santini
---
| | |
| --- | --- |
| Wine Type: | white |
| Vintage: | 2018 |
| Bottle Size: | 750mL |
| Blend: | 80% Vermentinu, 20% Riminese, Biancu Gentile, Genovese, Carcaghjolu Biancu |
| Appellation: | Vin de France |
| Country: | France |
| Region: | Corsica |
| Producer: | Clos Canarelli |
| Vineyard: | 3 ha, planted in 2013 |
| Soil: | Limestone, Chalk |
| Farming: | Biodynamic (certified) |
| Alcohol: | 13.5% |
---
More from this Producer or Region
/
About The Producer
Clos Canarelli
Near the village of Tarabucetta, outside of Figari on the southern tip of Corsica, Yves Canarelli is championing the restoration of native Corsican varietals. The appellation Corse Figari lies along a plateau just inland from the coast, where grapes have been farmed since the 5th century B.C. Though Figari is regarded as the most ancient growing region of Corsica, it has taken pioneers like Yves having the courage to rip out entire vineyards of foreign varietals before Corsican wines have finally received the recognition they deserve. After nearly ten years of watching and tasting Yves's evolution, KLWM is proud to include Clos Canarelli in our portfolio as one of the cream of the crop Corsican domaines.
About The Region
Corsica
I first set foot on the island in 1980. I remember looking down from the airplane window seeing alpine forest and lakes and thinking, uh oh, I got on the wrong plane. Then suddenly I was looking down into the beautiful waters of the Mediterranean. Corsica is a small, impossibly tall island, the tail of the Alp chain rising out of the blue sea.—Kermit Lynch

Kermit's first trip to the island proved fruitful, with his discovery of Clos Nicrosi's Vermentino. More than thirty years later, the love affair with Corsica has only grown as we now import wines from ten domaines that cover the north, south, east, and west of what the French affectionately refer to as l'Île de Beauté.

Corsica is currently experiencing somewhat of a renaissance—interest has never been higher in the wines and much of this is due to growers focusing on indigenous and historical grapes found on the island. Niellucciu, Sciarcarellu, and Vermentinu are widely planted but it is now common to find bottlings of Biancu Gentile and Carcaghjolu Neru as well as blends with native varieties like Rossola Bianca, Minustellu, or Montaneccia.

As Kermit described above, Corsica has a strikingly mountainous landscape. The granite peaks top out above 9,000 feet. The terroir is predominantly granite with the exception of the Patrimonio appellation in the north, which has limestone, clay, and schist soils.The wines, much like their southern French counterparts make for great pairings with the local charcuterie, often made from Nustrale, the native wild boar, as well as Brocciu, the Corsican goats milk cheese that is best served within 48 hours of it being made.
More from Corsica or France
Kermit once said...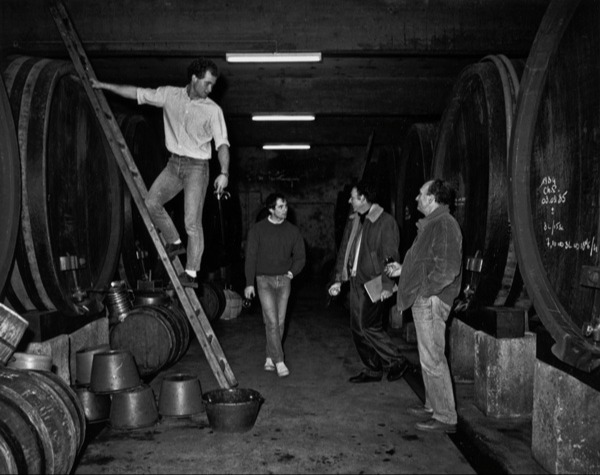 Kermit once said...
For the wines that I buy I insist that the winemaker leave them whole, intact. I go into the cellars now and select specific barrels or cuvées, and I request that they be bottled without stripping them with filters or other devices. This means that many of our wines will arrive with a smudge of sediment and will throw a more important deposit as time goes by, It also means the wine will taste better.