Due to arcane laws surrounding the mention of sur lie on a bottle of Muscadet, any wine carrying the designation must be aged "on its lees" for a predetermined period of time, but if it surpasses a year on its lees, it can no longer call itself "sur lie." Go figure. This 2017 spent twenty-seven months on its lees in underground, glass-lined tanks beneath Michel Brégeon's winery in Gorges. When you smell it, keep in mind that no other wine, besides a Melon de Bourgogne grown in the gabbro soil of Gorges, could possibly smell like this one does. Gabbro is an igneous rock most often found in the earth's crust beneath the ocean and forms, in my opinion, the greatest terroir on earth for Melon de Bourgogne.
—Dixon Brooke
More from this Producer or Region
About The Producer
André-Michel Brégeon
Michel Brégeon is part renegade, part crusader, and full-blown terroirist, ardently defending the Muscadet-Sèvre-et-Maine terroir. Thanks to his deep understanding of the land, he plays the game much differently than the region's caves cooperatives and negociants, who produce en masse and lose the subtlety of the appellation. He worked for his family's domaine before setting out on his own in 1975. When his father retired in 1989, he gave his remaining vineyard land to Michel. Today, Michel farms seven hectares of vineyards in clay, silica, and gabbro soils. Gabbro is old, blue-green, volcanic rock, rarely found in vineyard land. Formed by magma eruptions under the ocean floor, it imparts intense complexity to Michel's wines.
About The Region
Loire
The defining feature of the Loire Valley, not surprisingly, is the Loire River. As the longest river in France, spanning more than 600 miles, this river connects seemingly disparate wine regions. Why else would Sancerre, with its Kimmeridgian limestone terroir be connected to Muscadet, an appellation that is 250 miles away?

Secondary in relevance to the historical, climatic, environmental, and cultural importance of the river are the wines and châteaux of the Jardin de la France. The kings and nobility of France built many hundreds of châteaux in the Loire but wine preceded the arrival of the noblesse and has since out-lived them as well.

Diversity abounds in the Loire. The aforementioned Kimmderidgian limestone of Sancerre is also found in Chablis. Chinon, Bourgueil, and Saumur boast the presence of tuffeau, a type of limestone unique to the Loire that has a yellowish tinge and a chalky texture. Savennières has schist, while Muscadet has volcanic, granite, and serpentinite based soils. In addition to geologic diversity, many, grape varieties are grown there too: Cabernet Franc, Chenin Blanc, Sauvignon Blanc, and Melon de Bourgogne are most prevalent, but (to name a few) Pinot Gris, Grolleau, Pinot Noir, Pineau d'Aunis, and Folle Blanche are also planted. These myriad of viticultural influences leads to the high quality production of every type of wine: red, white, rosé, sparkling, and dessert.

Like the Rhône and Provence, some of Kermit's first imports came from the Loire, most notably the wines of Charles Joguet and Château d'Epiré—two producers who are featured in Kermit's book Adventures on the Wine Route and with whom we still work today.
More from Loire or France
Kermit once said...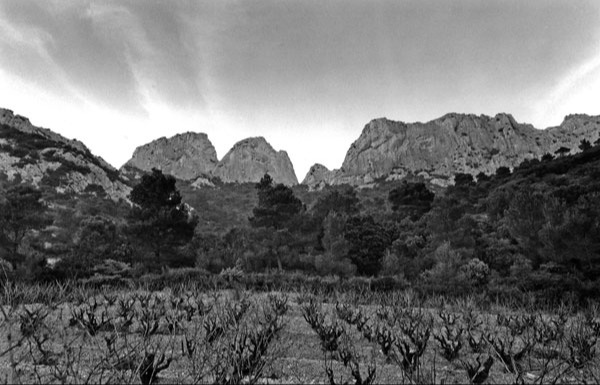 Kermit once said...
Great winemakers, great terroirs, there is never any hurry. And I no longer buy into this idea of "peak" maturity. Great winemakers, great terroirs, their wines offer different pleasures at different ages.
Inspiring Thirst, page 312