Château de Bellevue is not your typical Bordeaux estate: it is small, family-run, and entirely organic—all rare in this vast and prestigious wine region. Covering just twelve hectares, Bellevue sits on a limestone plateau that gives its wines a particular goût de terroir that sets it apart from others in the region. This blend of Merlot with a drop of Cabernet Franc is consistently firm, fresh, and chalky from year to year, a stark contrast with the opulent, velvety reds produced in Saint-Émilion and even other parts of Lussac. This mineral backbone endows it with great aging potential, and yet the wine delights in its young years thanks to the pure, bright fruit and mouth-watering finale. Proprietor and vigneron André Chatenoud has been known to serve his Lussac with duck breast grilled over vine cuttings, but any number of other simple, yet delicious pairings will work. In the summertime, don't hesitate to give this red a slight chill if necessary.
—Anthony Lynch
More from this Producer or Region
About The Producer
Château de Bellevue
The good-natured proprietor of the Château de Bellevue, André Chatenoud, seems more at home in his cellars than anywhere else. Though he and his family have owned the property since 1971, the history of the château dates back to at least the 18th Century. One needs only to explore the incredible limestone caves and see the rich range of old graffiti engravings to be impressed: from harvest workers of the 1700s to American G.I.'s of the 1940s. The terroir of Château de Bellevue is characterized by exceptional quality – only surprising because the great, low prices here at Bellevue stand to shift the perceptions of what good Bordeaux should cost.
About The Region
Bordeaux
Often considered the wine capital of the world, Bordeaux and its wines have captured the minds, hearts, and wallets of wine drinkers for centuries. For many, the wines provide an inalienable benchmark against which all other wines are measured.

Bordeaux is divided into three winegrowing regions with the city that gives the region its name in the near geographical center. The "right bank," or the area located east of the Dordogne River, produces wines that are predominantly Merlot with small amounts of Cabernet Franc and Cabernet Sauvignon. The "left bank" is located to the west of the Garonne River and produces wines dominated by Cabernet Sauvignon, with Cabernet Franc, Merlot, Malbec and Petit Verdot.

The third region, Entre-Deux-Mers, lies between both rivers and produces white wines from Sauvignon Blanc, Sémillon, and Muscadelle. Though technically in the left bank, it is worth noting the appellation of Sauternes, which produces arguably the world's most famous sweet wines from Sauvignon Blanc, Sémillon, and Muscadelle as well.

Though many top Bordeaux wines are sold en primeur (in advance of their bottling) and often through a middleman known as a negoçiant, Kermit has always preferred to purchase directly from the winemaker. For more than three decades he has sought out small producers, who make classic Bordeaux wines and are willing to play outside the negoçiant system. This ethic has led to longstanding relationships, excellent prices, and perhaps most important—wines of great value and longevity.
More from Bordeaux or France
Kermit once said...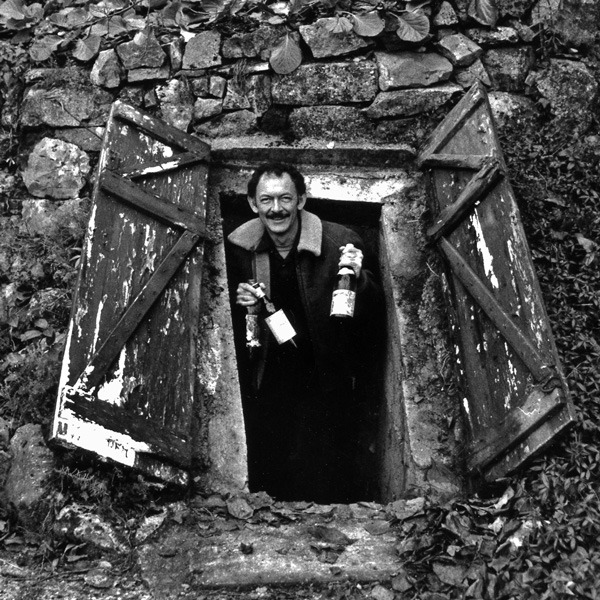 Kermit once said...
If you're looking for value, look where no one else is looking.
Inspiring Thirst, page 211