A few miles west of Pomerol and just above the Dordogne River on Bordeaux's right bank lie the vineyards of Grégoire and Bénédicte Hubau. Unlike this mostly flat part of France dominated by terroirs of clay and gravel, the Hubaus' vines are planted along limestone slopes. When you view them from their home ("château") at the top of the hill, you will immediately understand that this is a site for great wine. In addition to the noteworthy terroir, the Hubaus' Château Moulin Pey-Labrie stands out for the vibrance and freshness of the wines it produces. Imagine the small, avant-garde farmers typically found in the Loire or Beaujolais transposed onto a Bordeaux landscape, and you have the Hubau family. For decades, they have been widely regarded as pioneers of progressive farming and winemaking in this often-staid region. Grégoire and Bénédicte farm the old Merlot vines that make up this cuvée on upper-slope sites rich in limestone. This perfectly middle-aged rouge abounds with beautiful aromas of strawberries and cassis along with a certain woodsiness, and it feels deep and soulful—the way old-school Bordeaux should.
—Dustin Soiseth
---
| | |
| --- | --- |
| Wine Type: | red |
| Vintage: | 2008 |
| Bottle Size: | 750mL |
| Blend: | Merlot |
| Appellation: | Canon-Fronsac |
| Country: | France |
| Region: | Bordeaux |
| Producer: | Château Moulin |
| Winemaker: | Bénédicte & Grégoire Hubau |
| Vineyard: | 3.5 ha |
| Soil: | Clay, limestone |
| Aging: | One-year élevage in 2- and 3-year-old barriques |
| Farming: | Organic (practicing) |
| Alcohol: | 14% |
---
More from this Producer or Region
About The Producer
Château Moulin
Bénédicte and Grégoire Hubau do not come from winemaking families, nor did they pursue studies in enology or viticulture. Both natives of northern France, Bénédicte was a computer specialist and Grégoire a chemist. Without much ado, they decided one day to leave it all behind and start a new life as vignerons. After visiting an endless line of available properties in various regions of France, they finally came across Château Moulin Pey-Labrie, an estate in Fronsac that met their requirement for a terroir de caractère. In 1990, having mastered their new craft, they purchased a second property, Château Haut-Lariveau. Château Moulin, though not a physical château, bottles wine from both Canon-Fronsac and Fronsac.
About The Region
Bordeaux
Often considered the wine capital of the world, Bordeaux and its wines have captured the minds, hearts, and wallets of wine drinkers for centuries. For many, the wines provide an inalienable benchmark against which all other wines are measured.

Bordeaux is divided into three winegrowing regions with the city that gives the region its name in the near geographical center. The "right bank," or the area located east of the Dordogne River, produces wines that are predominantly Merlot with small amounts of Cabernet Franc and Cabernet Sauvignon. The "left bank" is located to the west of the Garonne River and produces wines dominated by Cabernet Sauvignon, with Cabernet Franc, Merlot, Malbec and Petit Verdot.

The third region, Entre-Deux-Mers, lies between both rivers and produces white wines from Sauvignon Blanc, Sémillon, and Muscadelle. Though technically in the left bank, it is worth noting the appellation of Sauternes, which produces arguably the world's most famous sweet wines from Sauvignon Blanc, Sémillon, and Muscadelle as well.

Though many top Bordeaux wines are sold en primeur (in advance of their bottling) and often through a middleman known as a negoçiant, Kermit has always preferred to purchase directly from the winemaker. For more than three decades he has sought out small producers, who make classic Bordeaux wines and are willing to play outside the negoçiant system. This ethic has led to longstanding relationships, excellent prices, and perhaps most important—wines of great value and longevity.
More from Bordeaux or France
Kermit once said...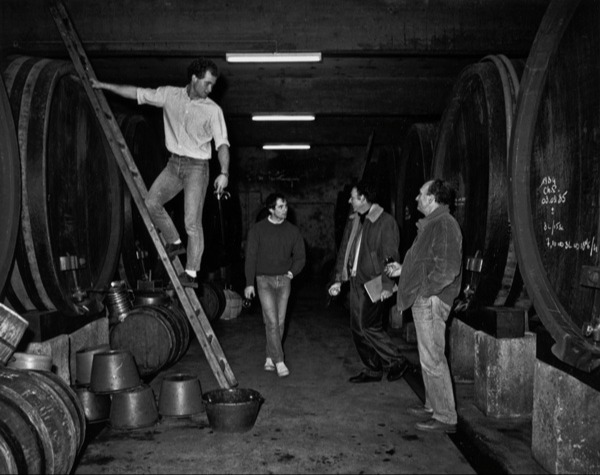 Kermit once said...
For the wines that I buy I insist that the winemaker leave them whole, intact. I go into the cellars now and select specific barrels or cuvées, and I request that they be bottled without stripping them with filters or other devices. This means that many of our wines will arrive with a smudge of sediment and will throw a more important deposit as time goes by, It also means the wine will taste better.