Third-generation winemaker Pietro Arditi
© Jimmy Hayes
Pietro in his 500-year-old cellar
© Jimmy Hayes
On a sunny morning this past June, after winding our way through hillsides of golden wheat and thick hazelnut orchards, my colleagues and I arrived at Cantine Valpane in the Monferrato region of Piedmont. We were greeted by the boisterous and bubbly Pietro Arditi, third-generation winemaker at this family-run azienda that feels straight out of a postcard: a magnificent white villa with eggshell blue shutters and red flowers cascading from balconies, cats dozing and chickens scratching under olive trees. Pietro emanated an infectious, giddy energy as we toured the spectacular vineyard amphitheater facing the estate. He then led us inside his cozy 500-year-old cantina, its thick stone walls covered with framed photos, paintings, and shelves laden with antique knick-knacks.
Pietro described winemaking as a lifelong learning process, gesturing to the cement tanks that Lydia, his aunt who ran the domaine for decades before him, purchased during her tenure—few were working with cement back then, but she embraced the medium eagerly. Upon taking over the domaine, Pietro planned to replace the tanks in favor of oak barrels. "But I realized she was right: aging in cement imparts the truest expression of the fruit," he said, seemingly beguiled to still be gleaning wisdom from Lydia after all these years.
Pietro's joyous and approachable wines perfectly capture his exuberant personality. His "Perlydia" Barbera—lovingly named after his aunt—sees a long élevage in her cement tanks before bottling; with 8 years under its belt, the 2015 is in a beautiful place today, imbued with luscious complexity that can only come with time and patience. Its rich, dark-berried fruit, plush texture, and cocoa-powder tannins make it simply irresistible. It will sing alongside a regional specialty like pork agnolotti in a butter sage sauce, though it's also sublime with classics like osso buco, gnocchi al pomodoro, or chicken parmesan. Whether you get saucy in your cucina or order takeout from the neighborhood joint, this comforting, utterly delicious rosso will leave you fully satisfied.
—Madison Brown
---
| | |
| --- | --- |
| Wine Type: | red |
| Vintage: | 2015 |
| Bottle Size: | 750mL |
| Blend: | Barbera |
| Appellation: | Barbera del Monferrato |
| Country: | Italy |
| Region: | Piedmont |
| Producer: | Cantine Valpane |
| Winemaker: | Pietro Arditi |
| Vineyard: | Planted in 2000, 15. ha |
| Soil: | Clay, Limestone |
| Aging: | Aged 2-5 years in stainless steel and cement tanks before bottling, aged one year in bottle before release |
| Farming: | Sustainable |
| Alcohol: | 14.5% |
---
More from this Producer or Region
About The Producer
Cantine Valpane
Pietro Giuseppe Arditi began working Cantine Valpane in 1900 under a sharecropping agreement with the Fojadelli family. After the passion for his work had earned the family's confidence, he purchased Valpane in 1902. His eldest daughter, Lydia became fascinated by his craft and began working alongside him, eventually taking over the estate. Today Lydia's nephew, also named Pietro, runs the estate. He bursts with pride in the distinguished history of Valpane, but never takes credit personally for his wonderful wines. "People tell me I'm a great winemaker," he says, "but the wines of Valpane have been winning awards for well over a century, so it can't be my doing. I'm just careful not to ruin what the land gives us!"
About The Region
Piedmont
Kermit's love affair with the great reds of Piemonte dates back to the early days of his career: the very first container he imported from Italy, in fact, featured legendary 1971 and 1974 Barolos from Vietti and Aldo Conterno. Regular visits since then have seen our portfolio grow to now twelve Piemontesi estates, with a strong focus on the rolling hills of the Langhe.

Nebbiolo rules these majestic, vine-covered marl slopes, giving Italy's most mystifyingly complex, nuanced, and age-worthy reds. When crafted via traditional production methods—long macerations and extensive aging in enormous oak botti—the powerful, yet incredibly refined Barolos and Barbarescos provide haunting aromatics of tar, raspberry, incense, tea, roses, and more. At times austere in their youth but well worth the wait, they pair beautifully with the hearty local cuisine starring veal in many forms, braised beef, pastas like tajarin and agnolotti, and of course, Alba's famous white truffles.

Surrounded by mountains on three sides, Piemonte's climate is continental, with baking hot summers and cold winters. Nebbiolo is only part of the story here: juicy, fruity Barberas and Dolcettos represent the bread and butter throughout the region, and other native grapes like Freisa, Croatina, and the white Arneis are also noteworthy. Value abounds in the Monferrato, while Alto Piemonte also has its share of thrills to provide.

Every corner of Piemonte is rich with tradition, especially when wine is concerned. It's no wonder we have been singing the region's praises for over forty years.
More from Piedmont or Italy
Kermit once said...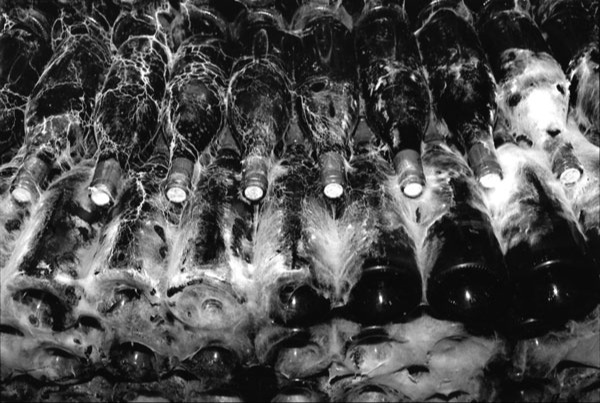 Kermit once said...
Let the brett nerds retire into protective bubbles, and whenever they thirst for wine it can be passed in to them through a sterile filter. Those of us on the outside can continue to enjoy complex, natural, living wines.
Inspiring Thirst, page 236