It's hard to believe that Rossese di Dolceacqua was once considered one of Italy's greatest wines, given how rare these Ligurian reds are today. In fact, a mere eighty or so hectares of steep, terraced vineyards remain in this storied appellation just inland of the Mediterranean coast near Italy's border with France. A century and a half ago, these slopes—the southern end of the Ligurian Alps chain—were completely covered in vines, their three thousand hectares surpassing the area planted in Piemonte's Langhe. Alas, the effects of phylloxera, world wars, and industrialization led to the abandonment of most vineyard land, and today only a handful of families still cultivate these daunting terraces.
Alessandro Anfosso is among the few who remain, applying wisdom passed down from his father and grandfather to carry on the great wine tradition of Dolceacqua. He produces some robust, powerful wines from ancient vines, but the Fulavin vineyard—with vines averaging thirty-five years of age—yields his most silky, sensual Rossese. It is a medium-weight charmer with delicate floral aromatics, bright acidity, and elegant tannins. A versatile red with a story to tell, it should be enjoyed slightly cool.
—Anthony Lynch
---
| | |
| --- | --- |
| Wine Type: | red |
| Vintage: | 2015 |
| Bottle Size: | 750mL |
| Blend: | Rossese |
| Appellation: | Rossese di Dolceacqua |
| Country: | Italy |
| Region: | Liguria |
| Producer: | Tenuta Anfosso |
| Winemaker: | Alessandro Anfosso |
| Vineyard: | Planted in 1977, 1998, .65 ha |
| Soil: | Flysch |
| Aging: | Aged for 12-13 months in stainless steel tanks before bottling, then 3-4 months in bottle before release |
| Farming: | Organic (practicing) |
| Alcohol: | 13.5% |
---
More from this Producer or Region
About The Producer
Tenuta Anfosso
In the hills of western Liguria you'll find Tenuta Anfosso, located in the town of Soldano, and the growing area (or DOC) known as Rossese di Dolceacqua. The grape grown here is the same Rossese as is planted throughout Liguria, but the terroir of Dolceacqua takes the grape to soaring new heights. The wines are reminiscent of Côte-Rôtie, with their combination of floral and roasted/bacon fat aromas and silky mid-palate with stoniness on the finish. There is a level of concentration, structure, spice, and minerality that the more fruit-driven Rossese from further east in Liguria does not possess.
About The Region
Liguria
A long, crescent-shaped sliver of mountainous coastline ranging from the French border in the west to that of Tuscany in the east, Liguria is a region of unrivaled Mediterranean charm. This applies not only to its colorful seaside villages and carefree, welcoming people, but also to the wines it produces—crisp whites and light reds designed to be quaffed with locally caught seafood.

Viticulture has thrived along these coastal hillsides since Etruscan times. Ancient stone terraces line the steep slopes all along the Riviera, many abandoned while others still host olive trees, lemon trees, and of course, the vine. What Liguria lacks in acreage, it makes up for in diversity and originality: home to numerous indigenous grape varieties, it produces wines of infectious local character.

The hallmarks of Ligurian wines are fragrant aromatics and lively freshness. Whites from grapes like Vermentino and Pigato capture the pervasive flavors of wild herbs and citrus with a sea-breeze salinity, while the rare reds from Rossese, among others, have a brightness of flavor that allows them to complement dishes from the sea or land—served with a slight chill, of course.

While Kermit's history in the region is relatively recent, Liguria has rapidly become one of his favorite places to visit. It's hard to blame him—enjoying a crisp, perfumed white with a platter of fried sea critters on the Mediterranean is definitely not the worst part of the job.
More from Liguria or Italy
Kermit once said...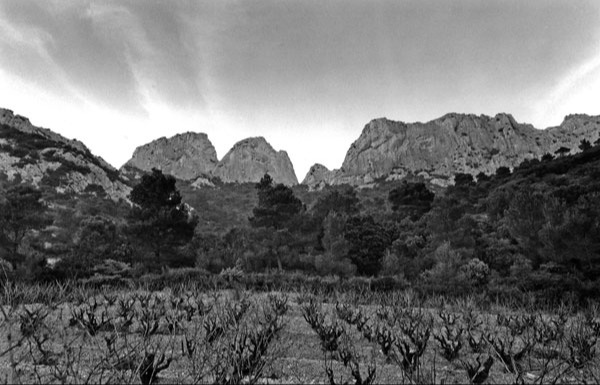 Kermit once said...
Great winemakers, great terroirs, there is never any hurry. And I no longer buy into this idea of "peak" maturity. Great winemakers, great terroirs, their wines offer different pleasures at different ages.
Inspiring Thirst, page 312