Discount Eligible $160.00
When Charles Fourny visits us in the U.S., he always brings a tiny wrapped parcel from his beloved hometown of Vertus, in the Côte des Blancs, where his family has been producing Chardonnay-based Champagnes for the past two centuries. Unfolding a piece of cloth that holds contents plucked straight from his vineyard, he proudly reveals a bright, gleaming hunk of creamy-white chalk. It's this chalk that makes up the soils in the Fournys' premier cru vineyards and defines the brisk, saline freshness we love so much about their elegant house style.
Nowhere is that style so boldly on display as in their Brut Nature bottling, which receives zero dosage, making it the driest style of Champagne that exists. How do the Fournys get away with such a deceptively lean Champagne? They farm the most privileged, east-facing parcels in their village, allowing grapes to bask in, and soak up the rising sunlight and mature naturally, without requiring added sugar for balance. Their Brut Nature isn't a luscious Champagne; it's textural, and energetic, with zesty citrus notes and crunchy fruit. If you're looking for the perfect palate opener, this mood-brightener, with its fervent and fine bead, will prime you for a sparkling soirée.
Discount Eligible $160.00
---
| | |
| --- | --- |
| Wine Type: | sparkling |
| Vintage: | NV |
| Bottle Size: | 1.5L |
| Blend: | Chardonnay |
| Appellation: | Vertus |
| Country: | France |
| Region: | Champagne |
| Producer: | Veuve Fourny & Fils |
| Winemaker: | Charles and Emmanuel Fourny |
| Vineyard: | 40 years average |
| Soil: | Chalk, Limestone, 1.5 ha |
| Aging: | Ages in bottle for 2 ½ years before release |
| Farming: | Lutte Raisonnée |
| Alcohol: | 12% |
---
More from this Producer or Region
About The Producer
Veuve Fourny & Fils
Champagne Veuve Fourny & Fils is relatively new to the KLWM portfolio, although it has been an active family domaine since 1856. The estate is located in prestigious Côte des Blancs, in the premier cru village of Vertus, giving them the rare opportunity to grow Pinot Noir as well as Chardonnay. Brothers Charles-Henry and Emmanuel sustainably farm nearly nine hectares of vineyards, carrying on the family tradition since 1993. All of their vineyards are farmed according to the same meticulous practices and principles, with each parcel vinified individually. Veuve Fourny produces classic grower Champagne, raising pedigreed fruit, adhering to high standards, and hand-crafting wines that showcase the chalky terroir of Vertus.
About The Region
Champagne
True Champagne must not only sparkle, but also must come from grapes grown in the Champagne region of France and be made using méthode champenoise—a process that involves prolonged aging of the wine as well as a bottle fermentation used to add the sparkle to the finished product. Though wine has been made in this region since at least the 5th century, Champagne as we now know is a relatively new creation. It wasn't until the 19th century that sparkling wine production took hold on a large scale in much part due to improvements in the strength of glass for bottles and the embrace of French nobility of the sparkling wines of the region.

Only three grape varieties may be used to make Champagne: Chardonnay, Pinot Noir, and Pinot Meunier. The chalk-heavy soils not only provide complexity and texture to the finished wine, but also act as a natural humidifier thus keeping the vine's roots warm during colder months of the year. There are grand cru and premier cru designated vineyard areas but unlike Burgundy, there are few lieu-dit vineyards (though in recent years there has been a greater interest in producing vineyard specific Champagnes).

Kermit's first foray into the region came in 1981 when he began importing the wines of J. Lassalle and Paul Bara—two producers whose wines we still import. In the mid 2000s, Kermit began importing the wines of Veuve Fourny et Fils.

Of Champagne, Kermit says, "You might be surprised to learn that I don't like a goût de terroir to dominate the taste of Champagnes. If it dominates, you lose finesse. I want some, obviously—but only enough to keep things interesting."
More from Champagne or France
Kermit once said...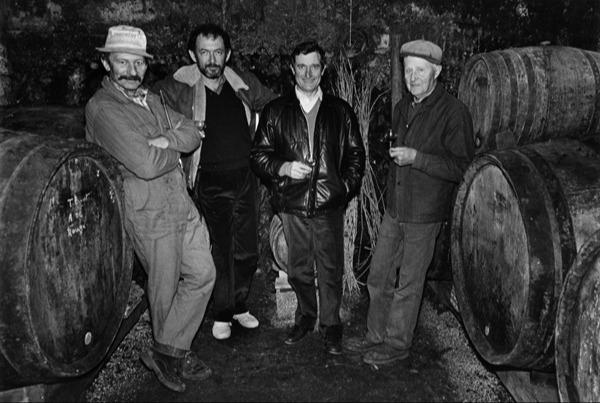 Kermit once said...
I want you to realize once and for all: Even the winemaker does not know what aging is going to do to a new vintage; Robert Parker does not know; I do not know. We all make educated (hopefully) guesses about what the future will bring, but guesses they are. And one of the pleasures of a wine cellar is the opportunity it provides for you to witness the evolution of your various selections. Living wines have ups and downs just as people do, periods of glory and dog days, too. If wine did not remind me of real life, I would not care about it so much.
Inspiring Thirst, page 171
Discount Eligible $160.00