The Proverbial Crisp White Wine
The Proverbial Crisp White Wine
by Anthony Lynch by Anthony Lynch
2022 Pinot Blanc "Vieilles Vignes"
2022 Pinot Blanc "Vieilles Vignes"
The village of Katzenthal
© Meyer-Fonné
Félix with his father François Meyer
© Dixon Brooke
Meyer-Fonné France | Alsace | Alsace
There comes a time every day—generally around 6 o'clock—when a hankering for something cold and crisp emanates from within. We crave a refreshing glass of white to alleviate thirst and cleanse the day's lingering cocktail of doubts and worries, its bright flavors signaling a new chapter to the day in which pleasure and relaxation reign.
Félix Meyer's old-vine Pinot Blanc from the slopes of Katzenthal, in Alsace, has long overdelivered in the role of the proverbial "crisp white" for which we long. It has obvious thirst-quenching properties, expressed in the form of perky acidity and a mouth-watering, almost smoky mineral note that grabs hold of the back of the palate. But it also carries generous flesh, like the succulent texture of farmers' market stone fruits, enlivened by an exotic bolt of lime.
Perhaps due to the fifty-year-old vines, plus Félix's liberal interpretation of "Pinot Blanc"—the blend also includes Pinot Gris and Pinot Auxerrois—this crisp blanc does far more than what its price point might suggest. The first glass may satisfy our craving for something cold quite swimmingly, but the second reveals a nuanced wine of real substance.
The village of Katzenthal
© Meyer-Fonné
Félix with his father François Meyer
© Dixon Brooke
---
| | |
| --- | --- |
| Wine Type: | white |
| Vintage: | 2022 |
| Bottle Size: | 750mL |
| Blend: | 65% Pinot Auxerrois, 20% Pinot Blanc, 15% Pinot Gris |
| Appellation: | Alsace |
| Country: | France |
| Region: | Alsace |
| Producer: | Meyer-Fonné |
| Winemaker: | Félix Meyer |
| Vineyard: | Planted in 1965 and 1978, 2.5 ha |
| Farming: | Organic (practicing) |
| Alcohol: | 12.5% |
More from this Producer or Region
About The Producer
Meyer-Fonné
Félix Meyer is a rising star in Alsace and has an evident instinct for his craft. Since taking over in the family domaine 1992, Félix has already left his own mark, modernizing equipment in the winery, developing export sales, and now expanding the family's holdings in many of Alsace's great vineyard sites, including several grand crus. It's all about the details at Meyer-Fonné, with an emphasis on tradition and respect for terroir. The winery and family home is in the village of Katzenthal, known for its distinctive granite soils. Racy and elegant, his wines are difficult to resist young but have all the right qualities for the cellar. For aromatic and textural seductiveness, no one in Alsace can top Meyer-Fonné.
About The Region
Alsace
Tragically, Alsace might be the most misunderstood wine region of France. In spite of its long history of viticulture and tremendous diversity of pedigreed terroirs, a past fraught with marketing mishaps has left consumers baffled as to what exactly to expect inside one of these mysterious tall, thin bottles.

The good news, on the other hand, is that a new wave of quality-oriented growers is working hard to put Alsace in its rightful place as one of the world's most fascinating sources of fine white wine. By embracing tradition, respecting terroir, and making a concerted effort to better communicate the countless virtues their wines have to offer, they have succeeded in putting Alsace back on the map.

Crafted from a number of grape varieties and beautifully interpreting the region's mosaic of soil types, our Alsace imports are by and large dry whites offering exceptional versatility at table. While each of these selections is ready to be uncorked tonight, the finest among them are also capable of maturing for many, many years in a cool cellar. Expect kaleidoscopic aromatics, lively acidities, and loads of terroir transparency in these skillfully crafted masterpieces. Enjoy a foray into the thrilling world of the world's most underrated wine region, and certainly do not hesitate to contact our sales staff with any questions as you take off on this mouth-watering adventure.
More from Alsace or France
Kermit once said...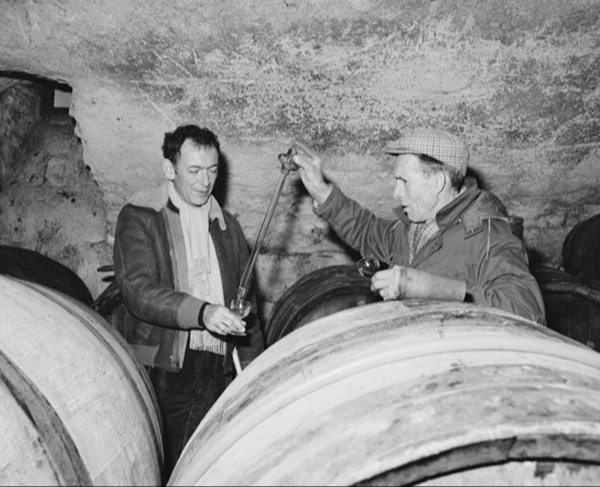 Kermit once said...
When buying red Burgundy, I think we should remember:

1. Big wines do not age better than light wine.
2. A so-called great vintage at the outset does not guarantee a great vintage for the duration.
3. A so-called off vintage at the outset does not mean the wines do not have a brilliant future ahead of them.
4. Red Burgundy should not taste like Guigal Côte-Rôtie, even if most wine writers wish it would.
5. Don't follow leaders; watch yer parking meters.
Inspiring Thirst, page 174