Before Charles Joguet took over his family domaine in Chinon, he was a passionate painter and sculptor in Paris, retreating to a little studio in Montmartre. When his father passed away, he came to a crossroads: become a part-time vigneron among painters or a part-time painter among vignerons, and he chose the latter. The style of Joguet's Chinon rosé has evolved over the years, and today it is crisp and bright, with bitter notes of ruby citrus, white pepper, and cherry pit. It's the perfect wine for sipping while indulging in a long-lost, artistic pastime. Fun fact: a drawing Charles made of his mother's historical home is featured on the label.
—Jane Augustine
More from this Producer or Region
About The Producer
Charles Joguet
Charles Joguet, a young painter and sculptor, abandoned a budding art career to assume direction of the family domaine in 1957. He began to question the common practice of selling grapes to negociants, as his family had done for years. The Joguets owned prime vineyard land between the Loire and Vienne Rivers with distinct variations in the soils. To sell the grapes off or vinify the individualized plots together would have been madness. Separate terroirs, Charles believed, necessitate separate vinifications. He took the risks necessary to master single-vineyard bottling with an artistry that Chinon had never before seen. Charles has since retired. Today, the eager and talented Kevin Fontaine oversees the vineyards and the cellars.
About The Region
Loire
The defining feature of the Loire Valley, not surprisingly, is the Loire River. As the longest river in France, spanning more than 600 miles, this river connects seemingly disparate wine regions. Why else would Sancerre, with its Kimmeridgian limestone terroir be connected to Muscadet, an appellation that is 250 miles away?

Secondary in relevance to the historical, climatic, environmental, and cultural importance of the river are the wines and châteaux of the Jardin de la France. The kings and nobility of France built many hundreds of châteaux in the Loire but wine preceded the arrival of the noblesse and has since out-lived them as well.

Diversity abounds in the Loire. The aforementioned Kimmderidgian limestone of Sancerre is also found in Chablis. Chinon, Bourgueil, and Saumur boast the presence of tuffeau, a type of limestone unique to the Loire that has a yellowish tinge and a chalky texture. Savennières has schist, while Muscadet has volcanic, granite, and serpentinite based soils. In addition to geologic diversity, many, grape varieties are grown there too: Cabernet Franc, Chenin Blanc, Sauvignon Blanc, and Melon de Bourgogne are most prevalent, but (to name a few) Pinot Gris, Grolleau, Pinot Noir, Pineau d'Aunis, and Folle Blanche are also planted. These myriad of viticultural influences leads to the high quality production of every type of wine: red, white, rosé, sparkling, and dessert.

Like the Rhône and Provence, some of Kermit's first imports came from the Loire, most notably the wines of Charles Joguet and Château d'Epiré—two producers who are featured in Kermit's book Adventures on the Wine Route and with whom we still work today.
More from Loire or France
Kermit once said...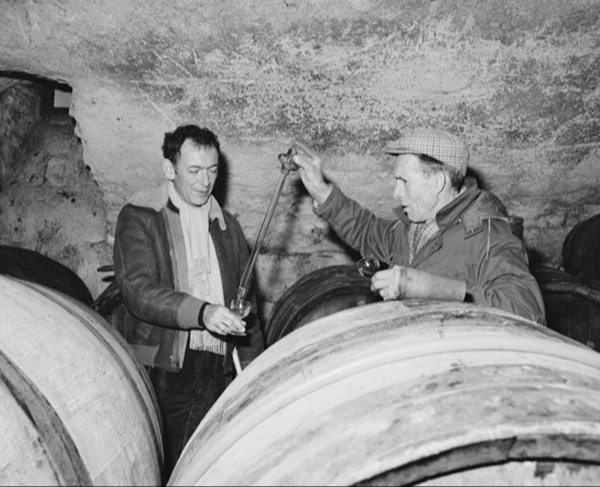 Kermit once said...
When buying red Burgundy, I think we should remember:

1. Big wines do not age better than light wine.
2. A so-called great vintage at the outset does not guarantee a great vintage for the duration.
3. A so-called off vintage at the outset does not mean the wines do not have a brilliant future ahead of them.
4. Red Burgundy should not taste like Guigal Côte-Rôtie, even if most wine writers wish it would.
5. Don't follow leaders; watch yer parking meters.
Inspiring Thirst, page 174