With about 160 acres planted, Jasnières represents one of the Loire Valley's smallest appellations. And yet it is home to one of its most distinctive expressions of Chenin Blanc, as this cool, stony terroir of clay, limestone, and flint yields wines unlike anything one might find in other Chenin AOCs such as Vouvray, Savennières, or Anjou. Pascal Janvier is a small grower in Jasnières intent on showing off the typicity and uniqueness of the area's wines, and this vintage does not disappoint. Racy, slightly honeyed, exotically perfumed, and loaded with minerality, this wine is an excellent representation of how Chenin reacts to the local conditions. The aroma is always fascinating—guava, flowers, citrus, clove, and gunflint are often cited; what do you pick out? This white's versatility makes it a great choice for the gourmet adventurer, as simple dishes like fresh goat cheeses and buttery fish preparations work just as well as many Southeast Asian and Central American dishes.
—Anthony Lynch
More from this Producer or Region
About The Producer
Pascal Janvier
Pascal Janvier never planned on becoming a vigneron. Though his parents had vineyard land of their own, they did not make their own wine. He went to school to learn butchery, but made a sudden about-face at the age of thirty and decided to study winegrowing. His decision was anything but a whim. Starting slowly, he has mastered his craft with focus and passion, contributing to the revival of the small appellation of Jasnières, the most northerly (and coldest) of the greater Loire region. The once proud appellations of Jasnières and the Coteaux du Loir are now all but extinct, with less than one hundred and two hundred hectares still respectively under vine. Pascal is doing his part to remind everyone what Jasnières is capable of.
About The Region
Loire
The defining feature of the Loire Valley, not surprisingly, is the Loire River. As the longest river in France, spanning more than 600 miles, this river connects seemingly disparate wine regions. Why else would Sancerre, with its Kimmeridgian limestone terroir be connected to Muscadet, an appellation that is 250 miles away?

Secondary in relevance to the historical, climatic, environmental, and cultural importance of the river are the wines and châteaux of the Jardin de la France. The kings and nobility of France built many hundreds of châteaux in the Loire but wine preceded the arrival of the noblesse and has since out-lived them as well.

Diversity abounds in the Loire. The aforementioned Kimmderidgian limestone of Sancerre is also found in Chablis. Chinon, Bourgueil, and Saumur boast the presence of tuffeau, a type of limestone unique to the Loire that has a yellowish tinge and a chalky texture. Savennières has schist, while Muscadet has volcanic, granite, and serpentinite based soils. In addition to geologic diversity, many, grape varieties are grown there too: Cabernet Franc, Chenin Blanc, Sauvignon Blanc, and Melon de Bourgogne are most prevalent, but (to name a few) Pinot Gris, Grolleau, Pinot Noir, Pineau d'Aunis, and Folle Blanche are also planted. These myriad of viticultural influences leads to the high quality production of every type of wine: red, white, rosé, sparkling, and dessert.

Like the Rhône and Provence, some of Kermit's first imports came from the Loire, most notably the wines of Charles Joguet and Château d'Epiré—two producers who are featured in Kermit's book Adventures on the Wine Route and with whom we still work today.
More from Loire or France
Vintage Chart Mentality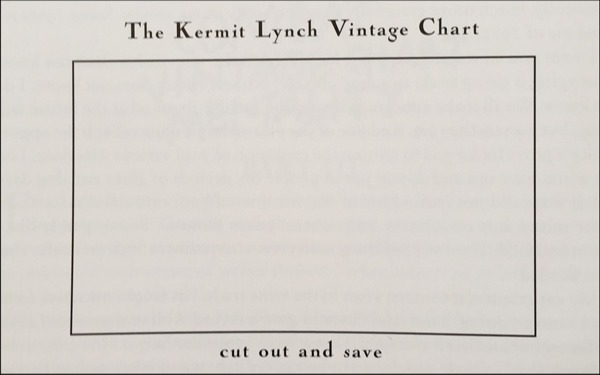 Vintage Chart Mentality
Trust the great winemakers, trust the great vineyards. Your wine merchant might even be trustworthy. In the long run, that vintage strip may be the least important guide to quality on your bottle of wine.—Kermit Lynch