One of the Loire's rarest red grapes, Pineau d'Aunis is downright obscure compared to the region's golden child, Cabernet Franc. As with many of France's grape varieties, Pineau d'Aunis was nearly wiped out by phylloxera in the 1860s. A notoriously finicky grape, it was widely replaced with easier-to-grow, higher-yielding varieties. Pineau d'Aunis acreage had been in steady decline until around twenty years ago when local vignerons, fearing its impending extinction, began an effort to put the indigenous variety back on the map. Only about a thousand acres are planted to Pineau d'Aunis in France today. In the Coteaux du Loir appellation, Pascal Janvier dutifully tends his vines to craft a 100% Pineau d'Aunis cuvée—the only bottling of this extraordinary grape in our entire portfolio.
In the glass, his Cuvée du Rosier looks (and often drinks) like young Pinot Noir. Its bright strawberry and sour cherry notes lead into a spicy finish recalling cracked pepper. Juicy and lively thanks to a palate-tickling hint of effervescence, it is best served slightly chilled, as you would a Beaujolais, and can be paired with anything (or nothing at all), but goes especially well with tricky-to-pair dishes that have a kick. This wine is truly a knockout with spicy food, and the KLWM staff delights in swapping stories of matchmaking it with the plethora of takeout options we have in and around the Bay Area. From zesty curries to kimchi bibimbap, a chilled glass of this hidden gem cuvée will refresh a sizzling palate like a cooling elixir, while at the same time enhancing all the flavors at table.
—Madison H. Brown
---
| | |
| --- | --- |
| Wine Type: | red |
| Vintage: | 2022 |
| Bottle Size: | 750mL |
| Blend: | Pineau d'Aunis |
| Appellation: | Coteaux du Loir |
| Country: | France |
| Region: | Loire |
| Producer: | Pascal Janvier |
| Winemaker: | Pascal Janvier |
| Vineyard: | 25 years, 1.6 ha |
| Soil: | Clay, Sand |
| Farming: | Lutte Raisonnée |
| Alcohol: | 12.5% |
---
More from this Producer or Region
About The Producer
Pascal Janvier
Pascal Janvier never planned on becoming a vigneron. Though his parents had vineyard land of their own, they did not make their own wine. He went to school to learn butchery, but made a sudden about-face at the age of thirty and decided to study winegrowing. His decision was anything but a whim. Starting slowly, he has mastered his craft with focus and passion, contributing to the revival of the small appellation of Jasnières, the most northerly (and coldest) of the greater Loire region. The once proud appellations of Jasnières and the Coteaux du Loir are now all but extinct, with less than one hundred and two hundred hectares still respectively under vine. Pascal is doing his part to remind everyone what Jasnières is capable of.
About The Region
Loire
The defining feature of the Loire Valley, not surprisingly, is the Loire River. As the longest river in France, spanning more than 600 miles, this river connects seemingly disparate wine regions. Why else would Sancerre, with its Kimmeridgian limestone terroir be connected to Muscadet, an appellation that is 250 miles away?

Secondary in relevance to the historical, climatic, environmental, and cultural importance of the river are the wines and châteaux of the Jardin de la France. The kings and nobility of France built many hundreds of châteaux in the Loire but wine preceded the arrival of the noblesse and has since out-lived them as well.

Diversity abounds in the Loire. The aforementioned Kimmderidgian limestone of Sancerre is also found in Chablis. Chinon, Bourgueil, and Saumur boast the presence of tuffeau, a type of limestone unique to the Loire that has a yellowish tinge and a chalky texture. Savennières has schist, while Muscadet has volcanic, granite, and serpentinite based soils. In addition to geologic diversity, many, grape varieties are grown there too: Cabernet Franc, Chenin Blanc, Sauvignon Blanc, and Melon de Bourgogne are most prevalent, but (to name a few) Pinot Gris, Grolleau, Pinot Noir, Pineau d'Aunis, and Folle Blanche are also planted. These myriad of viticultural influences leads to the high quality production of every type of wine: red, white, rosé, sparkling, and dessert.

Like the Rhône and Provence, some of Kermit's first imports came from the Loire, most notably the wines of Charles Joguet and Château d'Epiré—two producers who are featured in Kermit's book Adventures on the Wine Route and with whom we still work today.
More from Loire or France
Kermit once said...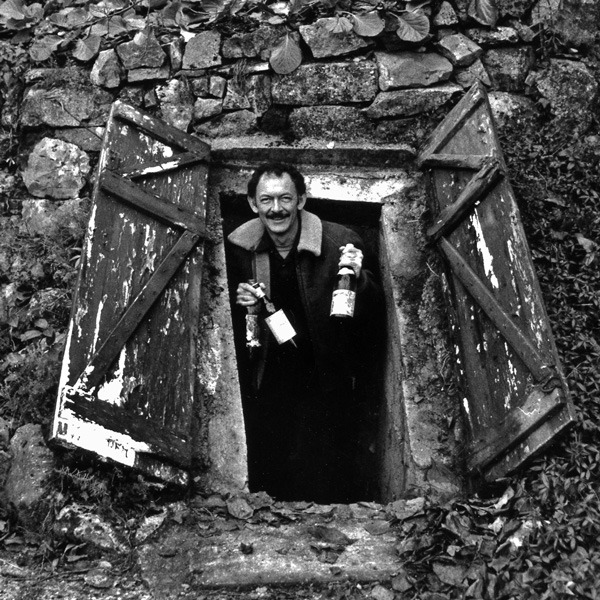 Kermit once said...
If you're looking for value, look where no one else is looking.
Inspiring Thirst, page 211