This playful blend of Grolleau Noir, Grolleau Gris, and Gamay is the domaine's earliest-drinking red cuvée, with soft edges that take a chill well. The new vintage shows great freshness and brightness, making me think of tart berries picked in the forest just a touch below full ripeness. The seeds are there, too, and add a pleasant crunch. A vein of chalk on the finish wraps it together nicely and reminds you where you are—the glorious tuffeau cliffs on the banks of the mighty Loire.
—Dixon Brooke
More from this Producer or Region
About The Producer
Grange Saint-Sauveur
Grange Saint-Sauveur's wines are the first KLWM imports bearing Antoine Pouponneau's name on their labels, but the connection with the Anjou native runs much deeper. Antoine worked as cellar manager at La Tour du Bon in Bandol from 1994 to 2006—his first job following enology studies in Dijon—then served a long tenure in Corsica as enologist at Clos Canarelli. His approach as a consultant is radically opposed to that of most enologists: a devout enthusiast of biodynamic farming and wild yeast fermentation, Antoine relies on his expertise in microbiology to create wines of character and identity via natural methods. His talents have earned him several prestigious clients over the years, as the likes of Cheval Blanc, Latour, and many others have sought his services to produce low-intervention, terroir-driven wines.
About The Region
Loire
The defining feature of the Loire Valley, not surprisingly, is the Loire River. As the longest river in France, spanning more than 600 miles, this river connects seemingly disparate wine regions. Why else would Sancerre, with its Kimmeridgian limestone terroir be connected to Muscadet, an appellation that is 250 miles away?

Secondary in relevance to the historical, climatic, environmental, and cultural importance of the river are the wines and châteaux of the Jardin de la France. The kings and nobility of France built many hundreds of châteaux in the Loire but wine preceded the arrival of the noblesse and has since out-lived them as well.

Diversity abounds in the Loire. The aforementioned Kimmderidgian limestone of Sancerre is also found in Chablis. Chinon, Bourgueil, and Saumur boast the presence of tuffeau, a type of limestone unique to the Loire that has a yellowish tinge and a chalky texture. Savennières has schist, while Muscadet has volcanic, granite, and serpentinite based soils. In addition to geologic diversity, many, grape varieties are grown there too: Cabernet Franc, Chenin Blanc, Sauvignon Blanc, and Melon de Bourgogne are most prevalent, but (to name a few) Pinot Gris, Grolleau, Pinot Noir, Pineau d'Aunis, and Folle Blanche are also planted. These myriad of viticultural influences leads to the high quality production of every type of wine: red, white, rosé, sparkling, and dessert.

Like the Rhône and Provence, some of Kermit's first imports came from the Loire, most notably the wines of Charles Joguet and Château d'Epiré—two producers who are featured in Kermit's book Adventures on the Wine Route and with whom we still work today.
More from Loire or France
Kermit once said...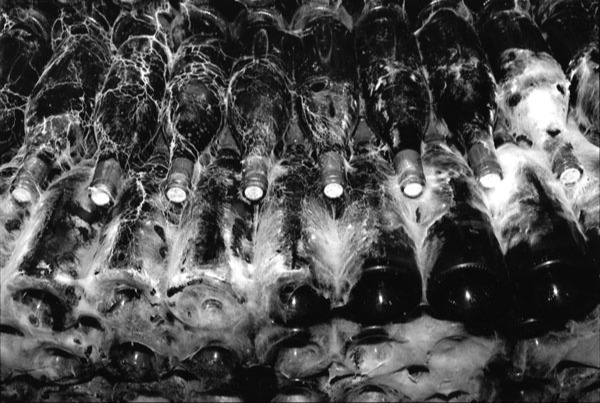 Kermit once said...
Living wines have ups and downs just as people do, periods of glory and dog days, too. If wine did not remind me of real life, I would not care about it so much.