Of the many regions that could reasonably be called Italy's culinary capital, Emilia-Romagna has perhaps the greatest claim to the throne. Home to ragù (Bolognese), Parmigiano-Reggiano, tortellini, balsamic vinegar, and much, much more, the area that lies just north of Tuscany is now also making its case as the capital of Italy's happiest wine: Lambrusco. At Fattoria Moretto, the Altariva family fashions organic, fully dry, fizzy, dark red wines from the Lambrusco Grasparossa grape, among the top class of Lambrusco varieties and the only one that grows primarily on the hillsides (as opposed to the flatlands) of Emilia. In this Monovitigno—a single-vineyard cuvée—the froth, structure, and overall exuberance of their blended bottling are somehow even brighter: tasting it, you feel as though the grapes were just pressed. Incredibly fresh, with aromas of crushed raspberries, strawberries, and cranberries soaring out of the glass, this may be the happiest wine you've ever tasted. Equally well suited to your holiday table and to your patio on a warm evening. Serve chilled!
—Tom Wolf
More from this Producer or Region
2021 Lambrusco Grasparossa di Castelvetro
Italy | Emilia-Romagna
Dry red Italian sparkling wine with dinner? You'll love it.
2021 Pignoletto Frizzante
Italy | Emilia-Romagna
It's tart and juicy like a fresh mandarin, with invigorating acidity ideally suited to cut through the region's signature Parmigiano-Reggiano and prosciutto di Parma.
2022 Lambrusco Grasparossa di Castelvetro "Monovitigno"
Italy | Emilia-Romagna
This fully dry, frothy red from Fattoria Moretto might just be Italy's happiest wine.
/
About The Producer
Fattoria Moretto
Domenico Altariva grew up watching his parents work the land; so when he married and bought a house with his wife, Albertina, he also bought a little land that he would tend in his spare time. Right from the start they worked their vines with entirely natural products and made the most of their vineyard sites. When sons Fabio and Fausto joined the estate in 1991 the family took another step forward, building a new winery, acquiring more vineyards, and finally bottling the wine themselves; and in 1997 becoming organic. The family chooses to highlight the local grape Lambrusco, resulting in an intense, terroir-driven Lambrusco with a nose serious enough for even the most knowledgeable wine connoisseur.
About The Region
Emilia-Romagna
Primarily dominated by the expansive plains of the Po Valley, Emilia-Romagna—a diagonal band stretching from Piacenza in the north all the way to Rimini in the southeast—also features a long span of Apennine Mountains and foothills, at the base of which lie its major cities such as Parma, Modena, and Bologna along the historic Via Emilia. While the flatlands are home to some viticulture, the Apennines provide elevation and ventilation in contrast with the hot, humid, stagnant valley below, in addition to poor, well-draining soils favorable to the production of more serious wines.

Given the rich local cuisine that relies heavily on lard, cheese, and fatty meats like pork, Emilia-Romagna is first and foremost a land of fizzy wines. These light frizzanti have the acidity to cut through fat along with a palate-cleansing sparkle. Most important is the indigenous red Lambrusco, a family of grapes whose wines brilliantly complement flavorful dishes such as tagliatelle al ragù, tortellini al brodo, or simple antipasti of local meats and cheeses like prosciutto di Parma, mortadella, and parmigiano reggiano (if you're lucky, drizzled with traditional balsamic vinegar of Modena).

While Lambrusco's image suffered in the past because of mass-produced sweet versions, small producers today are crafting traditional, terroir-driven dry wines that are absolutely mouth-watering. These jovial, food-friendly quaffers are right at home in the KLWM portfolio.

More from Emilia-Romagna or Italy
Vintage Chart Mentality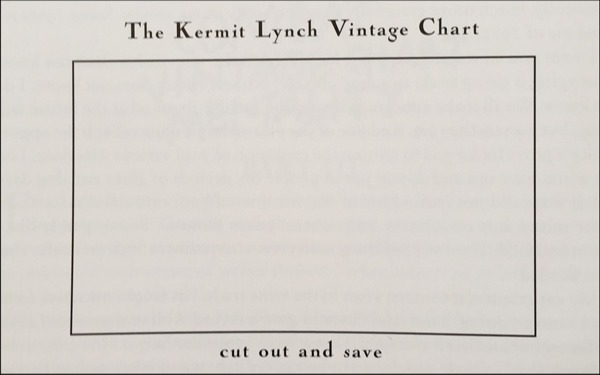 Vintage Chart Mentality
Trust the great winemakers, trust the great vineyards. Your wine merchant might even be trustworthy. In the long run, that vintage strip may be the least important guide to quality on your bottle of wine.—Kermit Lynch