Sometimes I love to think back to what it must have been like in the late seventies at Domaine Tempier. Kermit first traveled there in 1977, after having tasted Tempier's wine a year or two earlier with Richard Olney. Chez Panisse was pouring it at their restaurant around the same time. Future great chefs from all over this country were traveling to Provence to soak up the wine and food culture. It could even be said that the region was the gastronomic capital of the world for a brief moment, at least in certain circles (ours!), and Lulu's kitchen was the epicenter. Oh, how the wine and conversation must have flowed with those incredible meals, beautiful scenery, and wonderful people who enjoyed life with simplicity, style, and joviality!
In the time that I have worked here, we have sold the wine made by founder Lucien Peyraud's son, Jean-Marie, up through the 1999 vintage, and then the subsequent vintages produced by Daniel Ravier. I have had the pleasure of tasting wines created by Lucien from Kermit's cellar, including the legendary 1971 Cuvée Spéciale, his first purchase. I also had the great fortune to know Lulu and dine at her table more than once. The cookbook she and Richard Olney put together is one of my all-time favorites and regularly provides such a fun (and delicious!) way to appreciate her legacy.
This past winter I visited the domaine with Anthony, and Lulu and Lucien's grandson, Nirvan Rougeot, welcomed us to a barrel tasting in the domaine's cellars in Le Plan du Castellet. It was moving to witness the third generation telling the story and becoming more involved with the day to day at the winery. He shared some great history: the house on the property was built in 1834, the cellar in 1880, and their first Bandol red was made in 1948. His grandfather drew the boat on their iconic label to resemble the merchant ships from the Bandol harbor that would arrive after traveling down the Rhône River.
Our tasting began with the 2021 blanc, followed by three vintages of their legendary reds in cask and bottle, and finished with the component parts of the new 2021 rosé from tank. The bottled wine has just arrived and is a real beauty, bursting with ripe, juicy Provençal fruit, savory herbs, and perfumed flowers, exquisitely proportioned and guaranteeing total satisfaction. Its arrival is a much-anticipated moment around here every year, and we enjoy continuing to share it with all of you.
—Dixon Brooke
---
| | |
| --- | --- |
| Wine Type: | Rosé |
| Vintage: | 2021 |
| Bottle Size: | 750mL |
| Blend: | 55% Mourvèdre, 25% Grenache, 20% Cinsault |
| Appellation: | Bandol |
| Country: | France |
| Region: | Provence |
| Producer: | Domaine Tempier |
| Winemaker: | Daniel Ravier |
| Vineyard: | 20 years average |
| Soil: | Clay, Limestone |
| Aging: | Wine ages in cuve for 6 to 8 months |
| Farming: | Organic (practicing) |
| Alcohol: | 13.5% |
---
More from this Producer or Region
About The Producer
Domaine Tempier
Of all of the domaines we represent, no other serves more as our cornerstone, stands more in the defense of terroir, and is more intricately interwoven with our own history, than that of the iconic Peyraud family of Domaine Tempier. When Lulu Tempier married Lucien Peyraud in 1936, her father gave them Domaine Tempier, a farm that had been in the family since 1834. Tasting a pre-phylloxera bottle of Tempier Bandol inspired Lucien to research the terroir extensively. By 1941, thanks to Lucien and neighboring vignerons, Bandol had its own A.O.C. Lucien will forever be celebrated as the Godfather of Bandol. Raising deep and structured wines of such refinement and longevity has made Domaine Tempier truly a grand cru de Provence.
About The Region
Provence
Perhaps there is no region more closely aligned with the history to Kermit Lynch Wine Merchant than Provence. Provence is where Richard Olney, an American ex-pat and friend of Alice Waters, lived, and introduced Kermit to the great producers of Provence, most importantly Domaine Tempier of Bandol. Kermit also spends upwards of half his year at his home in a small town just outside of Bandol.

Vitis vinifera first arrived in France via Provence, landing in the modern day port city of Marseille in the 6th century BC. The influence of terroir on Provençal wines goes well beyond soil types. The herbs from the pervasive scrubland, often referred to as garrigue, as well as the mistral—a cold, drying wind from the northwest that helps keep the vines free of disease—play a significant role in the final quality of the grapes. Two more elements—the seemingly ever-present sun and cooling saline breezes from the Mediterranean—lend their hand in creating a long growing season that result in grapes that are ripe but with good acidity.

Rosé is arguably the most well known type of wine from Provence, but the red wines, particularly from Bandol, possess a great depth of character and ability to age. The white wines of Cassis and Bandol offer complexity and ideal pairings for the sea-influenced cuisine. Mourvèdre reigns king for red grapes, and similar to the Languedoc and Rhône, Grenache, Cinsault, Marsanne, Clairette, Rolle, Ugni Blanc among many other grape varieties are planted.
More from Provence or France
Kermit once said...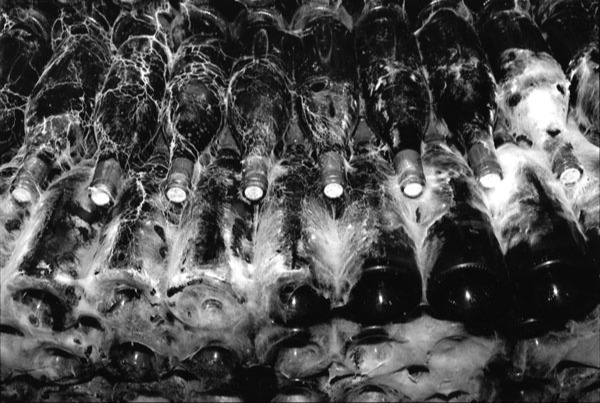 Kermit once said...
Living wines have ups and downs just as people do, periods of glory and dog days, too. If wine did not remind me of real life, I would not care about it so much.