2016 Bouzy Brut Grand Cru Millésime
Paul Bara
Discount Eligible $100.00
Champagne lovers like to talk about how great Champagne pairs with food. Not all bottlings from this revered region fit that bill. Non-vintage, entry level Champagne tends to sing best all by itself, or perhaps with just some simple appetizers. Vintage bottles on the other hand have more grip and a bit of weight than their blended counterparts and often have their best moments at table. The 2016 Brut Grand Cru from Bara is one such wine. Don't just pair with classic white wine dishes, but stretch your imagination and try with lighter red wine pairings—roasted bird, pork chops or tenderloin, or hearty vegetable dishes.
—Clark Z. Terry
Discount Eligible $100.00
---
| | |
| --- | --- |
| Wine Type: | sparkling |
| Vintage: | 2016 |
| Bottle Size: | 750mL |
| Blend: | 90% Pinot Noir, 10% Chardonnay |
| Appellation: | Bouzy |
| Country: | France |
| Region: | Champagne |
| Producer: | Paul Bara |
| Winemaker: | The Bara Family and Christian Forget |
| Vineyard: | 35 years average, 11 ha total |
| Soil: | Clay, Limestone |
| Aging: | Ages in bottle for 8 years before release |
| Farming: | Lutte Raisonnée |
| Alcohol: | 12.5% |
---
More from this Producer or Region
About The Producer
Paul Bara
The Montagne de Reims boasts some of the best Pinot Noir in the region—Bouzy is the capital. The key to its inherent greatness lies in its deep, chalky subsoil which imparts intense expression of fruit and great mineral complexity in its grand cru wines. The village of Bouzy and Champagne Paul Bara are practically synonymous. As the published village historian, Paul is indelibly linked to the lore of his hometown. Many call him their most renowned producer, one of the rare récoltants-manipulants in a region inundated with mass-produced wine. These R.M.s, as they are known, are of the few who still grow their own grapes and make their own wines. Champagne Paul Bara is the quintessential example, everything done with personal touch.
About The Region
Champagne
True Champagne must not only sparkle, but also must come from grapes grown in the Champagne region of France and be made using méthode champenoise—a process that involves prolonged aging of the wine as well as a bottle fermentation used to add the sparkle to the finished product. Though wine has been made in this region since at least the 5th century, Champagne as we now know is a relatively new creation. It wasn't until the 19th century that sparkling wine production took hold on a large scale in much part due to improvements in the strength of glass for bottles and the embrace of French nobility of the sparkling wines of the region.

Only three grape varieties may be used to make Champagne: Chardonnay, Pinot Noir, and Pinot Meunier. The chalk-heavy soils not only provide complexity and texture to the finished wine, but also act as a natural humidifier thus keeping the vine's roots warm during colder months of the year. There are grand cru and premier cru designated vineyard areas but unlike Burgundy, there are few lieu-dit vineyards (though in recent years there has been a greater interest in producing vineyard specific Champagnes).

Kermit's first foray into the region came in 1981 when he began importing the wines of J. Lassalle and Paul Bara—two producers whose wines we still import. In the mid 2000s, Kermit began importing the wines of Veuve Fourny et Fils.

Of Champagne, Kermit says, "You might be surprised to learn that I don't like a goût de terroir to dominate the taste of Champagnes. If it dominates, you lose finesse. I want some, obviously—but only enough to keep things interesting."
More from Champagne or France
Kermit once said...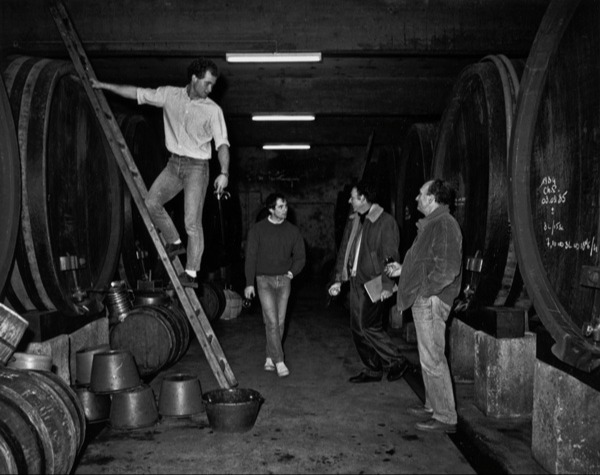 Kermit once said...
For the wines that I buy I insist that the winemaker leave them whole, intact. I go into the cellars now and select specific barrels or cuvées, and I request that they be bottled without stripping them with filters or other devices. This means that many of our wines will arrive with a smudge of sediment and will throw a more important deposit as time goes by, It also means the wine will taste better.
Discount Eligible $100.00