2015 Alto Adige Merlot-Cabernet Sauvignon "Iugum"
Peter Dipoli
If you read much wine journalism nowadays, you will be bombarded with so-called experts telling you what's hot, what's up-and-coming, what's no longer cool, which producers are has-beens, and which novel grapes are absolutely worthy of your paycheck. While such professional advice certainly has its merits and may lead you to new discoveries, the wine hipness-o-meter has its flaws, too: all it takes is a flashback to the eighties to see that some trends do more harm than good (anybody not named MC Hammer should lay off the Hammer pants). All this noise can overcomplicate your drinking decisions, and you could miss out on gems like this unusual Bordeaux blend from a precipitous, high-altitude limestone site in the heart of the Dolomites. Its tender, rich, dark fruit is perfectly framed by Germanic restraint and chewy Napa Mountain–style tannins. Where that puts it on the coolness scale I can't say, but it is hard to go wrong with this combination of stunning terroir, noble grapes, and masterful vinification.
—Anthony Lynch
---
| | |
| --- | --- |
| Wine Type: | red |
| Vintage: | 2015 |
| Bottle Size: | 750mL |
| Blend: | 80% Merlot, 20% Cabernet Sauvignon |
| Appellation: | Alto Adige |
| Country: | Italy |
| Region: | Alto Adige |
| Producer: | Peter Dipoli |
| Winemaker: | Peter Dipoli |
| Vineyard: | Planted in 1992, 1.1 ha |
| Soil: | Clay, Limestone |
| Aging: | Wine ages in bottle until 4 years after harvest |
| Farming: | Sustainable |
| Alcohol: | 14.5% |
---
More from this Producer or Region
/
About The Producer
Peter Dipoli
Peter Dipoli represents one of the wine world's pure talents, a pioneer in Alto Adige who is producing wines on a level beyond what anyone thought possible in this mountainous region. After much research, Peter determined that the steep, high-altitude slopes near Bolzano were ideal for producing age-worthy white and red wines. He began with Sauvignon Blanc: at this altitude, Sauvignon attains great ripeness while retaining the acidity that would allow it to age in bottle. Peter's research led him to detect a zone with a milder climate and soils of clay and limestone, ideal for Merlot and Cabernet Sauvignon. Experience the unique artistry of one of Italy's great talents, a secret largely guarded within Italy's borders, until now.
About The Region
Alto Adige
In the heart of the Dolomites, Alto Adige is Italy's northernmost wine region. Having changed hands multiples times in its history between Italy and the Austro-Hungarian Empire (it shares a border with Austria), it boasts strong Germanic influence on its culture, language, cuisine, as well as its wines.

The mountainous geography is the principal determinant of local winemaking styles, with the high-altitude vineyards and cool Alpine climate favoring primarily crisp, racy, aromatic whites from varieties like Kerner, Sauvignon, Müller Thurgau, and Grüner Veltliner. A Mediterranean influence on climate is channeled north up the valley until Bolzano, permitting the cultivation of certain reds as well, among which Schiava, Lagrein, Pinot Nero, and Merlot fare best.

Small growers who once sold fruit to the area's multiple co-ops are now increasingly bottling their own wines. The arrival of many quality-oriented artisans on the scene caught our eye years ago, and we now count three estates from Südtirol, as it is also known, in our portfolio. These high-acid mountain wines make for a beautifully invigorating aperitivo with thinly sliced speck, a local specialty.
More from Alto Adige or Italy
Where the newsletter started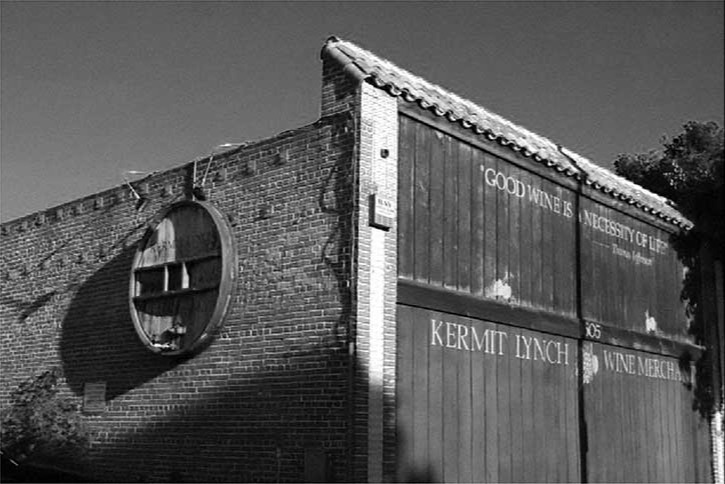 Where the newsletter started
Every three or four months I would send my clients a cheaply made list of my inventory, but it began to dawn on me that business did not pick up afterwards. It occurred to me that my clientele might not know what Château Grillet is, either. One month in 1974 I had an especially esoteric collection of wines arriving, so I decided to put a short explanation about each wine into my price list, to try and let my clients know what to expect when they uncorked a bottle. The day after I mailed that brochure, people showed up at the shop, and that is how these little propaganda pieces for fine wine were born.—Kermit Lynch