Receive our Monthly Newsletter and Special Promotions. Stay up to date on new arrivals, sales, and events at our Berkeley shop.
December 2023 Newsletter
Receive our Monthly Newsletter and Special Promotions. Stay up to date on new arrivals, sales, and events at our Berkeley shop.
by Dustin Soiseth
Why, after preparing and enjoying a once-a-year feast, would you then willingly go stand at the sink for an hour? Wouldn't it be better to remain fully present with friends and family? I think so, and if you pick up this sampler, you'll have everything you need to carry you through from start to finish...
by Jane Augustine
A decade in bottle has softened this rouge into an open-knit, unbuttoned style of Bordeaux, beaming with aromas of bing cherry, anise, and violet. You'll be happy to serve it for a special occasion, or when you simply want to spoil yourself...
by Tom Wolf
All three reds represent the pinnacle of what I think of as noble rusticity. Mourvèdre stars in each, meaning there's inevitably some wildness and power in your glass...
by Dixon Brooke
It has been many years since we have introduced you to a new selection of ours from the Champagne region—not for lack of trying! Earlier this year we finally found what we have been looking for in the small Champagne village of Écueil, on the Montagne de Reims, in the cellars of Nicolas Maillart. Nicolas owns and farms vineyards in Écueil, Villers-Allerand, and Bouzy, all just south of Reims. These are among the world's greatest terroirs for growing Champagne grapes, and they have been brilliantly matched chez Maillart to Chardonnay, Pinot Meunier, Pinot Noir, and Petit Meslier…
by Chris Santini
The wine is surprisingly serious for the appellation, gold colored, rich, open, and expressive. It has a lot of Saint-Aubin flair, with an added touch of citrus and quince…
by Anthony Lynch
This Alpine white spends several months resting in large acacia casks, where it sheds any overtly varietal notes and instead comes to manifest the nuances of the breathtaking site where the fruit is grown…
by Madison H. Brown
For the purity of fruit and bliss-inducing drinkability of each bottle, the Dupeubles' wines are in a league of their own. Extraordinary value awaits those bargain-hunting pleasure seekers
by Tom Wolf
The wine was spectacular—as my colleagues and I knew it would be because, like all great producers, Benevelli is able to consistently make great reds even in challenging vintages…
by Meghan Foley
As is tradition here at Kermit Lynch Wine Merchant, we've made it easy to celebrate. We've put together a selection of groceries, books, other gifty items, and (of course) wine—samplers, magnums, and more—that is sure to delight the wine lovers in your life and kick-start your holiday festivities. Visit our Holiday Gift Shop for more ideas, plus our annual Dessert Wine Sale…
Kermit once said...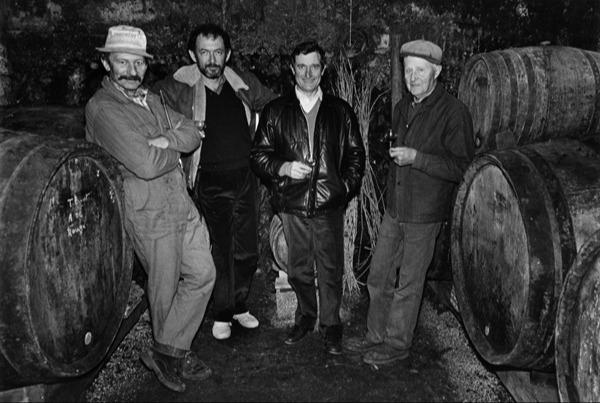 Kermit once said...
I want you to realize once and for all: Even the winemaker does not know what aging is going to do to a new vintage; Robert Parker does not know; I do not know. We all make educated (hopefully) guesses about what the future will bring, but guesses they are. And one of the pleasures of a wine cellar is the opportunity it provides for you to witness the evolution of your various selections. Living wines have ups and downs just as people do, periods of glory and dog days, too. If wine did not remind me of real life, I would not care about it so much.
Inspiring Thirst, page 171