My last tasting trip—before the world as we knew it was upended—took me on an epic trek seeing vignerons in the Loire, Beaujolais, Bugey, Savoie, and Piedmont. The most striking visit, at least as far as terroir is concerned, did not involve walking the flint-laden Kimmeridgian limestone sites of Pouilly-Fumé, or the rolling granitic hills of Morgon and Fleurie, or the majestic marl slopes of Barolo. Surprisingly, what stuck with me most were the vineyards of Patrick Bottex, who specializes in the perilously lighthearted méthode ancestrale sparkling Bugey-Cerdon.
Patrick's Cerdon is so lively and playful that it's easy to overlook where it comes from, and the back-breaking labor required to produce it. Sitting on the western edge of the Alps between Savoie and the Jura, the Bugey is a fascinating little region with enormous potential for expressive cool-climate wines. Its rocky vineyards are nestled against steep mountainsides requiring significant strength and perseverance to farm—this became apparent upon discovering a new parcel Patrick and his son, Carl, had just planted.
We trudged up an endless, near-vertical hill, trying not to break any ankles on the crumbly limestone debris littering the ground, before arriving at the top to a splendid view of the Ain river, the plains looking southwest toward Lyon, and the 12th-century Château de Poncin, to which the vineyard once belonged. The Bottexes had spent several years clearing the land of brush, removing massive boulders one by one, and coaxing Gamay and Poulsard vines into taking root almost directly into the calcareous bedrock. No doubt about it—this is serious terroir.
And yet, Bugey-Cerdon is anything but a serious wine. Its seductive deep pink glimmers in the glass, emanating ambrosial fragrances of alpine strawberries and roses. It dances over the palate, just sweet enough, perked up by a fine bead and a crystalline finish crisp as a mineral spring. Great wine does not need to be thought-provoking or meditative—Patrick's Bugey-Cerdon is proof that a top terroir can manifest itself in the most festive and carefree of ways.
—Anthony Lynch
More from this Producer or Region
About The Producer
Patrick Bottex
As a geographical crossroads between the Savoie, the Jura, Burgundy, and the Rhône, Bugey is one of the few regions where one can see both palm trees and snow within eyeshot. In La Cueille, Patrick and Catherine Bottex farm the limestone slopes above the Ain River. They have been working five hectares of land since 1991 and produce only a small quantity of their beautiful, intriguing sparkling wine. The resulting wine is delightfully refreshing with bright fruit, a beautiful rosé hue, and a touch of sweetness. Kermit had never heard of Bugey until Marcel Lapierre uncorked a beauty at one of his after-tasting parties. His best memory of drinking it, however, was from an ice chest at a hamburger barbecue on a beach in Hawaii.
About The Region
Savoie, Bugey, Hautes-Alpes
Fifteen or twenty years ago, there was little buzz about the wines of Savoie, the Alpine region hugging the Swiss and Italian borders. In fact, most wines from Savoie were some combination of overcropped, thin, searingly acidic, and painfully rustic; even the best examples rarely made it out of the local mountain resorts, where they were served as an après-ski to wash down many a melty croque-monsieur.

But all that has changed, and today Savoie produces a number of top-quality wines in all styles, from simple thirst-quenchers to wines of substantial gravity. Kermit sought out some of these wines early in his career, having imported the spritzy, mineral whites of Apremont and Chignin in the late 1970s.

With vineyards at the foot of the Alps that occasionally climb to higher elevations, Savoie is defined by its mountain-influenced climate and extremely rocky terrain, with abundant limestone. Thanks to a diversity of indigenous grape varieties, quality-oriented growers with the choicest parcels—steep and well-exposed—can craft anything from crisp, low-alcohol whites from Jacquère to deep, gamey reds from Mondeuse. More serious whites are made from Altesse as well as Bergeron, the local name for Roussanne, which the Romans planted on the slopes of Chignin around the same time as they introduced it to the Rhône Valley.

Savoie's diversity of styles and distinct sub-regions, from Arbin to Seyssel to the Bugey (technically not a part of Savoie, but included here for convenience) makes it a fascinating region for the thirsty explorer. There is no better place to look for brisk mountain refreshment.
More from Savoie, Bugey, Hautes-Alpes or France
Kermit once said...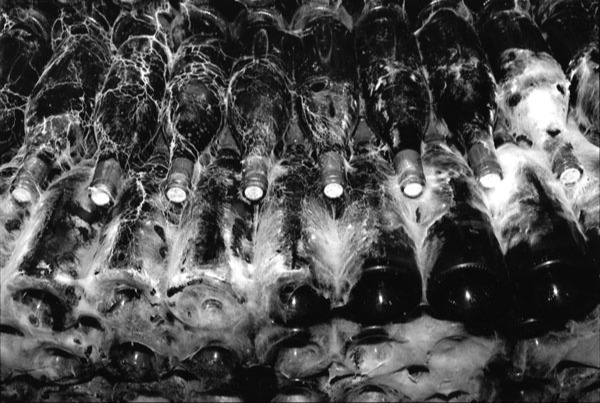 Kermit once said...
Living wines have ups and downs just as people do, periods of glory and dog days, too. If wine did not remind me of real life, I would not care about it so much.