You don't need to pronounce it. All you need is a corkscrew and a wineglass. I discovered this marvel the final day of last summer's visit to Corsica, right before flying to Marseille. I'd heard of a restaurant, La Flotta, up at the base of the imposing Monte Grosso. The paved road turned to dirt then narrowed to a car's width. Tossin' and a-turnin', wondering where in the . . . and then, like finding an oasis in the desert, Gail and I reached a lone little restaurant under the looming granite peak. Cows grazed the parking lot.
The sommelier was a treat. We discussed the great domaines: Arena, Leccia, Nicrosi, Abbatucci—then she insisted we try a new wine, a young woman's first release, a rosé: "You'd better try it today because our staff has almost drunk it all up. We didn't even put it on our wine list," she said.
She poured one of the most memorable wines I've tasted—no, not complex and grandiose. Not powerful and earthshaking. No, au contraire. Here's a rosé that is almost weightless. Perfumed on the nose, then an ethereal touch as it spreads across the palate, then nothing remains but that gorgeous, heavenly perfume. Yum. To know it is to love it.
—Kermit Lynch
---
| | |
| --- | --- |
| Wine Type: | Rosé |
| Vintage: | 2022 |
| Bottle Size: | 750mL |
| Blend: | 95% Sciaccarellu, 5% Syrah |
| Appellation: | Vin de Corse |
| Country: | France |
| Region: | Corsica |
| Producer: | Domaine de Marquiliani |
| Winemaker: | Anne Amalric |
| Vineyard: | 20 years average |
| Soil: | Schist and granite gravel with silt |
| Aging: | Fermented in stainless steel |
| Farming: | Lutte Raisonnée |
| Alcohol: | 13% |
---
More from this Producer or Region
About The Producer
Domaine de Marquiliani
The Amalric family has farmed Domaine de Marquiliani since the 1950s. Daniel Amalric earned great recognition for his wines, as he was the first to plant Niellucciu and Syrah on this side of the island. In 1995, he was joined by his daughter, Anne, an agricultural chemist who had returned from mainland France to take her place at the family farm. She works side-by-side with her father and is quick to credit him as her guiding light in the vineyards and the cellar. In spite of her modesty, Anne has become a success in her own right. Her wine made an instant impression on Kermit, who raves, "Drinking her rosé is like drinking a cloud. There's an absolute weightlessness to it. Nothing is left on the palate but perfume."
About The Region
Corsica
I first set foot on the island in 1980. I remember looking down from the airplane window seeing alpine forest and lakes and thinking, uh oh, I got on the wrong plane. Then suddenly I was looking down into the beautiful waters of the Mediterranean. Corsica is a small, impossibly tall island, the tail of the Alp chain rising out of the blue sea.—Kermit Lynch

Kermit's first trip to the island proved fruitful, with his discovery of Clos Nicrosi's Vermentino. More than thirty years later, the love affair with Corsica has only grown as we now import wines from ten domaines that cover the north, south, east, and west of what the French affectionately refer to as l'Île de Beauté.

Corsica is currently experiencing somewhat of a renaissance—interest has never been higher in the wines and much of this is due to growers focusing on indigenous and historical grapes found on the island. Niellucciu, Sciarcarellu, and Vermentinu are widely planted but it is now common to find bottlings of Biancu Gentile and Carcaghjolu Neru as well as blends with native varieties like Rossola Bianca, Minustellu, or Montaneccia.

As Kermit described above, Corsica has a strikingly mountainous landscape. The granite peaks top out above 9,000 feet. The terroir is predominantly granite with the exception of the Patrimonio appellation in the north, which has limestone, clay, and schist soils.The wines, much like their southern French counterparts make for great pairings with the local charcuterie, often made from Nustrale, the native wild boar, as well as Brocciu, the Corsican goats milk cheese that is best served within 48 hours of it being made.
More from Corsica or France
Kermit once said...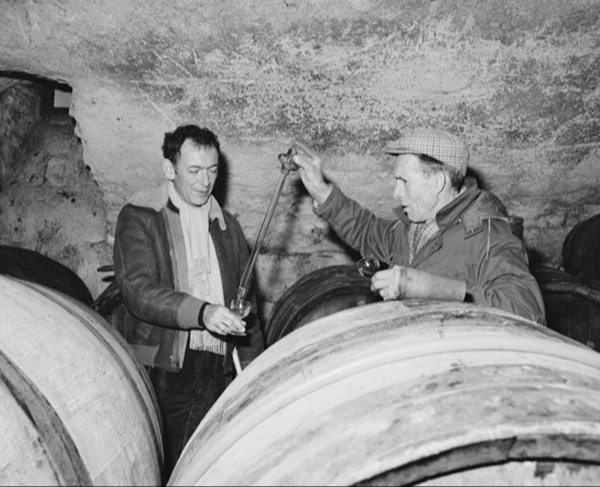 Kermit once said...
When buying red Burgundy, I think we should remember:

1. Big wines do not age better than light wine.
2. A so-called great vintage at the outset does not guarantee a great vintage for the duration.
3. A so-called off vintage at the outset does not mean the wines do not have a brilliant future ahead of them.
4. Red Burgundy should not taste like Guigal Côte-Rôtie, even if most wine writers wish it would.
5. Don't follow leaders; watch yer parking meters.
Inspiring Thirst, page 174