Vézelay, a small Chardonnay appellation in northern Burgundy, has a marginal climate that can give growers serious headaches. The 2016 vintage epitomized these challenges, as a devastating frost in late April severely affected the harvest to come. Valentin Montanet of La Sœur Cadette reported losses up to 80%—truly catastrophic for a small-scale producer. With most of Burgundy ravaged by frost, Valentin looked to the south to purchase grapes in order to supplement what remained of his harvest. This decision also gave him a chance to vinify Beaujolais, an idea he had long entertained, and one that has brought him great joy since he launched the project in 2016.
Now, several years into his Beaujolais venture, Valentin has learned a few tricks about working with Gamay. While his first vintages had a more "Burgundian" personality—elegant, thought-provoking—his latest vintage makes it hard to tell he hasn't been making Beaujolais his whole life. His 2019 Juliénas, sourced from an organically farmed vineyard on granite soil, is textbook cru Beaujolais: very aromatic with loads of fresh Gamay fruit, it flows over the palate with a juicy buoyancy that simply makes it hard to resist.

—Anthony Lynch
More from this Producer or Region
About The Producer
Domaine de la Cadette
When Jean and Catherine Montanet planted their first vineyards in 1987, the fruit was destined for vinification in their very own cave coopérative, which saw its first vintage bottled in 1990. As general manager of the business, Jean quickly found his feet as a capable vigneron. Unable to fully express themselves as vignerons at the coop and determined to continue working organically, the Montanets finally split off and founded their own label, Domaine de la Cadette, taking their vineyards with them. Their son Valentin joined them in 2010 and now manages the domaine, espousing his parents' philosophy of organic farming and natural vinification to craft refreshing, mineral-driven whites and reds.
About The Region
Beaujolais
After years of the region's reputation being co-opted by mass-produced Beaujolais Nouveau and the prevalence of industrial farming, the fortunes of vignerons from the Beaujolais have been on the rise in the past couple of decades. Much of this change is due to Jules Chauvet, a prominent Beaujolais producer who Kermit worked with in the 1980s and arguably the father of the natural wine movement, who advocated not using herbicides or pesticides in vineyards, not chaptalizing, fermenting with ambient yeasts, and vinifying without SO2. Chief among Chauvet's followers was Marcel Lapierre and his three friends, Jean Foillard, Guy Breton, and Jean-Paul Thévenet—a group of Morgon producers who Kermit dubbed "the Gang of Four." The espousal of Chauvet's methods led to a dramatic change in quality of wines from Beaujolais and with that an increased interest and appreciation for the AOC crus, Villages, and regular Beaujolais bottlings.

The crus of Beaujolais are interpreted through the Gamay grape and each illuminate the variety of great terroirs available in the region. Distinguishing itself from the clay and limestone of Burgundy, Beaujolais soils are predominantly decomposed granite, with pockets of blue volcanic rock. The primary vinification method is carbonic maceration, where grapes are not crushed, but instead whole clusters are placed in a tank, thus allowing fermentation to take place inside each grape berry.

Much like the easy-going and friendly nature of many Beaujolais vignerons, the wines too have a lively and easy-drinking spirit. They are versatile at table but make particularly good matches with the local pork sausages and charcuterie. Though often considered a wine that must be drunk young, many of the top crus offer great aging potential.
More from Beaujolais or France
Kermit once said...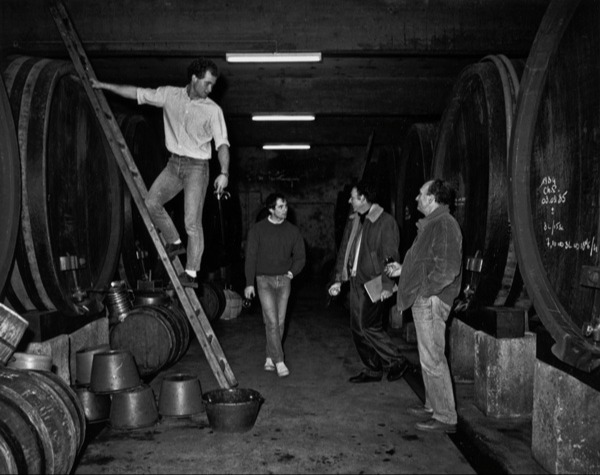 Kermit once said...
For the wines that I buy I insist that the winemaker leave them whole, intact. I go into the cellars now and select specific barrels or cuvées, and I request that they be bottled without stripping them with filters or other devices. This means that many of our wines will arrive with a smudge of sediment and will throw a more important deposit as time goes by, It also means the wine will taste better.