If you could pull back the topsoil of Chinon and view the land from above, you would get a beautiful mosaic of white, tan, and many shades of gold, taupe, gray, and brown. Few appellations in France have such a variegated terroir, made up of clay, yellow and white limestone, sand, and gravel. The Baudrys cultivate Cabernet Franc in all of these soil types and bottle several single-vineyard cuvées, ending up with an astonishing variety of expressions from this one grape. Les Grézeaux comes from their oldest vines—more than sixty years old—planted in gravelly alluvial soil near the Vienne River, which yield a simultaneously concentrated and silky rouge that is very much ready to drink today but will age beautifully over at least the next ten to fifteen years. With perfectly integrated tannins and notes of blackberries, forest floor, and stones, Les Grézeaux offers an ideal match for a lentil and mushroom shepherd's pie or a simple roast chicken.
—Tom Wolf
---
| | |
| --- | --- |
| Wine Type: | red |
| Vintage: | 2021 |
| Bottle Size: | 750mL |
| Blend: | Cabernet Franc |
| Appellation: | Chinon |
| Country: | France |
| Region: | Loire |
| Producer: | Bernard Baudry |
| Winemaker: | Matthieu & Bernard Baudry |
| Vineyard: | 65 years, 3 ha |
| Soil: | Gravel |
| Aging: | Aged for twelve months in barrel and are not fined or filtered |
| Farming: | Organic (practicing) |
| Alcohol: | 12% |
---
More from this Producer or Region
About The Producer
Bernard Baudry
Bernard Baudry is unquestionably one of Chinon's most outstanding producers. Not only does he have the talent to make delicious and consistent wines, vintage to vintage, but he is also fortunate to have vineyard land that showcases the varied soil types of the appellation. After completing his viticultural studies in Beaune, Bernard returned to the Loire Valley and purchased his first two hectares of land in Cravant-les-Coteaux, a village from which almost half of the production of A.O.C. Chinon is sourced. Over the years, the domaine has grown to 25 hectares and Bernard's son, Matthieu, has joined the family domaine. The Baudrys are staunch traditionalists, and you would have a hard time finding a Chinon more classic than theirs.
About The Region
Loire
The defining feature of the Loire Valley, not surprisingly, is the Loire River. As the longest river in France, spanning more than 600 miles, this river connects seemingly disparate wine regions. Why else would Sancerre, with its Kimmeridgian limestone terroir be connected to Muscadet, an appellation that is 250 miles away?

Secondary in relevance to the historical, climatic, environmental, and cultural importance of the river are the wines and châteaux of the Jardin de la France. The kings and nobility of France built many hundreds of châteaux in the Loire but wine preceded the arrival of the noblesse and has since out-lived them as well.

Diversity abounds in the Loire. The aforementioned Kimmderidgian limestone of Sancerre is also found in Chablis. Chinon, Bourgueil, and Saumur boast the presence of tuffeau, a type of limestone unique to the Loire that has a yellowish tinge and a chalky texture. Savennières has schist, while Muscadet has volcanic, granite, and serpentinite based soils. In addition to geologic diversity, many, grape varieties are grown there too: Cabernet Franc, Chenin Blanc, Sauvignon Blanc, and Melon de Bourgogne are most prevalent, but (to name a few) Pinot Gris, Grolleau, Pinot Noir, Pineau d'Aunis, and Folle Blanche are also planted. These myriad of viticultural influences leads to the high quality production of every type of wine: red, white, rosé, sparkling, and dessert.

Like the Rhône and Provence, some of Kermit's first imports came from the Loire, most notably the wines of Charles Joguet and Château d'Epiré—two producers who are featured in Kermit's book Adventures on the Wine Route and with whom we still work today.
More from Loire or France
Kermit once said...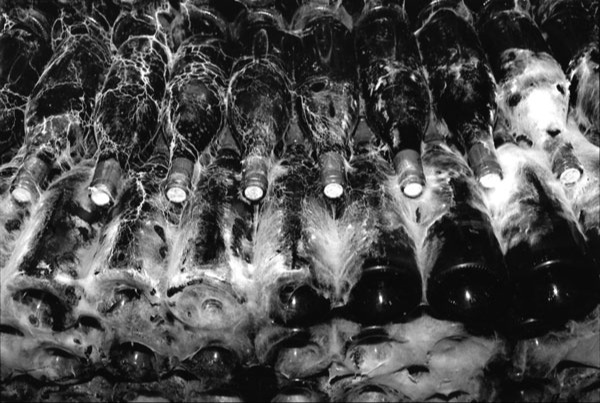 Kermit once said...
Let the brett nerds retire into protective bubbles, and whenever they thirst for wine it can be passed in to them through a sterile filter. Those of us on the outside can continue to enjoy complex, natural, living wines.
Inspiring Thirst, page 236