Historically, when the exclusively white-wine-producing vignerons of Chablis needed some rouge for their glass, they would conveniently turn to Irancy, the exclusively red-wine-producing region just a few kilometers south. Irancy did its job well; it is known for Pinot Noir with floral, fruity aromatics and slight tannic grip, as some of you may have noticed in our previous releases from Benoît Cantin. This micro-cuvée takes it a step beyond. Emeline is sourced from the domaine's favorite bits of their favorite parcels and then long-aged in barrel for a deeper, darker Irancy. Until now, Cantin has sold this wine exclusively to their local clients who purchase at the cellar door. We've managed to get a whopping eight cases for the entire USA! Get it if you can.
—Chris Santini
---
| | |
| --- | --- |
| Wine Type: | red |
| Vintage: | 2020 |
| Bottle Size: | 750mL |
| Blend: | Pinot Noir |
| Appellation: | Irancy |
| Country: | France |
| Region: | Burgundy |
| Producer: | Benoît Cantin |
| Winemaker: | Benoît Cantin |
| Vineyard: | 30-40 years, 2.8 ha |
| Soil: | Kimmeridgian limestone |
| Aging: | Wines are aged in 228L oak barrels (15% new) for one year; the oak comes from the family's own land and from the Les Bertranges forest. |
| Farming: | Sustainable |
| Alcohol: | 13% |
---
More from this Producer or Region
About The Producer
Benoît Cantin
There are less than fifty active viticulteurs in the relatively small northern Burgundy Appellation of Irancy, only twelve of which are situated in the commune of Irancy. Located just southwest of Chablis, Irancy is a picturesque canvas of vineyards planted on hillsides and amphitheaters, all favorably facing south for maximal sun exposure. While it shares the Kimmeridgian limestone soil also found in Chablis, the combes of vineyards here are planted exclusively to red grapes–mainly Pinot Noir–with instances of Gamay and César. Historically, the land was co-planted to vines, wheat, and cherry trees, and not unlike the reds of Sancerre, its wines were a favorite of Parisians due to its close proximity to Paris.
Benoît, with the continued support of his father, Bernard, runs the domaine, farming 16 hectares in Irancy across 10 different lieux-dits. Following in the footsteps of many Cantin generations before him, Benoît began working at the domaine in 1991, bottling his first solo vintage in 1994. His wines display a rustic elegance, an earthy, Burgundian soulfulness, and a structure and depth well above their price point. They are wines of character, with a strong sense of place and typicity, as well as great freshness thanks to the limestone soils in which they are grown.
About The Region
Burgundy
In eastern central France, Burgundy is nestled between the wine regions of Champagne to the north, the Jura to the east, the Loire to the west, and the Rhône to the south. This is the terroir par excellence for producing world-class Pinot Noir and Chardonnay.

The southeast-facing hillside between Dijon in the north and Maranges in the south is known as the Côte d'Or or "golden slope." The Côte d'Or comprises two main sections, both composed of limestone and clay soils: the Côte de Nuits in the northern sector, and the Côte de Beaune in the south. Both areas produce magnificent whites and reds, although the Côte de Beaune produces more white wine and the Côte de Nuits more red.

Chablis is Burgundy's northern outpost, known for its flinty and age-worthy Chardonnays planted in Kimmeridgian limestone on an ancient seabed. Vézelay is a smaller area south of Chablis with similar qualities, although the limestone there is not Kimmeridgian.

To the south of the Côte de Beaune, the Côte Chalonnaise extends from Chagny on its northern end, down past Chalon-sur-Saône and encompasses the appellations of Bouzeron in the north, followed by Rully, Mercurey, Givry, and Montagny.

Directly south of the Chalonnaise begins the Côte Mâconnais, which extends south past Mâcon to the hamlets of Fuissé, Vinzelles, Chaintré, and Saint-Véran. The Mâconnais is prime Chardonnay country and contains an incredible diversity of soils.
More from Burgundy or France
Kermit once said...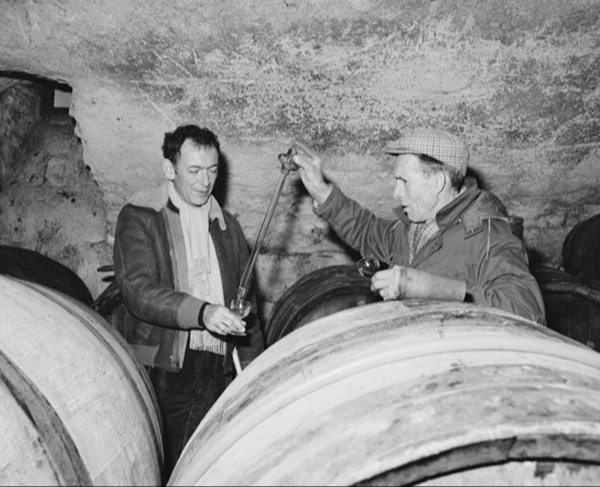 Kermit once said...
When buying red Burgundy, I think we should remember:

1. Big wines do not age better than light wine.
2. A so-called great vintage at the outset does not guarantee a great vintage for the duration.
3. A so-called off vintage at the outset does not mean the wines do not have a brilliant future ahead of them.
4. Red Burgundy should not taste like Guigal Côte-Rôtie, even if most wine writers wish it would.
5. Don't follow leaders; watch yer parking meters.
Inspiring Thirst, page 174